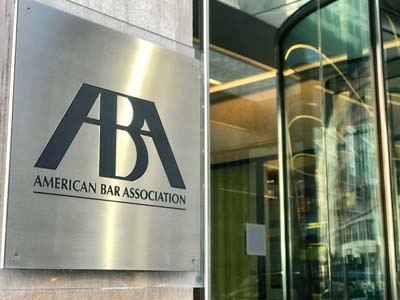 The American Bar Association Standing Committee on Ethics and Professional Responsibility has released guidance on lawyers' handling of prepaid fees for individual clients.
Formal Opinion 505 points to the ethical obligations for fees paid for legal work to be performed by the lawyer in the future.
According to the ABA, the opinion seeks to clarify the proper handling and disposition of fees paid in advance for legal work to be performed in the future, including where the lawyer must deposit and maintain the funds and when the lawyer may treat them as earned.
It also explains when a lawyer must refund all or a portion of fees paid in advance, and discusses whether such a payment may be, or even can be, labeled "nonrefundable," with answers derived from the application of several Model Rules, including: 1.5(a), 1.5(b), 1.15(a), 1.15(c), 1.15(d) and 1.16(d).
The opinion notes that a retainer is sometimes combined with an advanced fee, which shouldn't be considered as payment for services but rather compensation for promising availability.
"Given the rarity and unusual nature of a general retainer, and the fact that very few clients would actually need or benefit from one, the nature of the fee and lawyer's obligations and client's benefits under such an agreement must be explained clearly and in detail," the opinion says.
The opinion then defines the problem with lawyer fees and explaining them to clients.
"These terms are most often used in an attempt to make an advance fee nonrefundable," it says. "Do not allow a lawyer to sidestep the ethical obligation to safeguard client funds with an act of legerdemain: characterizing an advance as 'nonrefundable' and/or 'earned upon receipt.' This approach does not withstand even superficial scrutiny. A lawyer may not charge an unreasonable fee."
The 13-page opinion goes on to provide examples of hypothetical situations.
"We offer the following suggestions in relation to the matters addressed in this opinion. Use plain language," the opinion says. "Thus, instead of 'retainer' say 'advance' and explain that it is a 'deposit for fees.' Explain that the sum deposited will be applied to the balance owed for work on the matter, and how and when this will happen."
The opinion also states it may be wise to recognize the reality that many relationships do not last, and to include a provision explaining what will happen if the representation is terminated before the matter is completed.
Please enable JavaScript to view this content.