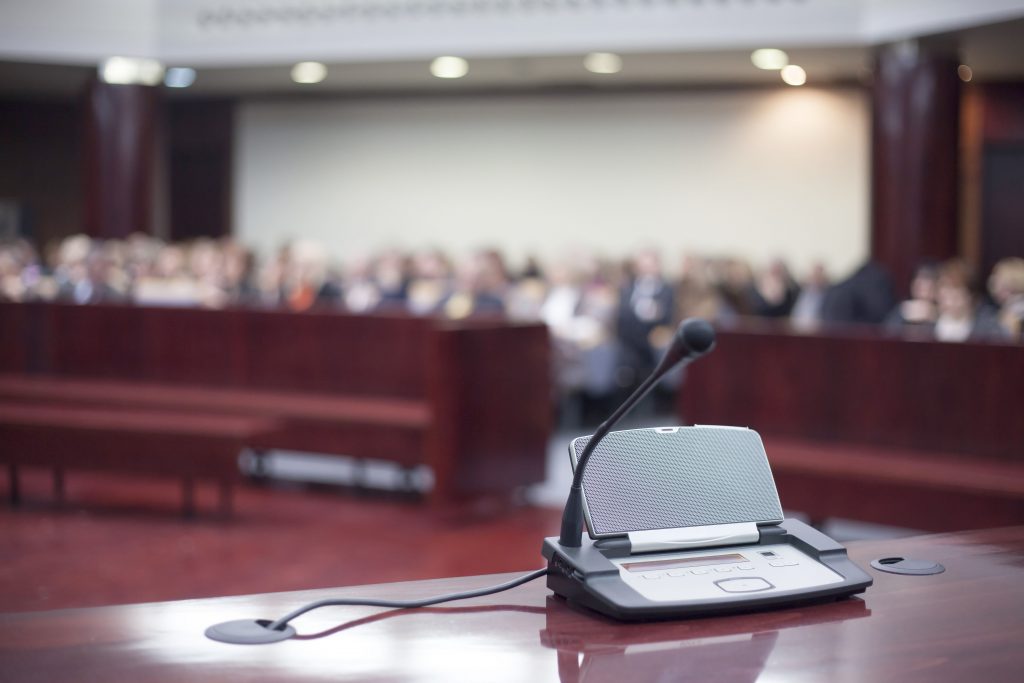 Tension in the air was palpable as Dr. Caitlin Bernard took the stand Monday to be questioned in an ongoing debate about her role in providing an abortion to a 10-year-old Ohio girl and whether the Indiana attorney general overstepped his bounds in investigating the doctor's actions.
Questioning about the origins of Bernard's conversation with a newspaper reporter and patient privacy continued Monday afternoon in Marion Superior Court in part two of an emergency hearing between attorneys for both Bernard and Indiana AG Todd Rokita.
Bernard and her medical partner, Dr. Amy Caldwell, sued Rokita earlier this month, asserting he and Scott Barnhart, chief counsel and director of the Consumer Protection Division in the AG's office, exceeded their authority and breached confidentiality provisions regarding consumer complaints filed against the doctors.
The dispute began in July, when Bernard publicly announced in an article in the Indianapolis Star that she had performed an abortion on a 10-year-old rape victim from Ohio. Rokita then publicly announced that his office was investigating Bernard's actions related to the Ohio girl's case, specifically regarding reporting requirements and privacy laws.
After filing the civil suit against Rokita and Barnhart, attorneys for Bernard and Caldwell — Kathleen DeLaney of DeLaney & DeLaney LLC and pro bono counsel Arnold & Porter — subsequently filed an emergency motion for preliminary injunction in an attempt to stop Rokita from further investigating those complaints via subpoenas to obtain patient medical records.
Monday's hearing, presided over by Marion Superior Judge Heather Welch, lasted nearly five hours. At the close of testimony, Welch said she intends to issue a ruling by next week.
During the first round of testimony on Friday, both sides discussed patient privacy at length.
Bernard's counsel posed questions to three medical experts about what impact the disclosure of personal information to government agencies — like the Attorney General's Office — could have one the patient-physician relationship. For their part, Rokita's lawyers argued that the physician's act of sharing information about a patient to a newspaper outlet could be equally damaging.
Bernard, who was not present at Friday's hearing due to international travel, was ordered by Welch to be present Monday afternoon.
Reports, privacy
Upon taking the stand Monday, Bernard faced targeted questions from the defense about the root of her conversations with the journalist who initially reported about the minor patient from Ohio.
Bernard testified that she had a conversation with another physician during an abortion rally this summer at Indiana University Health's medical campus about women seeking abortions in neighboring states as a result of tightening abortion laws. At that point, the newspaper reporter overheard their conversation and followed up with Bernard to confirm if it was true.  According to the OB-GYN, Bernard had told the doctor that she was already seeing patients from out of state to receive abortion care, including a minor patient.
When asked by the defense what information she divulged to the reporter, Bernard said she did not use an identifying information to describe the child's case. She also testified she had not even met the child when she had that initial conversation.
"We discussed that the patient had been raped. That is how a 10-year-old becomes pregnant," Bernard said.
During questioning, Deputy Attorney General Caryn Nieman Szyper directed Bernard to review a subpoena sent by the AG's office to IU Health University Hospital seeking medical records.
When asked if the subpoena's language, stating that IU could redact personally protected information in responsive records, alleviated her concerns about patient privacy, Bernard said no.
"I believe that there is information in the medical record that should not be released to the attorney general given that there is no reason for that information to be released for any reason," Bernard said.
But the AG's office claims it needs the patient records to determine if Bernard violated privacy laws or rules of professional conduct by speaking to the newspaper about the child.
"There is no defensible reason for this doctor to shatter her 10-year-old patient's trust by divulging her abortion procedure to a reporter so her traumatizing experience could be used in the polarizing abortion debate on the heels of (Dobbs v. Jackson Women's Health Organization)," Rokita said in a statement following Monday's hearing, referencing the U.S. Supreme Court ruling that ended the constitutional right to abortion originally established via Roe v. Wade.
Attorneys for Rokita added that the evidence "strongly suggests that the doctor violated the mandatory reporting law," which they assert required her to immediately report the child's abuse to Indiana authorities.
Bernard said she did not personally report the situation to Indiana law enforcement, but she did report it to the IU health social work team after speaking with the Ohio referral doctor days before the minor patient arrived in Indiana. Bernard also testified that Ohio law enforcement and child services were already investigating the case before she agreed to perform the abortion.
Katharine Melnick, supervisor of the Marion County Prosecutor's Office's Special Victims Unit, testified as a plaintiffs' expert that she would expect a doctor to report in the jurisdiction where the child abuse occurred. In her experience, Melnick said social workers usually issue reports of child abuse to jurisdictional law enforcement or child services while a physician is treating the patient.
"If the patient is going back to another location, I would expect them to report to the location where the patient is going back," Melnick said. "If that patient was going to be staying within Indianapolis long term, then I would expect them to report in Indianapolis, and you could make sure that (the Department of Child Services) is providing the services."
Multiple news outlets have reported that Bernard made the necessary reports, but Indiana Lawyer has not independently verified this. IU Health, Bernard's employer, has also said publicly the doctor did not violate privacy regulations.
Complaint questions
Mary Hutchison, section chief of licensing enforcement in the Office of the Indiana Attorney General, testified Monday about the process of reviewing and taking complaints submitted to the consumer office. Hutchison was questioned for nearly two hours.
Submission of complaints may be done via email, online or mailed to an intake section that reviews consumer complaints, Hutchison said. The intake section refers to a list to determine if a complaint appears to have violated statutory requirements of a particular profession.
Once a complaint make its way to the licensing office, for example, an assistant section chief reviews it, Hutchison explained. If the complaint appears to have violated a statute that regulates that particular profession, it's assigned to a deputy attorney general and an investigator.
If it appears that there could be a violation of a statute on the face of the complaint, the complaint is investigated.
Hutchison said she was not sure if there is a screening process for complaints at the intake step.
She added that her office still has questions about some reporting requirements it maintains Bernard should have met.
DeLaney in a Tuesday statement said the AG's office "produced no evidence suggesting that Dr. Bernard failed to comply with reporting laws."
"In fact, witness testimony confirms she fully complied with those laws and assisted the law enforcement investigation that resulted in the arrest of the suspected abuser," DeLaney said. "The evidence also showed that the Attorney General's office continues to this day to investigate multiple invalid complaints against my client despite evidence showing she upheld her duty. "
While two of the consumer complaints filed against Bernard are not being taken seriously at this time, Hutchison said, all complaints are still being investigated.
"As a physician, I never imagined that I would need to engage in a legal battle to protect the rights of women and girls to not have their private medical records released for political purposes," Bernard said in a statement. "But nonetheless, I feel strongly that this fight — the fight for physicians to compassionately provide abortion care to every single person who needs their care and to fight for their patients' access to safe, legal abortion care, free from fear of criminalization — is worth waging."
Please enable JavaScript to view this content.