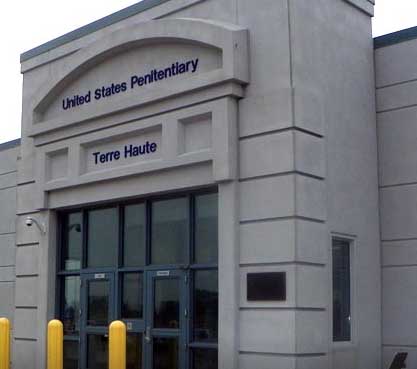 The American Civil Liberties Union of Indiana has filed a lawsuit against the U.S. Penitentiary in Terre Haute, alleging death row inmates are being held in isolated conditions that violate their civil rights.
The lawsuit was filed Thursday on the behalf of Jurijus Kadamovas, who has been in the Special Confinement Unit at the Terre Haute facility since 2007, when he was sentenced to death for kidnapping and murder. Class certification is also being pursued.
Terre Haute is the only prison in the U.S. that holds men for death row. Currently there are about 38 prisoners on federal death row, according to the complaint.
The lawsuit claims the individuals on death row are in isolated conditions in the SCU that constitute cruel and unusual punishment in violation of the Eighth Amendment.
Specifically, according to the complaint, inmates in "Phase I" of solitary confinement are confined to their cells except for one hour a day, five days a week, with two hours of recreation permitted on one of those days.  In "Phase II," inmates are allowed to participate in the same recreation but with one other assigned inmate.
Phase II inmates are also allowed to meet with their assigned inmate two days a week for 90 minutes in the leisure room, which is a small room in the SCU that contains books, hot water to make drinks and a television. However, leisure room visits are often canceled and never rescheduled, the complaint claims.
Inmates may also be permitted to leave their cells for one hour a day to use the SCU's law library, a small room with a computer. They can only use the law library one at a time.
Additionally, the complaint also alleges the SCU contains six "cages" that inmates occasionally use for religious services. During those services, according to the complaint, inmates are locked in individually while religious leaders stay in an open area.
Finally, the complaint claims that of the 38 inmates on death row, only three have a job on the unit. None are allowed contact visits.
"It is well recognized by both numerous cases and mental health experts that this form of isolated confinement imposed on prisoners causes severe psychological and emotional harm that is unwarranted," the complaint states. "Defendants are well aware that the solitary confinement used in the SCU creates a substantial risk of this harm and does in fact cause this harm, but they allow the conditions to continue."
In a news release, the ACLU of Indiana cited to "Psychiatric Effects of Solitary Confinement," a 2006 article by Stuart Grassian that argues solitary confinement can cause psychological pain, cognitive impairment, intense agitation, fearfulness and disorganization.
"We must address our overreliance on solitary confinement in this country," Ken Falk, ACLU of Indiana legal director, said in the news release. "Long-term isolation costs too much, exacerbates mental illness, and is fundamentally inhumane."
Kadamovas, the named plaintiff, suffers from Crohn's disease, high blood pressure, asthma, sleep apnea, severe pulmonary problems, memory difficulties, depression, stress, heightened anxiety and difficulty concentrating, according to the complaint. In addition to class certification, he is seeking injunctive and declaratory relief as well as damages.
The case — Jurijus Kadamovas, on his own behalf and on behalf of a class of those similarly situated v. Director, Federal Bureau of Prisons, in her official capacity; Steven Kallis, Warden, United States Penitentiary, Terre Haute, Indiana, in his official and individual capacity; and Thomas Watson, in his individual capacity, 2:23-cv-22 — was filed in the Unites States District Court for the Southern District of Indiana, Terre Haute Division.
In addition to the ACLU of Indiana, the plaintiff and putative class are represented by attorneys with Faegre Drinker Biddle & Reath in Indianapolis.
Please enable JavaScript to view this content.