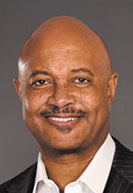 The only thing certain in the discipline case against Indiana Attorney General Curtis Hill is uncertainty.
That's the consensus of legislative and political leaders responding to the recommendation that the Republican AG serve a 60-day suspension without automatic reinstatement. The recommendation came Feb. 14 from former Indiana Supreme Court Justice Myra Selby, the hearing officer in his attorney discipline case.
If Hill's law license is suspended, it's unclear how that might impact his ability to remain in office. Indiana law requires the attorney general to be "duly licensed to practice law in Indiana," meaning a lawyer in good standing.
House lawmakers on March 2 adopted an amendment that would force Hill out of office or off the campaign trail if he loses his law license or is suspended for 30 days or more.
But before the question of Hill's eligibility for office can be answered, the issue of what discipline he will face must be resolved by the Indiana Supreme Court.
The deadline is nearing for Hill or the Indiana Supreme Court Disciplinary Commission to seek Supreme Court review of Selby's hearing officer report, which found that Hill violated Indiana Rules of Professional Conduct 8.4(b) and (d) when he committed battery against four women. Those women — State Rep. Mara Candelaria Reardon, Gabrielle McLemore Brock, Niki DaSilva and Samantha Lozano — say Hill was drunk at a March 2018 legislative party when he rubbed their backs and/or touched their buttocks.
But Selby's report is only a recommendation. The five justices may disagree with her findings on rule violations and a sanction. The most severe sanction would be disbarment, while the least severe would be no sanction at all. Other options could include a reprimand or suspension with automatic reinstatement.
The commision recommends Hillserve a two-year suspension without automatic reinstatement.
Also up in the air is what a disciplinary sanction could mean for Hill's ongoing reelection campaign.
At the Indiana Republican Convention in June, the incumbent AG must square off against Indianapolis attorney John Westercamp and former state Revenue Commissioner Adam Krupp for the GOP nomination for attorney general. If he receives the nod, he'll run on the general election ballot against either State Sen. Karen Tallian or former Evansville Mayor Jonathan Weinzapfel, who are competing for the Democratic nomination.
Calls for Hill's resignation have persisted since the groping allegations became public in July 2018, including one from Republican Gov. Eric Holcomb. Holcomb declined to comment on Selby's disciplinary recommendations, though he has repeatedly stood by his call for Hill to resign.
Other legislative and political leaders are speaking out, continuing to express their concern about Hill's fitness for office and/or their confusion over what the discipline could mean for the Office of the Attorney General.
Hill's defense team
Hill is represented by a three-lawyer team including Donald Lundberg, former head of the Disciplinary Commission, and defense attorneys Jim Voyles and Jennifer Lukemeyer of Voyles Vaiana Lukemeyer Baldwin & Webb. The defense team said it is reviewing Selby's report and is confident the Supreme Court will give Hill "a fair and just result."
"Justice Selby rejected the Disciplinary Commission's position that Attorney General Hill's law license should be suspended for two years without automatic reinstatement," Lundberg said in a statement on behalf of the defense team. "She agreed with Attorney General Hill's position that he did not violate the Oath of Attorneys' undertaking to abstain from offensive personality or engage in criminal conduct involving sexual battery. … Attorney General Hill is giving careful consideration to seeking Supreme Court review of other aspects of Justice Selby's report."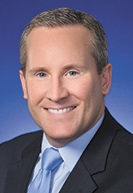 Political leaders
Many of the calls for Hill's resignation have come from within his own party, including from Holcomb, House Speaker Brian Bosma and then-Senate President Pro Tem David Long.
Jake Oakman, communications director for the Indiana GOP, said in a statement that "(the) findings by Justice Selby that Curtis Hill committed four counts of criminal battery and used his high office to attack the victims, among other improper acts, provides independent judicial confirmation that the calls for resignation were the right thing to do."
John Zody, chair of the Indiana Democratic Party, repeated his call for resignation and said the AG should end his campaign. Hill is the top law enforcement officer in the state, but his conduct fell "well below that of a public official."
"Elected officials are generally held to a higher standard," Zody told IL. "It's what you sign up for."
Legislative leaders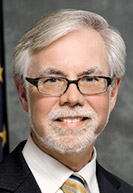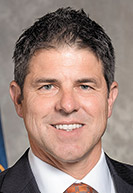 Current Senate President Pro Tem Rodric Bray, R-Martinsville, declined to comment on Selby's recommended discipline, saying it was not his place to do so.
"My concern lies with the uncertainty that could result from a possible suspension," Bray said in a statement. "Hoosiers need and deserve clarity on the issue of who their Attorney General is and whether he will be able to serve the needs of Indiana."
Senate Minority Leader Tim Lanane, D-Anderson, said he still believes resignation would be "the right thing to do" in Hill's case.
"Curtis Hill has spent half of his term mired in investigation and has lost the confidence of many," Lanane's statement said, adding that the disciplinary recommendations raise further questions. "… Why should Indiana trust in an Attorney General that can't even legally practice law for 60 days? How can an AG stay in office, or even be a candidate for office, if he has no law license?"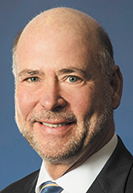 Outgoing House Speaker Brian Bosma, R-Indianapolis, did not respond to Indiana Lawyer requests for comment on the recommended 60-day suspension. But speaking with other reporters, Bosma said the recommendation of suspension without automatic reinstatement further complicates the eligibility question.
"We have communicated with representatives of the Supreme Court that if this is appealed to them, we would like clarity from their perspective about this question rather than leaving it up in, you know, jump ball, and making somebody decide while we are out of session," Bosma said, according to The Fort Wayne Journal Gazette.
Bray, Lanane and Bosma are all lawyers.
House Minority Leader Phil GiaQuinta, D-Fort Wayne, declined to comment.•
Please enable JavaScript to view this content.