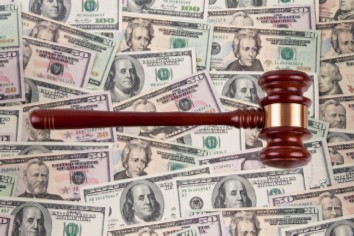 The Indiana Attorney General's Office has filed a complaint to recover public funds from the Clinton County sheriff and his wife, who are also facing conflict of interest and official misconduct charges for alleged misuse of jail commissary funds.
According to court documents, Sheriff Richard Kelly and his wife, Ashley Kelly, are the owners and operators of Leonne LLC, which was contracted to manage commissary operations at the county jail. Ashley manages the commissary fund, and she was appointed by her husband as Clinton County's jail matron.
Court documents allege that checks issued by the jail commissary fund during an audit period of January 2019 to September 2021 totaled $32,967 to Ashley and $190,916 to Leonne — representing half of commissary profit on merchandise sales.
The couple used the Leonne checking account for household expenditures, including a 2021 GMC Yukon Denali, according to the audit.
The couple are accused of not disclosing their ownership interest in Leonne or their marital status. The complaint also says hiring Ashley as jail matron and commissary manager violated the county's anti-nepotism policy.
The payments Richard made from the fund were neither authorized nor approved by the county, according to the complaint, and there wasn't a written agreement with Leonne for commissary fund management services.
The complaint alleges Ashley was also receiving disability payments at the same time she was collecting a full-time salary as jail matron and being paid to manage the commissary fund.
Further, the complaint includes claims of surety liability against Western Surety Company and RLI Insurance Company. It alleges Western is liable with Richard for $90,000 while RLI is liable with Ashley for $15,000.
Indiana Lawyer left a message with the sheriff's office. Richard and Ashley are both still listed on the office's website.
The complaint — State of Indiana ex rel. Todd Rokita Attorney General of Indiana v. Richard Kelly, Ashley Kelly, Leonne, LLC, Western Surety Company, and RLI Insurance Company, 12C01-2303-PL-000259 — was filed Thursday in the Clinton Circuit Court.
Criminal charges are pending against Richard and Ashley in a correlated criminal case. Both are charged with one count of conflict of interest and three counts of official misconduct.
Attorneys listed for the couple in the criminal case could not be reached for comment.
Please enable JavaScript to view this content.