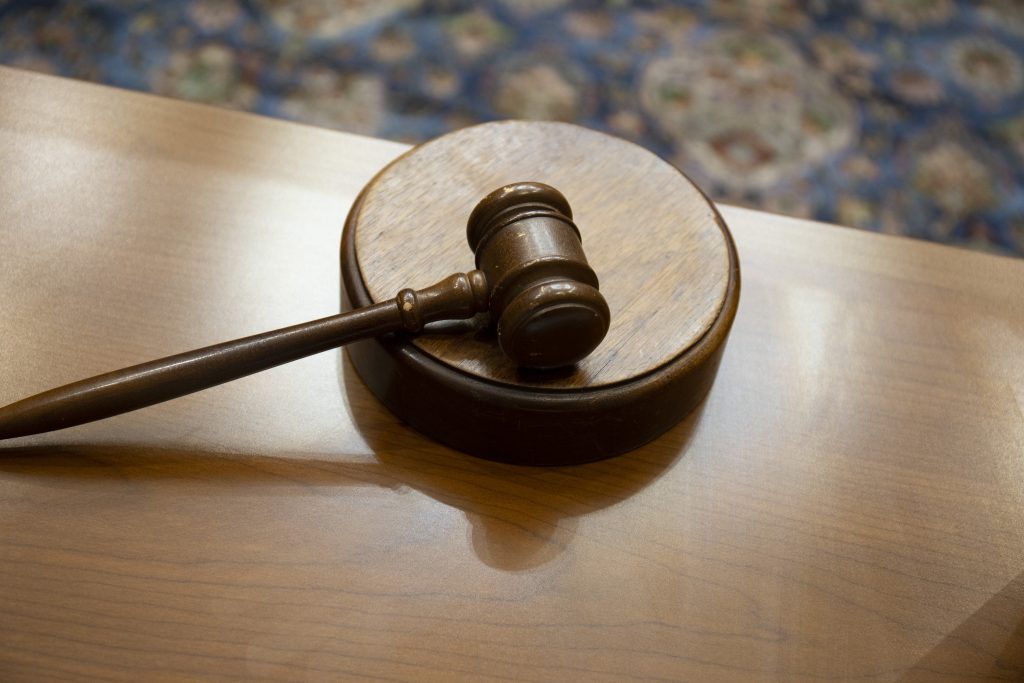 A trial court did not err in awarding summary judgment to two couples in a Porter County property dispute case, the Court of Appeals of Indiana affirmed Monday.
Judge Peter Foley wrote the opinion for the appellate court, with Judge Nancy Vaidik and Judge Elizabeth Tavitas concurring.
In the case, Dennis and Joyce Steinhilber and Wendell and Betty Werner owned parcels of land adjacent to property purchased by Thomas DeCola at tax sales in November 2018.
In July 2020, DeCola filed an action to quiet title on the four parcels of land he had purchased. Among the dozens of named defendants were the Werners and the Steinhilbers.
The Steinhilbers filed a motion to dismiss the action pursuant to Indiana Trial Rule 12(B)(6), which the Porter Superior Court granted. DeCola responded with a complaint against the Steinhilbers, which was also dismissed.
DeCola then filed an amended complaint seeking a "judicial declaration upon the implied easements of necessity to gain access to the three landlocked tracts …," as well as quiet title.
The Steinhilbers moved for summary judgment, arguing there was no evidence as to what interest DeCola was attempting to clear. They also argued DeCola was barred by res judicata from reasserting his claim to an easement because he had sued them in a separate cause seeking an easement by necessity, and that complaint was dismissed.
The Werners likewise moved for summary judgment, echoing the res judicata argument, and the trial court granted both motions last December. Specifically, the trial court found that there were no genuine issues of material fact with respect to whether the couples had any cognizable property interests in DeCola's land, and found DeCola's claim for easements to be res judicata.
DeCola appealed but the Court of Appeals affirmed, with Foley writing in a footnote that DeCola did not present any evidence of unity of title at the time his tracts were separated from those belonging to the appellees.
"The trial court in the prior case noted that such evidence was required and concluded that the complaint stated no claims upon which relief could be granted," Foley wrote in the footnote.
Foley also noted in the opinion that the trial court quite clearly considered DeCola to be a "'prolific, abusive litigant.'"
"Indeed, this litigation appears to have been byzantine: dozens of defendants, excessive motions practice, and a general lack of clarity as to which parties are where in the proceedings, and, sometimes, as to what the proceedings even are," he wrote. "On numerous occasions, the trial court was required to call upon the parties to clarify what issues and motions were currently pending."
Further, the appellate court saw nothing in the designated evidence, and DeCola failed to direct the court toward anything, that would call into question whether the Steinhilbers had any legal interest in DeCola's property.
"So far as we can tell, DeCola has never articulated which interests in his property he is attempting to clear. Thus, the trial court correctly concluded that there is no genuine issue of material fact with respect to whether the Steinhilbers have any legal interest in DeCola's property," Foley wrote.
As for the easement claims, the COA concluded, "DeCola has waived any arguments on this score, given that his only assertions are that 'the [t]rial [c]ourt failed to illuminate with absolute certainty the elemental standard of how the doctrine of res judicata is applicable over implied appurtunent [sic] easements …' and that: [i]t is simply not equitable for DeCola to be forced to utilize aviation as a means to access his landlocked parcels if his appeal is not granted.'
"… Waiver notwithstanding," Foley added, "we hold that the trial court properly found that DeCola's claims are res judicata.
"… (I)t is the plaintiff who decides whether to concede that a Rule 12(B)(6) dismissal is a final judgment on the merits of her claims," Foley wrote. "We hold today that this logic applies even when, as DeCola has done here, the plaintiff declines to make a decision and merely allows the deadlines to file an appeal or amend his complaint to expire.
"Here, DeCola's failure to make a choice when faced with the orders of dismissal was, itself, a choice," the judge concluded. "The consequence of that choice is that he is barred from re-raising his easement claims in a later action pursuant to the doctrine of res judicata."
The case is Thomas DeCola v. Dennis L. & Joyce J. Steinhilber and Wendell E. & Betty L. Werner, 22A-PL-3049.
Indiana Lawyer Editor Olivia Covington contributed to this report.
Please enable JavaScript to view this content.