Southern Indiana judges and attorneys may now apply to fill an upcoming vacancy on the Indiana Court of Appeals that will be left by the state's longest-serving judge, John G. Baker, the Indiana Supreme Court announced Tuesday.
Judges and lawyers from Indiana Court of Appeals District 1 may apply by March 16. Applications must be submitted through the Indiana Courts Portal and to the Judicial Nominating Commission.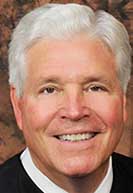 Baker, a 30-year veteran of the Indiana Court of Appeals who served as presiding judge of the appellate court's First District, announced last month he will retire this summer. Baker was appointed to the appellate court by Gov. Evan Bayh in 1989 and served as a chief judge of the court from 2007 to 2010.
Candidates for the position must be Indiana residents living in COA District One, primarily in southern Indiana, and have been a member of the Indiana Bar for at least 10 years or an Indiana judge for five years. Applicants must provide pertinent background information, writing samples, references and educational transcripts and letters of recommendation.
The seven-member Indiana Judicial Nominating Commission, chaired by Indiana Chief Justice Loretta Rush, includes three lawyers elected by their peers and three nonlawyer members appointed by Indiana Gov. Eric Holcomb.
Public interviews of qualified candidates conducted by the commission will take place in April at the Indiana Statehouse. Finalists will undergo a second round of interviews in May. The panel will consider applications for the upcoming vacancy and forward to the governor three selected names for his appointment. Holcomb will then have 60 days from formal notification of the finalists to make the appointment.
Those interested in applying may email Adrienne Meiring, [email protected] counsel for the Judicial Nominating Commission.
Please enable JavaScript to view this content.