Beneath a bright orange sunset, dozens of Indiana lawyers scattered across the field as Lee Christie, a partner at Cline Farrell Christie & Lee, stepped up to bat.
The players took part in this year's Indianapolis lawyers' softball league, whose season began on June 18 and ran through September 3. Typically, the league starts in late May and early June, lasting through the end of August.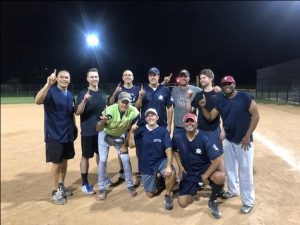 Four teams participated in the league this season, with each team consisting of 10-12 players. The league, which for years took place at Riverside Park, now plays at the Chuck Klein Softball Complex, 4702 Rockville Road. The Pokers team took home the 2020 league championship.
Anyone is eligible to play, said Robert Ebbs with Glaser & Ebbs, but the league has a standing rule that each team must have at least five lawyer-related players on the field to play. That includes judges, lawyers, law clerks, law students, law firm employees, and/or any relative of the same.
While no law school teams played this year, Ebbs said the league encourages law school play and will subsidize a law school team. He hopes that there will be more teams participating next season.
At the end of the day, Ebbs said friendships formed during the game are what most stand out to him.
"The camaraderie and sportsmanship displayed by all of the teams is always memorable," he said.
Please enable JavaScript to view this content.