Walking on the beach and going fishing are not hobbies that retired Indianapolis attorney David Miller considers appealing at this point in his life. He'd rather go back to school.
"I think that life is about growing — or it's not. And it's your choice," Miller said. "You can either stay what you are or you can grow and evolve and become a little better at something."
Miller, who retired from his employment and labor law practice at Faegre Drinker Biddle & Reath in 2012, has always had a deep appreciation for education. Within a year or so of retirement, Miller signed up for a summer course at Indiana University in Bloomington, his alma mater, to keep his mind sharp.
"It was on Roman and Greek art, and I enjoyed it," Miller said. "The next year I took the sequel to that, medieval art history. Then I started taking other classes and to this point, I've taken eight or nine total."
Simply put, he was hooked.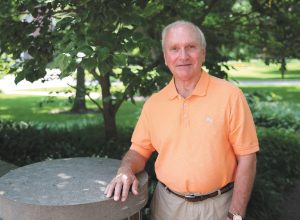 The summer classes were roughly six weeks long, and although "wonderful," Miller decided to take his studies up a notch. He signed up for three full-time courses in the fall semester of 2021, including classes on philosophy, the Roman Empire and the New Testament.Miller even invested in an apartment in Bloomington where he lived full-time for the semester so he could be closer to campus and devote more time to his studies.
"They were intense reading classes, and to be frank, I was overwhelmed with the reading and writing," Miller said. "I don't know how people take 16 or 18 credit hours, because nine hours was overpowering."
Comparing his undergraduate experience to that of 21st century students, Miller said the amount of reading materials is "off the charts" thanks to the availability of information offered by technology.
"It takes a lot more time. In truth I am a better student now than I was then," he laughed.
Despite this observation of himself, longtime friend, former colleague and retired attorney Greg Utken recalled Miller being one of the top in his class.
The men met as undergraduate students at IU in the late 1960s and have remained close friends since. They were even roommates during law school and law partners at Faegre until their respective retirements.
"Very smart fellow. But very practical," Utken said of Miller. "One of the things I think we enjoyed about the practice of law, almost every case presented a new situation, and you are always learning something new. You have the opportunity to ponder, 'What should we do in this case for the client?' And he loved thinking in those terms.
"I think that was a reflection of the way he was as a student in college," Utken said. "Always eager to learn more and different points of view and challenge them."
Inquisitive minds
Being immersed in a scholastic environment again has proved both educational and enlightening, Miller said. But it's also just entertaining.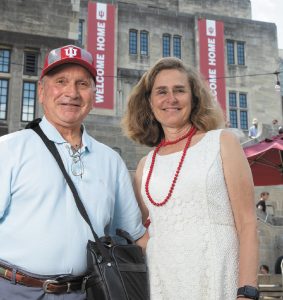 "Being in class is an absolutely fantastic experience," Miller said. "You learn as much from writing as you do from the research, watching the students and seeing their interactions. It's just a great experience."
Miller said as he sat in the back of the classroom and observed the teaching styles and conversations held between the students, he was impressed.
"I was struck by how articulate and bright they are and how deeply they think," Miller said. "They were outthinking me. I would be in one place and they would be three blocks ahead."
When Utken heard his friend was going back to school more than 50 years after graduating, he knew it was the right decision for Miller.
"I thought that was a good idea because he knew that was something that would spur him on to interesting things," Utken said. "Secondly, I was envious."
Miller is very keen on promoting education, his friend continued. Returning to school has been an invitation to observe the minds of young scholars that Miller once resembled and learn something from them along the way.
I would find that fascinating, too," Utken said. "I think it would be intriguing."
Paying it forward
In other efforts to promote education, Miller recently created the David W. Miller Scholarship for Wabash College Graduates at IU Robert H. McKinney School of Law.
The renewable scholarship is awarded to first-year J.D. students who are graduates of Wabash College and who have "shown the most development" during their undergraduate years. It fits Miller's approach to education, he said.
"I think it's easy for the person who is extremely bright to be the valedictorian or have the 3.9 GPA, but for someone who is of lesser innate ability to get top grades but they put in a terrific amount of effort, that is who I want to recognize," he said.
"In the practice of law, I saw some extremely bright people. I also saw some people who worked extremely hard," he continued. "If I had to pick between the two I would the pick the one who works extremely hard."
Miller said he strongly believes in "paying back" the benefits you've been given. One of those benefits for him is his law school education. The other is his son's education at Wabash College.
"This scholarship allows me to recognize the contributions McKinney and Wabash have made to my family's success," he said.
While he's not taking any classes this semester, Miller said he's thoroughly enjoyed his time in the classroom. He plans to be back on campus next semester with a slightly lighter course load so he can devote more time to volunteering in the local community.
But learning something new will always be a part of his daily routine.
"I believe education is valuable simply for the fact of education. It's fun!" he said. "That's what I do and what I enjoy. I look forward to doing it next year."•
Please enable JavaScript to view this content.