With the opening of two new offices on the East Coast, Barnes & Thornburg followed its plan put into place in 2009 to grow strategically by picking locations and lawyers that enhance the law firm's reputation and expertise.
The AmLaw 200 firm has launched offices in Morristown, New Jersey, and Philadelphia, the sixth and seventh locations Barnes has on the Eastern Seaboard. Like it has entered other markets, Barnes picked the location where it needed to be then scooped up a team of lateral hires.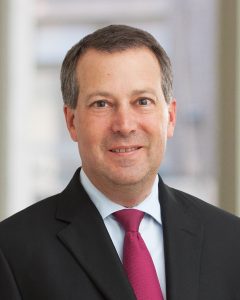 Andrew Detherage, Barnes' managing partner-elect, said the two new offices will strengthen the firm's "very big and very successful" mass tort product liability and life sciences practices. He estimated New Jersey is home to headquarters for 14 life sciences companies, and his firm represents nine of them.
The flags planted in New Jersey and Pennsylvania follow several openings that occurred just before and during the pandemic. Since 2019, Barnes has established offices in Raleigh, North Carolina, Ann Arbor, Michigan, and Salt Lake City along with New York and Boston.
"We're looking for markets that are strategic for us where we think we can be successful," Detherage said. "… Our strategy is to go into a market because we have reason to be there and we think we can be successful and we believe there are lawyers that can make us better and will do better on our platform."
The six attorneys who are stocking the two offices — Michael Zogby, Jessica Brennan and Kaitlyn Stone in New Jersey and Chanda Miller, Molly Flynn and Rebecca Trela in Philadelphia — all came from Faegre Drinker Biddle & Reath, which also has offices in Indianapolis and Fort Wayne. Barnes described the new lateral teams as "well-respected and nationally recognized product liability, mass tort and life sciences litigators and counselors."
This is not the first time Barnes has raided Faegre for laterals. In 2021, the firm nearly doubled the size of its Wilmington, Delaware, office by luring seven attorneys from its competitor, according to the Delaware Business Times.
Detherage explained Barnes sees an advantage in growing through lateral hires. Namely, the firm is able to make decisions about which lawyers not only will fit well with the culture but also will be able to expand their practices and better serve their clients.
"Our culture is very important to us," Detherage said. "We think we have a very unique culture and we've maintained that by the ways that we've grown by choosing who we bring in and finding people that fit our culture and believe in our culture."
The incoming managing partner credited the way Barnes attorneys treat each other and work together as creating a place where laterals want to stay. Detherage noted his firm has a lateral retention in the 80% range while other firms in similar markets retain 50% to 60% of lateral hires.
"We like to think that culture is what brings people to us and keeps people with us and, frankly, drives productivity in our law firm," Detherage said.
Although the Barnes leader did not reveal exact figures, he said his firm is anticipating another banner year in terms of revenue. Barnes set a gross revenue record in 2021, and Detherage said expects 2022 will top that.
The offices in New Jersey and Philadelphia are open and operating. However, they have only temporary leases and are looking for more permanent locations.
"It's very exciting for us," Detherage said of the two new offices. "… We think these are both markets where we can continue to grow and significantly improve the firm and be strategic about it."•
Please enable JavaScript to view this content.