Indianapolis-based Barnes & Thornburg now has a New York address, opening an office in the Big Apple as part of its plan to grow its footprint and expand its corporate, litigation and white collar practices.
The Midtown base at 445 Park Avenue is the firm's 19th office. To lead the new location, Barnes lured six partners who have decades of experience providing counsel to major investment funds and investors, banks and other financial institutions.
They and their team are advising clients within and outside of New York in key practice areas including equity and debt investment and financing transactions; formation, operation and regulation of private investment funds; complex commercial and white collar litigation; and regulatory and governmental investigations.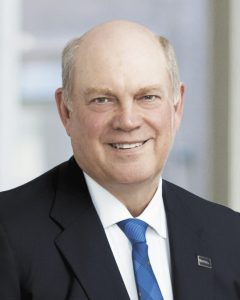 "Opening an office in the world's financial center enhances our position in a variety of practice areas and is a key feature of the firm's strategic growth plan and another important step in the firm's national growth in recent years," said Barnes & Thornburg managing partner Robert Grand.
The office officially opened in February but the attorneys have been working remotely since mid-March because of the global pandemic. Robert Boller, who joined from Akin Gump Strauss Hauer & Feld, is the partner in charge.
He is joined in the litigation practice by partners Lawrence Gerschwer, former Assistant U.S. Attorney for the Southern District of New York and most recently of Fried Frank Harris Shriver & Jacobson, and David Slovick, who joined Barnes in late 2019 from Cahill Gordon & Reindel.
The firm's newly established Investment Fund and Asset Management practice group is co-led by Jahan Sharifi, formerly Richard Kibbe & Orbe, and Scott Beal, from Bavis Polk & Wardwell. Sharifi is focusing his practice on financing and investment transactions while Beal is concentrating on fund formation and structuring.
The sixth founding partner is Michele Alexander, a transactional tax attorney who advises on private investment funds. She joins from Bracewell's New York office.
"This talented and respected group of attorneys, who join during challenging times and bring impressive resumes, strong reputations and deep knowledge of the New York market, further empower us to handle complex corporate and litigation matters on behalf of our clients," Grand said.
Boller said the opening of the office has been remarkably smooth considering the circumstances imposed by COVID-19. Barnes has continued to recruit talent, hire additional legal staff, onboard clients and handle sophisticated transactional and litigation matters during the shutdown.
"It's exciting to join a firm with the growth trajectory of Barnes & Thornburg and to do so with a group of lawyers at the top of their respective fields," Boller said. "This is a career-defining opportunity for all of us. The exceptional team we're building in New York will be able to leverage the firm's deep bench of sophisticated, talented attorneys around the country to provide unrivaled value to our clients in this highly competitive space."
Barnes is opening its New York office months after making 17 lateral hires and establishing new offices in Raleigh, North Carolina, Ann Arbor, Michigan, and Salt Lake City, Utah. The firm called the Big Apple location a "significant milestone" in its strategic growth plan as well as its continued expansion of its corporate, litigation and white collar practices.
"Barnes & Thornburg has an incredible white collar practice across the country that includes four former United States attorneys as well as a large and diverse group of highly skilled lawyers at all levels," Gerschwer said. "It's very exciting to be able to offer the services of such a well-developed practice to financial institutions and other clients here in New York."
Please enable JavaScript to view this content.