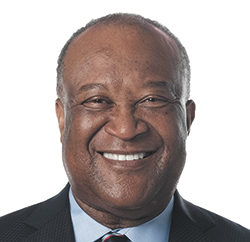 A Taft Stettinius & Hollister LLP partner has been appointed by President Joe Biden to serve on the President's Export Council.
Lacy Johnson was appointed by Biden to the council, which serves as the principal national advisory committee on international trade, according to a Taft release.
"It is a great honor to be selected to serve on the President's Export Council," Johnson said of his appointment in a released statement. "The Council's work will support the growth of export and trade relationships with global trading partners of the United States. I look forward to working among some of the most prestigious key executives, leaders, and strategists in the country."
Johnson serves as the partner-in-charge of Taft's Washington, D.C., office.
His legal practice focuses on public affairs and government, with Johnson having more than 30 years of experience.
Johnson served on the Biden-Harris transition team and is an advisor to many Congressional Black Caucus leaders and members.
He is a former Democratic National Committee (DNC) member; and in 2021, he was reappointed by President Biden as an at-large member of the DNC.
Prior to his private legal practice, Johnson served as a lieutenant colonel in the Indiana State Police and was a lieutenant commander of the U.S. Naval Intelligence Reserves.
He is also a past Indianapolis Airport Authority president.
The export council's central focus is to advise the president on export trade matters.
It informs the president of governmental policies and programs that impact U.S. trade performance; advances export expansion; and offers a platform for discussing and resolving trade-related issues pertaining to business, industrial, agricultural, labor and government sectors.
Appointed members are the nation's leading representatives of business and industry, agriculture, and labor.
Please enable JavaScript to view this content.