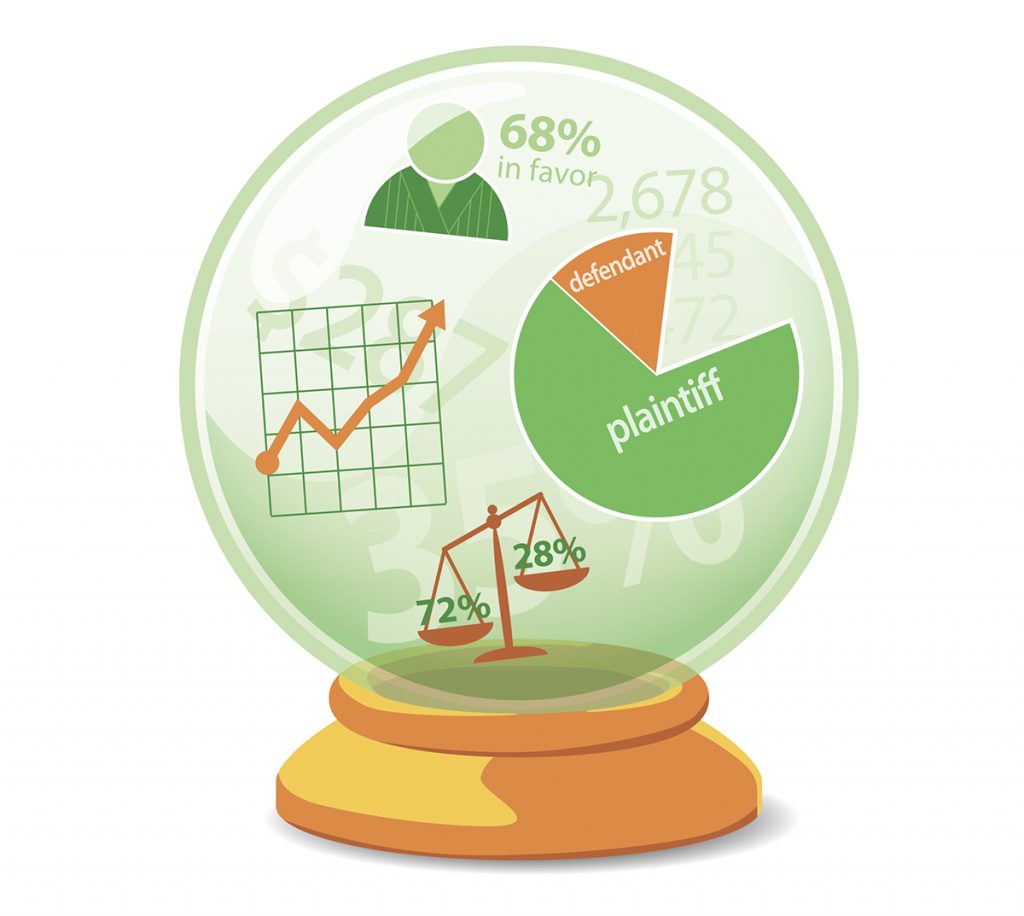 Despite all the hype, big data, by itself, cannot do a thing.
However, when all those tiny bits of information are sorted and examined through clearly defined parameters, crunched by the right math calculations and carefully analyzed, the revelations that emerge can be mind-boggling. Reasons for certain behaviors or undetected trends in the marketplace can be illuminated.
Christopher Day, co-founder and CEO of DemandJump, an Indianapolis-based tech company, regularly sees the data analysis telling his clients things about their businesses they had not even considered.
"We always get surprised by what we find in data," Day said. "There's always one, two or three 'holy cow' moments."
Big data is growing in importance, and corporate legal departments, despite being slower to adapt initially, are increasingly utilizing data analytics as part of their practices, according to a 2019 report by HBR Consulting. Not only are general counsel relying on data to evaluate the performance of their outside law firms, they are shifting the analysis to more complex applications, such as predicting the outcomes of disputes.
Through its Law Department Analytics Survey Report, HBR found corporate law departments are giving heightened emphasis to data analytics. Well over half of those the consulting company surveyed said data science and analytics was a high or medium priority in their legal department, while almost 80% indicated they either have or are developing a strategy for using data analytics.
Brian Kuhn underscores that big data can transform legal work.
Kuhn, founder and global leader of IBM Watson's legal consulting practice, is currently the vice president and general manager of Elevate's Digital Strategy and Solutions business unit, which is focused on helping law departments and law firms capitalize on digital technologies and related best practices.
Through data analysis, in-house lawyers can see patterns and relationships that will enable them to make strategic decisions that were not possible before, Kuhn said. Big data coupled with artificial intelligence can put together detailed pictures of a situation or circumstance that corporate attorneys can use to solve problems or mitigate risks.
This will change, but not eliminate, the work in-house attorneys do.
"Our goal is not to replace people with technology," Kuhn said. "We want people to embrace the new capabilities."
Defining problems
The data that legal departments already have collected and stored contain what Kuhn calls "dormant insight." Corporate legal departments tend to face similar legal issues over and over. The data can highlight what is happening and why.
If, for example, the company is often sued by customers, an analysis of the data in the previous lawsuits and outcomes can identify the specific business practice that is fueling the litigation. The analysis can also reveal how quickly each outside law firm can reach a settlement most favorable to the company and even spot the likely outcomes of lawsuits in different jurisdictions around the country.
Increasing sophistication within digital transformation is allowing corporate attorneys to pull data siloed in other departments of the company, which gives them a more comprehensive view.
For instance, if the sales department is removing indemnity clauses from contracts because their customers are refusing to sign documents with that provision, an analysis of the data from legal and from sales can pull out the phrases or terms in the clauses that are making customers hesitate. Consequently, the lawyers can then draft a contract to which customers will readily agree.
Such information can help law departments tackle their number one problem, which, Kuhn said, is predicting how much will be spent on outside attorneys. In-house lawyers may be able to discover facts such as that the firm that charges one of the highest hourly rates is actually the cheapest because it resolves cases quickly.
"The ability to get to the root cause is the ultimate promise of a data-driven strategy and practice," Kuhn said.
In a 2020 survey of chief legal officers, the Association of Corporate Counsel found chief legal officers are implementing new technologies to improve efficiency, and they expect the use of artificial intelligence to accelerate. When asked the open-ended question of how the digital transformation would impact in-house attorneys, they saw benefits as well as concerns.
Some CLOs believed the leveraging of data and analytics would enable them to better understand the work being done by their legal departments. Also, they liked being able to have artificial intelligence do work that is currently being handled by some external law firms.
Conversely, others noted the digital transformation would require continuous investment and training. In addition, the transformation was seen as adding complexities to the challenges legal departments must address, as well as bringing more risks that must be mitigated.
Tapping into big data for insight is not as easy as throwing all the information into a black box and waiting for revelations to magically appear. Day pointed out that data analysis can cut through natural human biases of what in-house attorneys may believe about their company's products or customers. But to be able to get that knowledge, legal departments need to be specific about what they are searching for.
Kuhn agreed. Companies and their legal departments, he said, need to know what data is available and where it lives while also having realistic expectations about what the bits and pieces of information can convey. Most importantly, the business must define the problem or clearly ask the question in order to get the answer.
Businesses that do not understand the headache they want the data to cure or are using the wrong tool — or even the right tool in the wrong way — to sift through all the information can arrive at an incorrect result. Without the proper context, the solution offered by the data analysis might not actually work.
It is less important that companies understand how data analysis works, Kuhn said, and more important that they think about what they want to do with the data.
Once the question is determined, Day reiterated the work is not done. Next, the right data needs to be collected, then the right mathematical calculations need to be applied. Finally, the properly trained people must be employed to read the analysis and point out the answer.
The outcome can make all the effort worthwhile. Day said data analysis can provide legal departments with granular insights such as which judge is likeliest to toss a slip-and-fall lawsuit when the company is represented by a specific outside attorney.
As Day noted, with big data, all kinds of analysis can be done.
Replacing lawyers?
Asked if all this analysis of big data would bring an end to the need for legal expertise, Day was adamant.
"No, no, no," he said. "Everybody likes to say artificial intelligence will put everyone out of job. I don't think that."
Still, as technology advances, lawyers and other workers will have to embrace the change or risk becoming unemployed, he said. Using technological tools can make in-house attorneys more capable and more valuable, though they will be required to move quickly to keep up with the rate at which things are advancing.
"Every day they wait, they fall behind another year," Day said. "It all comes down to people being willing to embrace change."•
Please enable JavaScript to view this content.