As she has for the past 61 years, Jackie Leverenz arrived Thursday at Indianapolis Legal Aid Society to tackle the big jobs and dispense with the simple tasks that keep the nonprofit running. But at the end of this workday, she will also be saying good-bye.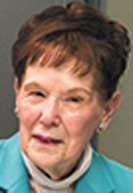 The longtime executive secretary is retiring on the anniversary of when she first started working at ILAS — Oct. 31, 1958. She did much of the behind-the-scenes work, handling everything from answering phones, typing court filings, and hiring outside vendors to managing the bookkeeping and payroll, tracking grants, assisting the board of directors, and planning special events. Always with a smile, she supported, cheered and consoled the attorneys, offered gentle guidance to the board members and warmly greeted anyone who happened by her desk.
"She never had a grumpy day," said retired attorney and ILAS board member Daniel Carmichael. "She is an absolute delight to work with."
Leverenz arrived 17 years after ILAS opened its doors. The duties she performed and the responsibilities she took on were so numerous and so varied that the organization did not need to spend money hiring additional personnel and could then funnel more funds directly to client services.
When asked about Leverenz's contributions to the nonprofit, John Floreancig, ILAS general counsel and CEO, was momentarily at a loss to describe all his colleague has done.
"Oh gosh," he said, "she's been my right hand."
Floreancig and Leverenz worked very closely together in managing the organization that in 2018 served 8,034 clients on a budget of just over $1 million. The pair have occupied adjoining offices and spent most of their days calling out to each other, walking back and forth between their desks, formulating plans, and making sure the attorneys had all the resources they needed to serve their clients.
"It's bittersweet," Floreancig said of Leverenz's retirement.
Having worked at ILAS for six decades, Leverenz was a fountain of institutional knowledge, which Floreancig and the board of directors heavily relied upon. Sometimes when the board members were discussing a proposal or tossing around an idea, Leverenz would cause them to rethink their plans by pointing out what had happened in the past with a similar project.
Ron Walker, board member and of counsel at Plews Shadley Racher & Braun, acknowledged ILAS will be able to find people to do the jobs Leverenz did. Although someone will come to run the office, the intangibles that Leverenz brought to her position will leave with her.
"She was a veteran of that organization," Walker said. "She has not only been our moral compass but she is also a walking history book."
Carmichael noted Leverenz had a dedication and commitment to ILAS that came from her belief in the work of legal aid and her understanding of the clients' needs.
"She has a heartfelt concern for the clients legal aid supports," Carmichael said, adding her contribution has secured for her a great reward. "There's a special spot in Heaven for Jackie."
Please enable JavaScript to view this content.