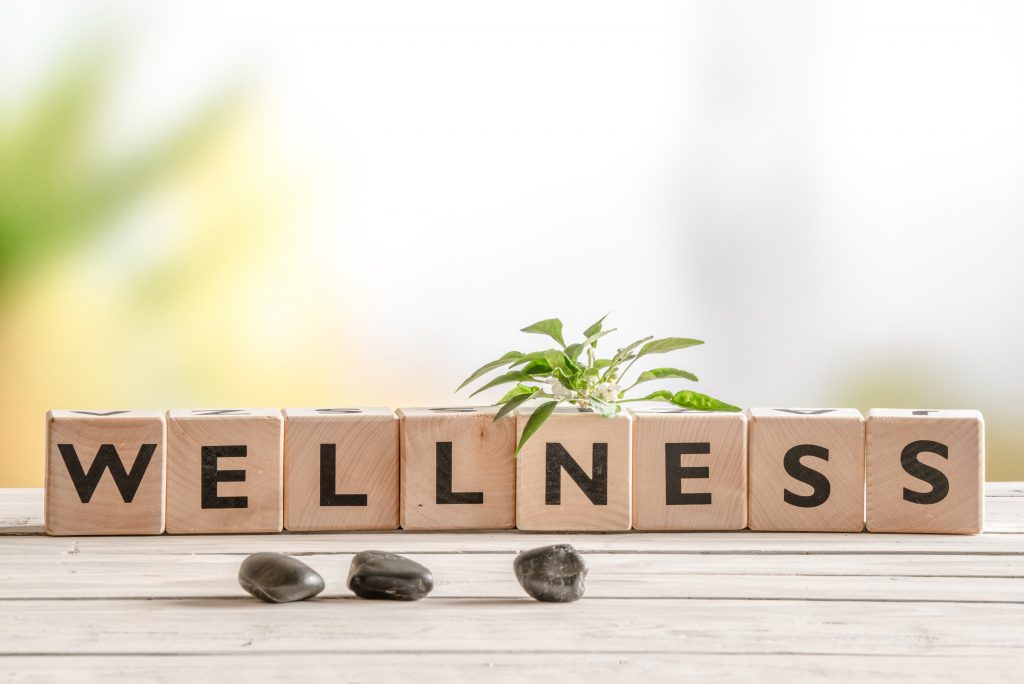 Lawyers and judges have long held reputations for bringing their work home with them.
The pitfalls of overworking oneself have been well documented, from employee burnout to substance abuse issues, and programs have been established to combat these problems by law firms, bar associations and state supreme courts, among others.
However, since March 2020, the unofficial start of the COVID-19 pandemic, the traditional sense of working from home has changed.
Earlier this month, Clio released its 2022 Legal Trends Report, which explores how lawyers have adapted to remote work over the last two years and how that has affected lawyers' well-being. The report not only looked at how much lawyers are working, including whether it's in an office, but what times and days they're working, as well as the changing expectations of clients.
What the study found is remote work "has brought new opportunities for flexibility, but has also contributed to the breakdown of work-life balance."
Individuals leading wellness initiatives and who follow workforce trends say they've seen this trend play out in Indiana.
Staying remote
The COVID-19 pandemic unequivocally transformed where and how lawyers work.
Electronic filing has been around for years, but the viability of legal professionals to effectively work in virtual settings became more apparent during the coronavirus lockdowns.
While some lawyers have opted to return to offices since restrictions have been lifted, most have adopted partially or fully remote schedules.
Before 2020, roughly 40% of lawyers, and almost 70% of nonlawyers, worked exclusively from the office, the Clio study found. Both groups, however, saw sharp declines in exclusive office usage once the pandemic struck, coming in at just 23% of lawyers and 35% of nonlawyers.
"Exclusive office use has remained significantly low," the report found. "Fewer than 30% of lawyers continue to work only from the office, while about 50% of non-lawyers do. This means that overall, more office-based workers — especially non-lawyers — have embraced the flexibility of remote work on a lasting basis."
Now, remote work options are a non-negotiable for many lawyers.
Clio found that in the 12 months prior to April 2022, nearly one in five lawyers left the law firm they were working for. The top two reasons for leaving were better pay and better work-life balance, which both collected 37% of votes.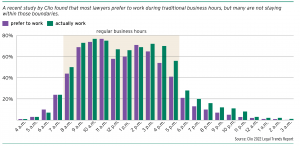 The flexibility of working from home plays a role for many, as 49% of lawyers say they prefer working from home, 45% prefer meeting with clients virtually and 39% prefer meeting colleagues virtually.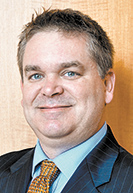 During the 2022 Indiana State Bar Association Annual Summit this month, ISBA Executive Director Joe Skeel gave a presentation focused on legal workforce trends, which included remote work and lawyers' differing expectations based on which generation they come from. New lawyers expect flexibility in their schedules, Skeel said, and will go elsewhere if a law firm doesn't offer it.
However, he added, working remotely doesn't mean reduced productivity.
"People I asked, and it has proven true, (said in 2019) 'Your good employees in the office are your good employees remotely, and the people you have to keep an eye on remotely are the same people you have to keep an eye on in the office,'" Skeel said.
John Trimble, partner at Lewis Wagner LLP in Indianapolis, has participated in several events across the country addressing remote versus office work. Trimble, like Skeel, said communication between senior and younger lawyers is essential to successful management.
"Law firm managers in this post-COVID era need to be more transparent in how they manage their law firms so that younger lawyers understand why more senior lawyers feel the younger lawyers should be in the firm," Trimble said, "And the more senior lawyers (need to) understand why younger lawyers feel like they should have the flexibility to work from home."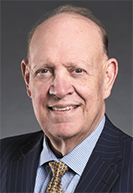 Trimble said the hybrid model he has heard about as having the most success is having the entire firm physically come into the office once per week. Partners then typically are allowed the most flexibility in their scheduling while younger associates work from home once or twice per week, he said.
In Indianapolis, Trimble said he has recently heard lawyers want to meet more in person.
"I think the culture varies depending on the size of the city, as well as it varies depending upon the collegiality of the bar," he said. "We have a very collegial bar in Indianapolis. Lawyers like one another and in general get along well together, and I think they're enjoying getting back together and coming back in the office."
Too flexible?
The Clio report found an overwhelming number of lawyers, 69%, offer to communicate with clients over the weekend while 74% offer to communicate in the evening. This is despite just 10% of lawyers preferring to work on Saturdays and 42% actually working on that day.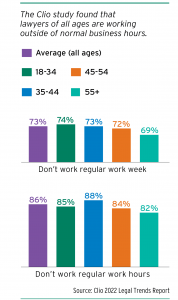 "One of the issues here is that even though few want to work beyond the traditional work day, most lawyers still want the flexibility to work evenings and weekends: 76% of legal professionals want to choose which hours of the day they work and 69% prefer to get work done throughout the day, rather than adhering to a rigid 8 a.m. to 5 p.m. work day," the report stated.
As a result of working nontraditional hours, 51% of lawyers reported having good or very good mental health, compared to 74% who adhere to a regular work schedule, the report continued.
Working odd hours can also have other negative outcomes, according to Clio.
"Working a non-traditional schedule can also be harmful to relationships with clients and colleagues," the report stated. "In terms of work, lawyers who worked regular business hours were 28% more likely (74% compared to 58%) to have a positive professional life than those working irregular hours. Those who stick to working regular business hours are 26% more likely (91% compared to 72%) to have positive relationships with clients, and they are 28% more likely (86% compared to 67%) to have positive relationships with colleagues."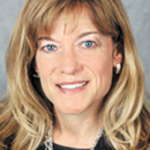 Terry Harrell, executive director of the Indiana Judges and Lawyers Assistance Program, said while lawyers are enjoying flexibility, the increasing demand to be available 24/7 is taking a toll on some.
"I think the idea that we're just available to clients around the clock is a bad idea, and I think lawyers are feeling the strain," Harrell said. "Remote work has really kind of torn down those traditional barriers. And even before the pandemic, the expectations with cellphones and text messages and everything is that clients kind of expect their lawyer to be available all the time, and that's not healthy. People need to be able to turn it off."
Loretta Oleksy, of Thought Kitchen LLC, who is the chair of the ISBA's Well-Being Committee, said that setting boundaries is important in maintaining healthy interactions with clients. From the start, Oleksy said, clients and attorneys need to have an understanding of acceptable times are to communicate.
That point was also a point made by Harrell and the Clio report.
"Blending work and life may be inevitable for many, but it may have a less negative impact if lawyers can avoid being distracted by work when they're off the clock or distracted by life when they're working," the Clio report concluded.•
Please enable JavaScript to view this content.