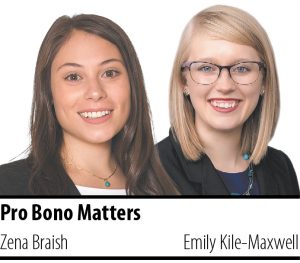 The United States has more than 1.3 million lawyers — but they are not equally accessible and available to potential clients in every area of the country. According to the American Bar Association's 2021 Profile of the Legal Profession, Indiana already ranks near the bottom of the list, with only 2.3 lawyers per 1,000 residents, falling behind neighboring states Illinois (4.9 lawyers per 1,000 residents), Michigan (3.5 lawyers per 1,000 residents), Ohio (3.2 lawyers per 1,000 residents) and Kentucky (3.0 lawyers per 1,000 residents). And many of those lawyers are government or corporate attorneys, for example, meaning they are not available to assist potential clients with private civil matters.
In every state — including Indiana — the problem is exacerbated in rural areas. About 40% of all United States counties have less than one lawyer per 1,000 residents. Fifty-two counties have none at all. Potential clients who live in these "legal deserts" may struggle to find legal aid for problems ranging from traffic tickets to custody disputes to eviction proceedings. Attorneys can help fill the void by engaging in targeted pro bono efforts in more rural areas where potential clients may otherwise have nowhere to turn.
Indiana law schools have long been a key asset in helping fill that void in rural areas through their many legal aid clinics and pro bono projects. For example, the Indiana University Maurer School of Law runs several organizations that pair law students with experienced attorneys to provide targeted legal services in Monroe and surrounding counties, including the Protective Order Project, the LGBTQ+ Project and the Will Preparation Project. Likewise, Notre Dame Law School serves northwest Indiana with student-staffed clinics like the Economic Justice Clinic and the Exoneration Justice Clinic.
Recently, undergraduate institutions in more rural Indiana counties have also stepped up to help provide access to pro bono legal services. Faegre Drinker Biddle & Reath, in collaboration with Indiana Legal Services, has piloted limited-scope representation pro bono legal clinics based out of DePauw University in Greencastle and Wabash College in Crawfordsville. "The idea is to leverage existing resources in communities that are underserved but have the ability to draw attorneys back to the community," Andrew Dettmer, one of the Wabash clinic's founding volunteers, said. Colleges with loyal alumni bases serve as the perfect pilot for this model.
Prior to the development of these clinics, there was a limited pool of practicing attorneys in these areas, and access to low-cost — let alone pro bono — legal services was virtually nonexistent.
In the fall of 2018, lawyers from Faegre Drinker met with representatives from Wabash College, the Montgomery County Bar Association and all the judges in Montgomery County to develop a clinic to provide the community with a forum to ask simple civil law questions, generally related to family law, landlord-tenant disputes, special driving privileges and expungement.
Leveraging the college's resources, the clinic has access to mixed-use space that allows pro bono attorneys to meet with clients in a confidential setting. Student volunteers screen clients and their questions before admitting them to the clinic. The attorneys then meet with clients for 15 to 30 minutes, as necessary.
During the pandemic, the clinic has moved to a virtual setting. Clients now access the clinic through laptops provided by the Crawfordsville Public Library, while attorneys take meetings remotely from their homes or offices. This expands the pool of potential volunteer attorneys by eliminating travel time.
"Over the last 18 months, lawyers have become far more comfortable working in a remote world, and hopefully this allows us to expand the scope of pro bono legal services and increase access to those who were left without legal counsel before," Dettmer said.
The Wabash clinic is not the only remote forum for limited-scope pro bono advice. Indiana Free Legal Answers, sponsored by the ABA and locally promoted through Pro Bono Indiana, is based on the dial-a-lawyer model where clients request advice about a specific civil legal issue from a volunteer lawyer. Clients submit written questions through an online platform. Lawyers then select questions they feel comfortable answering from the list and provide advice virtually without any expectation of long-term representation. There is no set time commitment, and volunteers are free to answer as many questions as they like on their own schedule.
These kinds of remote programs make it even easier for attorneys across Indiana to lend a hand in areas of the state that may not have enough legal services (let alone low-cost or pro bono legal services) to meet demand. Attorneys interested in volunteering with Indiana Free Legal Answers can find out more and register at https://indiana.freelegalanswers.org/Attorneys/Account/Agreement.•
• Zena Braish and Emily Kile-Maxwell are associates at Faegre Drinker Biddle & Reath. Opinions expressed are those of the authors.
Please enable JavaScript to view this content.