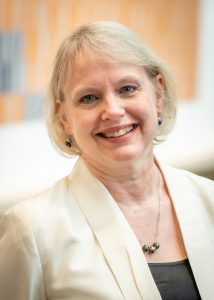 Adrienne Meiring, counsel for the Indiana Supreme Court's Judicial Nominating/Qualifications Commission, has been named the executive director of the Disciplinary Commission. Her transition will begin immediately and a Supreme Court order will name her to the position.
Meiring has been working for the Supreme Court since 2005 primarily as the attorney for the seven-member JNC/JQC. Her service has included about 360 investigations of judicial misconduct and recommendations for 12 judicial vacancies.
"Adrienne understands the importance of providing educational opportunities to Indiana lawyers while also holding them accountable," Indiana Chief Justice Loretta Rush said in a statement. "She has proven through her work on judicial misconduct cases that appropriately handling difficult situations with professionalism strengthens the entire Indiana legal community and protects the public."
The vacancy leading the nine-member Disciplinary Commission was created when G. Michael Witte retired in January 2021. Senior Judge Robert Mrzlack was appointed as the interim executive director.
Current and former Commission members, representatives of the respondents' bar and hearing offices and Office of Judicial Administration leadership all participated in the selection process. Meiring was unanimously selected by the five Indiana Justices.
Meiring is a summa cum laude graduate of Ohio State University with a Bachelor of Arts in Criminology and a J.D. She has served as a board member for the Association of Judicial Disciplinary Counsel and enjoys teaching and writing about judicial ethics. She plans to take an active role in educating lawyers on the professional rules.
"Trust is the cornerstone of success for any ethics agency," Meiring said. "There must be trust that the agency is resolving grievances effectively, efficiently, and with fairness."
The Disciplinary Commission is responsible for investigating and prosecuting allegations of attorney misconduct and providing guidance to the state's 22,000 lawyers. Each year it receives about 1,100 complaints related to an allegation of attorney misconduct. Ultimately, the Justices of the Indiana Supreme Court have final authority in determining whether misconduct has occurred.
Please enable JavaScript to view this content.