The Indiana Prosecuting Attorneys Council honored numerous individuals at its annual winter conference this month and named Hamilton County Prosecutor Lee Buckingham as president of the Association of Indiana Prosecuting Attorneys for 2022.
For the first time since 2019, IPAC hosted its annual Winter Conference Awards Ceremony from Dec. 5 to Dec. 8.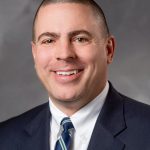 Buckingham took over board responsibilities in July when his predecessor, former Huntington County Prosecutor Amy Richison, left the post for a magistrate judge position.
"I'm looking forward to the work we have before us to continue to advocate for prosecutors across the state," Buckingham said in a statement released by IPAC. "There are a lot of challenges the law enforcement community is dealing with right now but I'm confident we can meet them."
The association also approved Rodney Cummings, Madison County, as president-elect; Ken Cotter, St. Joseph County, as vice president; and Dan Murrie, Daviess County, as secretary and treasurer.
Elected board members for 2022 include Bruce Aukerman, Vermillion County; Bernard Carter, Lake County; Bill Hartley, Wabash County; Nate Harter, Decatur County; Nick Hermann, Vanderburgh County; Ric Hertel, Ripley County; Jarrod Holtsclaw, Greene County; Dustin Houchin, Washington County; and Karen Richards, Allen County.
In addition to naming Buckingham as association president, the conference honored 10 individuals "for their accomplishments during the past year and over the duration of some very long careers."
Among the 10 awards handed out during the conference was the Powell-Feller Award, IPAC's most prestigious honor, given to Richison for her involvement during her tenure as prosecutor, sitting on the board of directors and often serving as faculty at training courses.
Richison's father, former prosecutor John Branham, received the Powell-Feller Award in 2006 and was on hand at the ceremony to see his daughter win the award.
"I remember sitting in the audience 15 years ago when my dad won and just being so proud of him," Richison said during the ceremony, according to IPAC. "So to have him and my mom here with me tonight is such an honor."
Timothy Kern, deputy prosecutor in Tippecanoe County, took home the association's other top honor, the Stephen J. Johnson Award, given to prosecutors who have provided exemplary service. Kern celebrated his 40th year at the Tippecanoe County Prosecutor's Office over the summer.
"He's a hard worker, he's a great mentor, he's a brilliant lawyer and I'm so proud of him for winning this award," Tippecanoe County Prosecutor Pat Harrington said.
Other individuals honored during the IPAC conference included lawmakers, victim advocates, administrators and law enforcement. Among the honorees were Republican Reps. Tim Brown and Greg Steuerwald, of Crawfordsville and Avon, respectively; and Republican Sens. Eric Koch and Ryan Mishler, of Bedford and Bremen, respectively.
IPAC also introduced a new award, the Law Enforcement Distinguished Service Award, created to celebrate law enforcement officers who have had lengthy and successful careers working with prosecutor offices. Hendricks County investigator Rick Lang was the inaugural recipient. Lang will retire this month after more than 30 years on the force.
"The IPAC Board had some very tough decisions to make this year and we are proud of all the nominees that we were able to honor in 2021," IPAC Executive Director Chris Naylor said in a statement. "The awards ceremony is our chance to say 'thank you' to those who deserve to be recognized for their service."
Please enable JavaScript to view this content.