Huntington County Prosecutor Amy Richison will serve as president of the Association of Indiana Prosecuting Attorneys Inc. in 2021, the Indiana Prosecuting Attorneys Council has announced.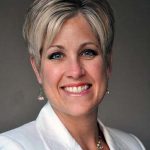 Richison, who served as president-elect in 2020 and has been the elected prosecutor in Huntington County since 2007, succeeds Tippecanoe County Prosecutor Patrick Harrington. She was selected by association members in a mail vote this year and will serve a one-year term starting in January.
"I am honored to have been selected to lead the Association by my peers for this upcoming year," Richison said in a statement released by IPAC. "I, along with my fellow officers, stand ready to help prosecutors at the state level in any way we can. We are ready to continue the great work we've been doing for years."
The association also approved Lee Buckingham, Hamilton County, as president-elect; Rodney Cummings, Madison County, as vice president; and Ken Cotter, St. Joseph County, as secretary and treasurer.
Elected board members for 2021 include Bernard Carter, Lake County; William Hartley Jr., Wabash County; Nicholas Hermann, Vanderburgh County; Jarrod Holtsclaw, Greene County; Karen Richards, Allen County; Bruce Aukerman, Vermillion County; Nathan Harter IV, Decatur County; Richard Hertel, Ripley County; Dustin Houchin, Washington County; and Daniel Murrie, Daviess County.
Outgoing president Harrington will stay on the board in 2021 as immediate past-president.
Please enable JavaScript to view this content.