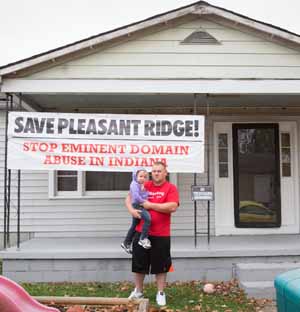 A lawsuit alleging the Charlestown city administration is unconstitutionally using fines to force low-income residents to sell their homes to a developer is scheduled for trial next month.
The southern Indiana city will square off with the Pleasant Ridge Neighborhood Association on Nov. 12, when trial in the case of Charlestown Pleasant Ridge Neighborhood Association Corp., et al. v. City of Charlestown, et al., 10C02-1701-000010, begins.
Residents of Charlestown's Pleasant Ridge neighborhood sued the city in 2017 for allegedly using municipal code to impose excessive fines on the residents. According to the plaintiffs, the city took this tactic in an effort to force Pleasant Ridge residents to sell their homes to Pleasant Ridge Development LLC, a company owned by developer John Neace.
The city has a partnership with Neace to demolish the World War II-era homes in Pleasant Ridge and rebuild a wealthier neighborhood in its place, the residents claim.
According to the Institute for Justice, the national public interest firm representing the plaintiffs, Neace has so far purchased 200 of the 350 Pleasant Ridge properties.
"The city's brazen effort to replace Pleasant Ridge's modest homes and lower-income homeowners will come to an end in Judge (Jason) Mount's courtroom," IJ attorney Anthony Sanders said in a news release announcing the trial date. Mount is a Scott County judge but is serving as a special judge in the Clark County case.
In response to the residents' lawsuit, the city told Indiana Lawyer in 2017 that it's not uncommon for municipalities to use code enforcement as a method of improving rougher neighborhoods. City attorney Michael Gillenwater likewise said Pleasant Ridge is a threat to public health and safety, and he said the city helped subsidize a new housing development where Pleasant Ridge residents can live.
The neighborhood association, however, sought a preliminary injunction against the allegedly unconstitutional code enforcement, and Mount granted the motion in December 2017. In his ruling, the special judge called the code enforcement scheme "irrational."
But the Indiana Court of Appeals overturned the injunction after rejecting Mount's ruling that the city was not subject to the state's Unsafe Building Law. The case was remanded.
In June the plaintiffs moved for summary judgment, but that motion was denied Friday.
The trial will begin at 9 a.m. Nov. 12 at the Clark County Courthouse, 501 E. Court Ave., Jeffersonville, 47130.
Please enable JavaScript to view this content.