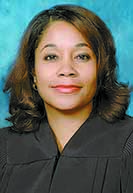 Chief Judge of the U.S. District Court for the Southern District of Indiana Tanya Walton Pratt is scheduled to speak at Indiana University Robert H. McKinney School of Law's graduation celebration.
The graduation program is May 13 in Hall J at the Indiana Convention Center, with Pratt and selected students to offer remarks.
Helay Khwajazada will be speaking for the Master of Laws program, Angela Lyon for the Master of Jurisprudence program, Priya Malik for the day division of the Doctor of Jurisprudence program and Carolyn Rowe for the evening division of the Doctor of Jurisprudence Program.
Professors Yvonne Dutton, Lahny Silvia, Frank Sullivan, Margaret Tarkington and George Wright will serve as graduation hooders.
IU McKinney's class of 2023 selected the students who will offer remarks during the law school's graduation celebration.
Pratt is the first person of color to serve as chief judge for the southern district.
She was appointed as a district judge in 2010, becoming the first Black and woman federal judge in Indiana.
Pratt has received Honorary Doctor of Law degrees from Ball State University in 2011 and from Franklin College in 2017.
Please enable JavaScript to view this content.