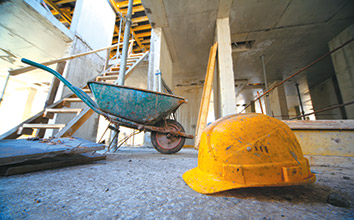 A subcontractor that sued a developer for breach of contract regarding payment after it completed the first phase of a construction project in Fort Wayne will not get relief from the Court of Appeals of Indiana.
Six relevant parties were involved in Community Construction LLC v. Posterity Scholar House, LP, and BWI Development & Management, Inc., 21A-CC-2728.
In 2017, Posterity Scholar House LP entered into a contract with BWI Development & Management Inc. for the construction of a 22-unit apartment project in Fort Wayne.
The same day, BWI Contractors LLC entered into a subcontractor agreement with Community Construction LLC to work on the project. But Posterity also entered into a direct contract with Community, this time as a contractor, due to lender objections to BWI Contractors' participation.
Gary Hobbs, who was the sole operator of the BWI entities, sent Community a notice to proceed with construction of the project, referencing the direct contract with Posterity. Once the project commenced, Community submitted monthly progress payment applications.
However, near the end of the project's first phase, Community submitted a pay application for final payment that Posterity did not pay because Community allegedly did not submit the required paperwork, among other issues. Community filed a mechanic's lien and sued BWI Development for breach of contract and sought foreclosure of the lien.
Subsequently, Posterity and BWI Development filed a counterclaim alleging breach of contract and seeking an accounting from Community. They also moved for partial summary judgment.
The Allen Superior Court ultimately granted summary judgment to Posterity and BWI Developers.
On appeal, Community raised two main issues: 1.) Whether the trial court erred in granting summary judgment to Posterity BWI Development, and 2.) whether the trial court erred in granting summary judgment to Posterity and BWI Developers on the liability issues in their counterclaim.
In an opinion written by Judge Margret Robb, the COA affirmed the trial court's ruling.
"… (D)espite Community's various arguments, the undisputed material facts are that Community sued Posterity and BWI (Development) for breach of a contract between itself and BWI (Contractors), that non-party BWI (Contractors) and named party BWI (Development) are different legal entities, and that BWI (Development) is not a party to any of the contracts the parties have designated," Robb wrote. "In order to get around its own failure to name the appropriate party, Community asserts that as Posterity's general partner, BWI (Development) shares Posterity's liability.
"But again, the undisputed material facts are that Posterity is also not a party to the Subcontract and in any event, Community did not allege that Posterity breached any contract or request any relief from Posterity," Robb continued. "… We agree with the trial court that the undisputed designated evidence shows Community sued BWI (Development) but BWI (Development) 'does not appear on any of the relevant contractual documentation… .'"
On the counterclaims, the COA found Posterity was entitled to an accounting as requested.
"… Community did not submit a final accounting to Posterity but was required by the contract to keep full and detailed records supporting the cost of the work," Robb wrote. "Those records were not provided to Posterity when Posterity asked for them multiple times even though the contract provides for the Owner to have access and permission to audit and copy the Contractor's records and accounts."
Please enable JavaScript to view this content.