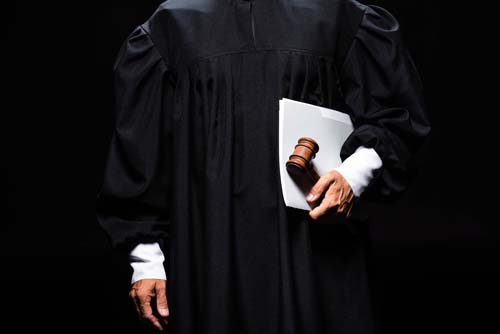 After the trial court judge issued — then subsequently withdrew — a scathing opinion declaring Indiana's civil litigation system was "broken," the Court of Appeals of Indiana has reversed summary judgment in the underlying negligence case, finding the judge was biased.
The reversal was handed down Monday in Penny Chappey and Gregory Chappey v. Joseph Paul Storey and Complete Auto & Tire, LLC, 22A-CT-979.
In 2018, Penny Chappey called Complete Auto & Tire when her SUV became stuck in a retail parking lot in Delphi. Joseph Paul Storey, of Complete Auto & Tire LLC, arrived with a flatbed tow truck.
Chappey asked if she could leave her bulldog puppy in the car while it was towed and Storey said yes. After the SUV was loaded onto the flatbed, Chappey got on the flatbed to restrain her dog at Storey's request. Storey, however, said he did not ask Chappey to get on the flatbed and did not know she was there.
Regardless, when Chappey turned to get off the flatbed, she fell several feet and sustained injuries.
Almost a year later, Chappey and her husband, Gregory, filed a complaint against the towing company and Storey for negligence. The case eventually went to a summary judgment hearing before Judge Benjamin Diener, who was openly skeptical of the Chappeys' case.
Specifically, Diener said he "wouldn't be suing in this situation" and opined that the case wasn't a "valuable use of limited judicial resources" given that Penny was not able to explain why she fell off the flatbed.
Diener ultimately entered summary judgment for the defendants, calling the case frivolous and declaring that insurance companies "use the Courts as a potential revenue stream to extract funds from each other … ."
Diener subsequently scrubbed those comments from the order.
On appeal, the Chappeys raised two issues. First, they argued there were genuine issues of material fact that precluded the entry of summary judgment.
The Court of Appeals agreed.
"While one reasonable inference is that Penny fell because she wasn't careful, another reasonable inference is that navigating a tight space elevated several feet from the ground at the request of the tow-truck operator placed her in an unreasonable position of peril resulting in her fall," Judge Nancy Vaidik wrote. "Because the facts don't lead to a single inference, proximate cause is a question of fact to be determined by a jury. Summary judgment for the defendants was therefore improper."
Second, the Chappeys argued the judge was biased and they were denied due process.
Again, the COA agreed.
"The record shows that the judge's actions and demeanor crossed the barrier of impartiality and torpedoed the Chappeys' case," Vaidik wrote. "We therefore conclude that the judge failed to preside over the case as a neutral, impartial decision maker in violation of the Chappeys' due-process rights."
The case was remanded with the provision that the Chappeys are entitled to a new judge.
Please enable JavaScript to view this content.