The Court of Appeals of Indiana's current longest-serving judge, who is set to retire this summer, won't be off the bench completely, as he's been granted senior judge status.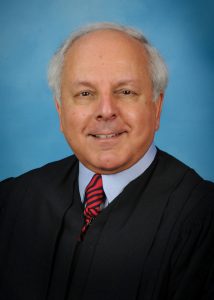 The Indiana Judicial Nominating Commission in a June 10 order certified current Court of Appeals of Indiana Judge Edward Najam as a senior judge, pursuant to Indiana Code § 33-27-4-1. Najam's senior judge appointment will be in effect Aug. 1-Dec. 31
"Upon examination of this request, the Indiana Judicial Nominating Commission has concluded that Judge Edward W. Najam, Jr. meets the criteria for appointment as a Senior Judge under the above-noted provision," according to the order signed by Indiana Chief Justice Loretta Rush, who chairs the JNC.
Najam, who was appointed to the COA in 1992, announced in February his retirement from the state's lower appellate court this summer. Article 7 § 11 of the Indiana Constitution and I.C. 33-38-13-8 require appellate court judges to retire when they reach 75 years old, which will happen this year for Najam.
The seven-member JNC will conduct interviews July 11 to begin the search for Najam's successor on the Court of Appeals. A total of nine judges and lawyers have applied to fill the upcoming vacancy.
The JNC includes three lawyers elected by their peers and three citizen members appointed by the governor, as well as Rush.
Please enable JavaScript to view this content.