Court of Appeals of Indiana Judge Edward W. Najam Jr. has officially announced his plans to retire during the summer of 2022.
The news was expected, as Article 7 § 11 of the Indiana Constitution and Indiana Code § 33-38-13-8 require appellate court judges to retire when they reach 75 years old, which will happen this year for Najam.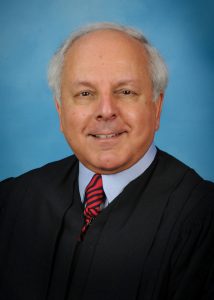 "I am grateful for having had the privilege to serve the people of Indiana on the Court of Appeals," Najam said in a news release announcing his retirement. "Whatever I may have contributed during my tenure as an appellate judge I owe to the grace of God, my family, my clerks, and the 32 other remarkable judges with whom I have served on the Court."
Najam was appointed to the Court of Appeals by Gov. Evan Bayh in 1992. He was retained in 1996, 2006 and 2016. During his time on the appellate bench, he has written more than 4,000 opinions.
Legislators recently recognized Najam with a concurrent resolution for his 30 years of service.
During his time on the bench, Najam served for 10 years on the Indiana Supreme Court Committee on Rules of Practice and Procedure.
As chair of the Appellate Practice Section of the Indiana State Bar Association, he initiated the Appellate Rules Project, which culminated in a comprehensive revision of the Indiana Rules of Appellate Procedure.
He has also represented the judiciary on the Indiana Department of Homeland Security Counter-Terrorism and Security Council.
The Bloomington native is an Indiana University and Harvard Law School grad. In 2019, IU awarded him its bicentennial medal.
Outside of his judicial duties, Najam has served as a director and president of the Monroe County YMCA and as a director and chair of the Community Foundation of Bloomington and Monroe County. He currently serves on the Sycamore Land Trust Advisory Board and on the Board of Visitors of the Maurer School of Law, where he has endowed a scholarship for Maurer law students.
His successor will be named through Indiana's merit-based judicial selection process, led by the Indiana Judicial Nomination Commission. The JNC has not yet called for applications to fill Najam's seat on the COA, but when it does so it will be tasked with submitting the names of three finalists to Gov. Eric Holcomb, who will make the final selection.
Please enable JavaScript to view this content.