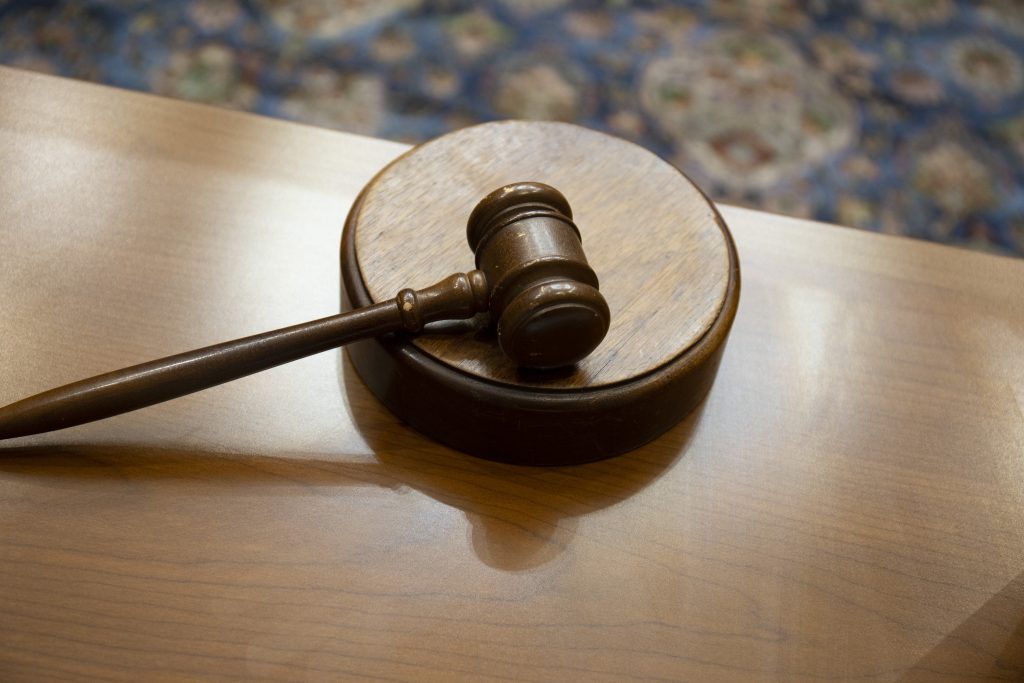 Although the Court of Appeals of Indiana allowed a woman to reopen her previously rejected direct appeal based on a missing transcript, the court still upheld the woman's felony drug dealing conviction.
The Thursday opinion marked the second time Shalee Dowell has taken her case to the Court of Appeals.
The case began in May 2018, when police officers initiated a traffic stop of a vehicle driven by Dowell, with Christopher Wiseman and James Tucker as passengers. The officers had the three occupants exit the vehicle while they performed a K-9 open air sniff of the vehicle.
Officer Jason Shadwick noticed Dowell acting nervous. Also, while he was handing her driver's license and registration to another officer, he noticed her putting a stainless vial in the back of her pants. Shadwick "intercepted" the vial and also removed a cellphone from her back pocket.
Meanwhile, Officer Daymion Marsh asked Tucker to get out of the vehicle, and when he did so Marsh saw a clear Ziploc bag containing several other Ziploc bags and a crystal substance. The substance was later and revealed to be 16 grams of methamphetamine.
Dowell, Tucker and Wiseman were then arrested.
Wiseman admitted that several texts messages found between him and Dowell were about her selling methamphetamine to his friends at work. Also, Dowell called her sister from jail and asked her to dispose of drug-related items, and the sister agreed.
Dowell was charged and eventually convicted of Level 2 felony dealing in methamphetamine, Level 6 felony maintaining a common nuisance and Level 6 felony obstruction of justice. She received an aggregate sentence of 23 years.
On direct appeal, Dowell argued the state did not present sufficient evidence that she committed Level 6 felony maintaining a common nuisance.
The appellate court agreed and reversed in October 2020, vacating her conviction and sentence on that charge.
Then in 2021, Dowell filed a pro se petition for post-conviction relief. Deputy State Public Defender Adam Carter later filed his appearance on her behalf.
Almost a year later, Dowell's mother, Stephanie Thompson, contacted Dowell's appellate counsel informing counsel that her testimony was missing from the record submitted on appeal. Cara Schaefer Weineke, now representing Dowelll, confirmed Thompson's assertion.
Weineke petitioned the COA to reassume jurisdiction of Dowell's case, order the trial court to prepare the missing portion of the transcript, and allow Dowell to file a supplemental brief "to raise any issues that were not previously raised and whose merits were augmented by the inclusion of the missing portions of the transcript."
The COA granted Dowell's petition.
The state appealed, arguing the appellate court should vacate the order allowing Dowell to reopen the direct appeal.
"However, the State did not respond to Dowell's petition asking us to reassume jurisdiction and allow supplemental briefing," Judge Melissa May wrote. "After we granted Dowell's petition on April 22, 2022, the State did not ask us to reconsider our decision.
"… Plainly put, the State had multiple opportunities to assert its objection to this court's course of action, but the State failed to do so," May continued. "Therefore, the State has waived any challenge to our decision to reassume jurisdiction of Dowell's direct appeal and permit supplemental briefing.
"… Waiver notwithstanding," May added, "to the extend our decision deviates from the Indiana Rules of Appellate Procedure, we note Indiana Appellate Rule 1 allows this court, in its discretion, to 'permit deviation from these Rules.'"
For her part, Dowell argued in her second appeal that the state did not have enough evidence for her Level 2 felony dealing conviction.
Dowell claimed the state did not provide sufficient evidence that knew there was meth in her car and that she intended to deliver it to someone else. She acknowledged the meth was packaged in a way that suggested it would be sold, but claimed it was found "presumably out of (her) view from the driver's seat."
Disagreeing, the COA pointed to Marsh's testimony that the meth was "in plain view on the floorboard of the passenger side of Dowell's vehicle." Also, "Dowell's alternate explanation of the identity of the person with whom Wiseman communicated regarding the sale of methamphetamine is an invitation for us to reweigh the evidence and judge the credibility of witnesses, which we cannot do," May wrote.
"The State's evidence was sufficient to permit a reasonable trier of fact to find beyond a reasonable doubt that Dowell knew about the methamphetamine and intended to sell it to Wiseman," May concluded.
The case is Shalee C. Dowell v. State of Indiana, 19A-CR-2623.
Please enable JavaScript to view this content.