Indiana Court of Appeals Chief Judge Cale Bradford issued a statement Friday, saying he spoke with his colleague Nancy Vaidik and the entire appellate court is keeping good thoughts for her recovery.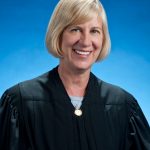 Vaidik was seriously injured the morning of June 6 when she was hit by a falling tree branch while riding her bike near the Indiana Dunes State Park. She was airlifted from the scene to a hospital in Chicago for treatment.
"Having worked alongside Nancy for almost 14 years, it was difficult to process the news about the injuries that befell my wonderful colleague and dear friend," Bradford said in the statement. "I spoke with Nancy briefly yesterday and conveyed that her colleagues on the Court of Appeals extend our thoughts and best wishes for a full and speedy recovery. I am sure the entire Indiana legal community joins us in those sentiments."
Bradford joined the Court of Appeal in 2007, a little more than seven years after Vaidik was appointed. Like Vaidik, he served as a deputy prosecutor and trial court judge before becoming an appellate judge. Also, he was named chief judge immediately following Vaidik's two terms in the leadership position.
"Nancy is a talented and valued member of our court," Bradford said, "and we look forward to the day when she is back among us doing what she does so well."
Please enable JavaScript to view this content.