At 10 a.m. Monday, Leanna Weissmann transitioned from practitioner to judge.
The newest member of the Indiana Court of Appeals, Weissmann was appointed to the seat vacated by now-Senior Judge John Baker. Indiana Gov. Eric Holcomb announced the longtime appellate practitioner as the state's newest appellate judge Sept. 1, and Weissmann was officially sworn in Monday morning.
Holcomb selected Weissmann from a group of three finalists, which also included Vigo County Judge Lakshmi Reddy and New Albany attorney Lisa Reger. The Indiana Judicial Nominating Commission, led by Indiana Chief Justice Loretta Rush, chose the three finalists from a pool of 13 candidates.
"What a star," Rush said of Weissmann when her appointment was announced. "I will miss you standing before me arguing cases. … I always knew it would be a whale of an argument."
Weissmann's appellate career has included arguments not only before Indiana's appellate courts, but also before the Supreme Court of the United States, where she won. Holcomb referenced that experience when naming her as his 46th judicial pick.
"Leanna Weissmann is a legal scholar who will bring her keen intellect and wide range of expertise to the court," the governor said. "She is a dedicated practitioner with a deep commitment to her community and all Hoosiers. She will serve honorably and justly on the Court of Appeals."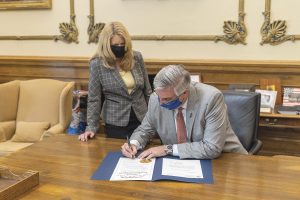 As she begins her transition from appellate practitioner to appellate judge, Weissmann says she's relying on her innate curiosity to help her make a successful move to the bench. Her appointment is notable for the COA, as she is the first practitioner appointed to the appellate bench in roughly 20 years.
The road to here
Weissmann's ascent to the appellate bench is a full-circle moment, as her post-law school career began with a clerkship under then-Court of Appeals Judge Robert Rucker. She next moved into her own private practice in Rising Sun.
But when she became pregnant with her twins, Weissmann decided to return to appeals. Appellate work gave her more flexibility to run a home-based practice and raise her family, which would later include a third child.
What's kept Weissmann in the appellate world in the ensuing years has been her love for reading, writing and researching, she said. During her time at Indiana University Robert H. McKinney School of Law, she was the student who enjoyed law review and looked forward to writing a memorandum or brief.
"There's something about a perfectly written sentence that gives me a great thrill," Weissmann said.
Plus, working in appeals gave her more time to study the law. Weissmann found that she could serve her clients better when she had time to contemplate its application.
Practicing appeals has also opened doors for Weissmann to show her community, particularly youth, how the justice system can directly impact them. Her SCOTUS case, for example, came out of a location Dearborn County kids likely knew of.
"It strikes school kids that the case originated at the liquor store next to the Gold Star where they eat dinner," she said. "It strikes them that the justice system has implications for all of us."
The right viewpoint
Those who know Weissmann describe her as well-qualified to take the bench.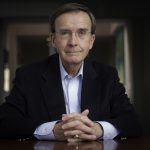 Retired lawyer John Krauss works with Weissmann in his capacity as chair of the Indiana Supreme Court Disciplinary Commission. As part of the "grand jury" of lawyer discipline cases, Krauss said Weissmann brings the same compassion and caring to the ethical questions she reviews as she brings to her clients' cases.
Weissmann's role as a member of the Disciplinary Commission will likely be an asset to her as an appellate judge, Krauss said. When making recommendations to the Indiana Supreme Court, the Disciplinary Commission is tasked with working as a group to review the facts and reach a consensus.
Stacy Uliana of Uliana Law in Bargersville has known Weissmann since the mid-1990s and frequently seeks her advice and feedback on cases. She describes the new appellate judge as fearless, saying she's a passionate advocate for her clients and for the law.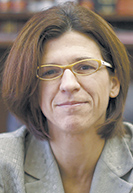 "I think that's important because as a judge you have to do what is right and not worry about what others are going to say or how you're going to be perceived," Uliana said. "You have to follow the law and make sure there's been a just and fair hearing."
Judge Jim Humphrey presides in Circuit Court for Weissmann's native Dearborn County as well as for neighboring Ohio County. Like Uliana, Humphrey met Weissmann in the mid-'90s, and he has since watched her handle a "number of big and important cases" in their southeastern Indiana community.
To Humphrey, Weissmann's greatest strength is her preparation. Krauss offered a similar description, noting she and her staff will read all of the transcripts for each case she takes.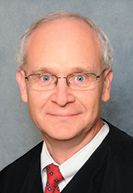 "That helps you get a feeling of the life and concerns and hopes and doubts that the client has, and I think that is a good viewpoint to be reflected on the Court of Appeals," Krauss said.
The curious judge
For Weissmann, natural curiosity will be the thing that helps her succeed on the appellate bench. She enrolled in college with the intent of becoming a journalist, and though she eventually went into law, she still has the drive to understand not just the "what," but also the "why."
"I'm curious about everything," she said. "I think that's an important trait for a judge — the curiosity to determine why it (the law) is the way it is and make sure precedent is followed going forward."
As she begins her tenure as a jurist, Weissmann said she'll look to her colleagues on the Court of Appeals for guidance, though she doesn't think her mindset will have to shift all that much. She's always had to understand both sides of an argument when writing appellate briefs. Now she'll shift that understanding to writing appellate decisions.
As a practitioner, Uliana sees thoroughness as one of the most important qualities in an appellate judge. Humphrey agreed, adding that appellate jurists must keep their role in context: ensuring litigants received a fair trial, not a perfect one.
"The great thing about Judge Weissmann is that she's reviewed enough transcripts and had enough experience to be able to determine, 'Did we give this person a fair trial? Did the things that are important to make that fair trial happen, did they occur?'" he said.
For Weissmann, appellate practice has always been about seeing "the face behind the filings" — that is, understanding a litigant's background and how that impacts their position. She'll miss forging those connections with clients on a personal level, she said, but she'll still pursue that "face behind the filings" even from behind the bench.
Her appointment to the bench comes at an unusual time — she's jokingly been dubbed "the pandemic judge," a nickname she's not sure she wants to stick. She doesn't yet know whether the pandemic will allow a traditional investiture celebration with the legal community, but she's pledged to stay engaged with that community and with Hoosiers across the state as she transitions to the judiciary.
"A lot of my free time is spent with civics education, and I still want to talk with school kids," she said. "… That's a very important aspect of what we do as lawyers and judges, and I intend to keep up with that work."•
Please enable JavaScript to view this content.