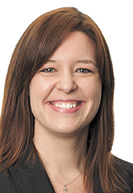 By Emily Connor and Bianca Black
What is unconscious bias and why is it important for employers to address?
Let's start by defining what unconscious or implicit bias means. "Implicit bias" refers to the attitudes or stereotypes that affect our understanding, actions and decisions in an unconscious manner. Biases are often based on characteristics such as race, ethnicity, age, appearance, sex, gender, religion, national origin and socioeconomic status. Everyone has some form of implicit bias. We develop these biases because of our social, economic and familial groups. Our brains rely on ingrained prejudgments to help us quickly process information that bombards us every day — without conscious thought.
In some scenarios, these shortcuts can be helpful; your brain is processing information constantly. However, these biases can impede diversity, particularly in the workplace, by perpetuating discriminatory patterns that have been intentionally implemented in the past. For example, studies have shown that candidates with "white sounding" names on their resumes are likelier to receive an interview, and that law firm partners more harshly graded an associate's legal memo when told the author was African American. In all likelihood, the subjects of these studies would not identify themselves as biased and, indeed, likely did not intend to treat minority individuals differently. Nonetheless, it happens.
Obviously such bias is problematic from a social justice standpoint, but it also carries real financial consequences. Even beyond the charges and lawsuits filed by employees alleging discrimination or harassment, implicit or unconscious bias affects the bottom line. A recent study found employees who perceive bias are nearly three times as likely to be disengaged at work. Gallup estimates that active disengagement costs U.S. companies $450 billion to $550 billion per year. On the flip side, diverse companies may have an advantage in recruiting desirable job candidates who prefer to work for inclusive organizations. Simply put, proactively addressing implicit bias to maintain a diverse and inclusive workplace makes for better business and financial outcomes.
Now that we've established the impact of unconscious bias, what do employers do to address the issue, and how can lawyers advise their clients? Unconscious bias is just that — unconscious. Most people don't realize they carry these biases. However, most people, when they realize they have biases, want to take steps to change their actions. The goal is to identify possible biases and provide solutions on how to check them. Employers should start with implicit bias training for their employees.
Training comes in many forms, ranging from the online Harvard Implicit Association Test to training modules to moderated training classes. The goal of each method is to identify and measure unconscious attitudes and biases and to provide tools to counteract such biases. Employers can use one or more of these methods to train their employees in recognizing unconscious biases, and in understanding how their brains process information and how the biases are impacting the workplace.
The training itself is not enough. How an employer implements and follows up on the concepts delivered during the training is as important as the training itself. As part of their larger diversity and inclusion efforts, employers should give careful thought to post-training messaging, techniques for reinforcing the principles (particularly by senior employees), and assessing and revising systems such as hiring, evaluations, promotions and discipline to effect real change. Implicit bias training cannot stand alone to change the culture of a workplace; employers must pair training with meaningful implementation.
Implicit bias training programs must be structured, properly delivered and supported after the training. Otherwise, the training will not serve its purpose. Lawyers — in-house and external — can help their clients walk through the training options as well as other diversity and inclusion efforts and consider what is best for their organization. Lawyers and employers should consider the size of the organization, resources, the types of concerns employers face and the employers' ultimate goals in deciding which training method to implement and what post-training steps to take. Employers should strive to partner with experienced, proven service providers who can advise in the best approach for each organization. Anything worth doing is worth doing right!•
• Emily L. Connor is a shareholder and Bianca Black is an associate in the Indianapolis office of Littler Mendelson P.C. Opinions expressed are those of the authors.
Please enable JavaScript to view this content.