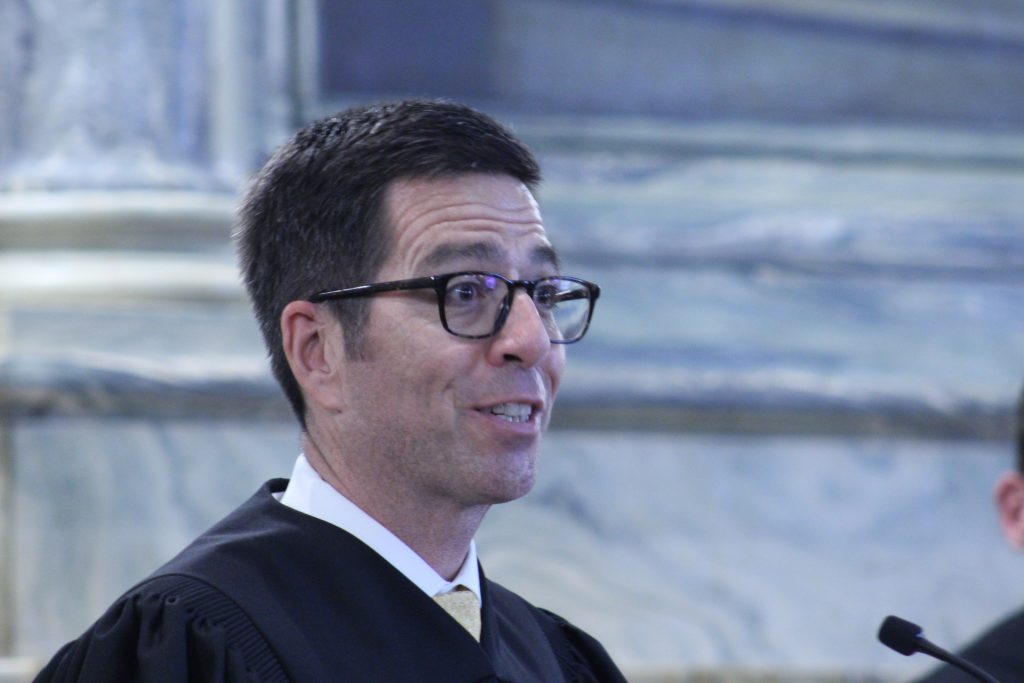 Chatter and laughter bounced off the walls of the William E. Steckler Ceremonial Courtroom on Friday afternoon as throngs of friends, family and colleagues packed in to celebrate Magistrate Judge Mario Garcia's public investiture ceremony.
The U.S. District Court for the Southern District of Indiana's newest magistrate judge wove his way through the crowds before the ceremony began, thanking individuals for coming to the celebration that was delayed for more than a year.
Garcia, the first judge of Hispanic heritage to serve the Southern Indiana District, was formally sworn in May 13 at the Birch Bayh Federal Building and U.S. Courthouse in Indianapolis.
He was selected to a newly created magistrate judge position in the Indiana Southern District Court. He officially took the bench in that post on April 5, 2021.
A lighthearted trio of violinists, including Garcia's daughter, played a tune to begin the joy-filled event. Indiana Southern District Court Chief Judge Tanya Walton Pratt administered the ceremonial oath of office, while Garcia's wife and daughter performed the robing ceremony.
James Bell of Paganelli Law Group gave opening remarks for his law school friend, joking that the event took so long to occur, it could already be considered Garcia's retirement.
"Geez, Mario — it's about time," Southern District Court Magistrate Judge Tim Baker quipped in jest.
Baker said he watched Garcia in admiration and awe over many years while Garcia repeatedly helped participants through his work with the district court's Re-Entry and Community Help, or REACH, Program. REACH helps individuals reentering society after incarceration obtain access to housing, employment and public assistance programs.
"All types of legal problems these folks have, and not one time over all of those years did he ever charge any of them a dime or ask for anything," Baker said. "Thank you for helping those folks get back into society."
Chief Judge Pratt, flanked by Senior Judge Sarah Evans Barker and district judges Richard Young, James Sweeney, Jane Magnus-Stinson and James P. Hanlon, said Garcia epitomizes the core values of the judicial profession with his honesty, competence, civility, and respect for the rule of law and the judicial system.
"Judge Garcia represents all that is good, all that is fair and all that is just about our legal system at a time when people don't necessarily trust the judicial system," Pratt said. "There are some judges who know and care about the law, there are some judges who know and care about people. Mario Garcia is a judge that does both. And for that, we are all very, very lucky."
Monica Foster of the Indiana Federal Community Defenders jokingly pleaded with the district court judges to refrain from taking all her top public defenders.
"You poached the best one I had," Foster said, followed by a chorus of laughter.
"The Federal Defenders' loss is the federal judiciary's gain," she continued, calling Garcia one of the best public defenders she's ever had the chance to work with.
Barker, who issued a heartfelt welcome to Garcia and his wife to the court's family, gave a brief summation of the judicial black robe, noting the garment donned by judges is a push away from self-inflation.
"The robe tells you what the job requires," Barker said, quoting the observations spoken by her husband during her own robing ceremony. "That in a courtroom, the personality must go into a kind of eclipse, be toned down and set aside."
With a humble and grateful demeanor, Garcia took the podium and said, "Wow, what a day."
The beginning of his legal career came long before his appointment to the bench or even his time in law school, Garcia said. It began when his parents, family and community taught him the fundamental lessons of how to be a good person in the world. Their example taught him about hard work and why education is so important.
"Without those, the solid foundation upon which to grow as a person and as an attorney, I wouldn't be here today," he said. "I'm very thankful for everyone who helped me through."
As the investiture drew to a close, Garcia said serving Hoosiers as a magistrate judge is a job he truly enjoys.
"I can tell from experience that the state of our judiciary here is strong, the people who are moving these courts forward are noble and the opportunity to have equal justice is dispensed," he said, "without question."
Please enable JavaScript to view this content.