Given the economic toll the COVID-19 pandemic has taken on Indiana's budget, the Indiana Supreme Court is not requesting additional funding in the next biennial budget that will be drafted during the 2021 Legislative session. Instead, the court is asking the General Assembly to keep funding steady and has reverted funds to the state through pandemic-related savings.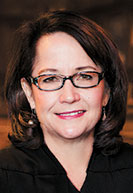 Indiana Chief Justice Loretta Rush made her biennial presentation to the Indiana Budget Committee on Dec. 14, noting that pandemic savings from limits on travel and in-person trainings as well as other "self-imposed restrictions" have enabled the court to return $2.1 million to the general fund. She also cautioned against cutting the court's allocation, warning that doing so could "handcuff" the judiciary's ability to serve Hoosiers.
"You have tough decisions to make, and we want you to know that we're doing our part during these hard times," Rush told the Budget Committee during her presentation.
Holding the line on budget requests means the Supreme Court is seeking about $19.38 million for personal services and other operating expenses, as well as additional designated funds for needs such as court technology, trial court operations and court programs, among other line items. The $2.1 million reverted to the state accounts for 11% of the court's operating fund. While reverting funds is not required, Rush told the committee she considers it good government to find savings where possible.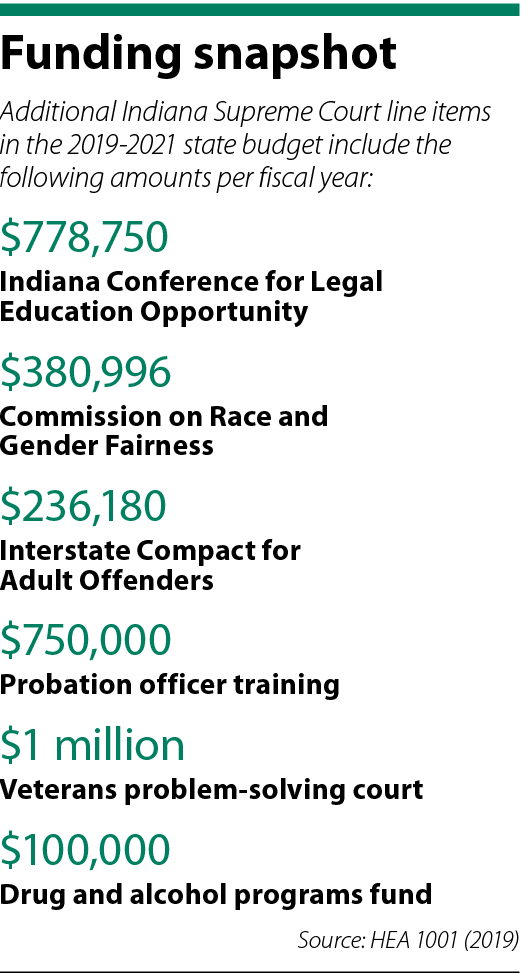 "Our court system is active: 1,265,861 cases were filed in Indiana's trial courts in 2019, and 3,789 were initiated in our three appellate courts," Rush wrote in a letter submitted to State Budget Agency director Zach Jackson. "But we are nevertheless always cognizant of our obligation to make the most effective use of every dollar and to be good and efficient partners in our operations."
Despite the disruptions caused by the COVID-19 pandemic, the chief justice said court technology initiatives enabled the judiciary to quickly move to online services.
She told the Budget Committee that court technology in Indiana has waxed and waned over the years, but she credited former Indiana Chief Justice Randall Shepard and former Justice Frank Sullivan for their previous work that helped the judiciary pivot to a remote environment. Through the development of electronic filing and the adoption of the Odyssey online case management system, all counties have access to 24/7 filing services, while some 7 million online Indiana court documents were accessed in 2020 alone.
"I thanked them (Shepard and Sullivan) for the work that they did, that we were able to have 24/7 access to the court," she said. "We went paperless within a matter of five years, and we will be done with Odyssey in a short period of time."
In addition to existing platforms, the Office of Court Technology has developed new tools in response to the pandemic, including a public-facing platform to allow for livestreaming of remote trial court proceedings. This tool has enabled certain jury trials to continue remotely, Rush said, with one trial in Gibson County garnering 1,000 viewers. All told, the Office of Court Technology procured hardware and more than 800 enterprise Zoom licenses at a cost of nearly $200,000 to keep the judiciary open to litigants.
In her letter, Rush noted the court pays $1 million annually to its Odyssey vendor, $5 million to its electronic filing vendor and $1 million in data storage and server costs, among other expenses. "The Court technology budget, however, has only a $3 million appropriation from the General Fund, plus an amount of funding that reflects a residual percentage of the State's filing fees — a fluctuating revenue stream that has decreased over the last several years and dropped dramatically in 2020 because of the pandemic."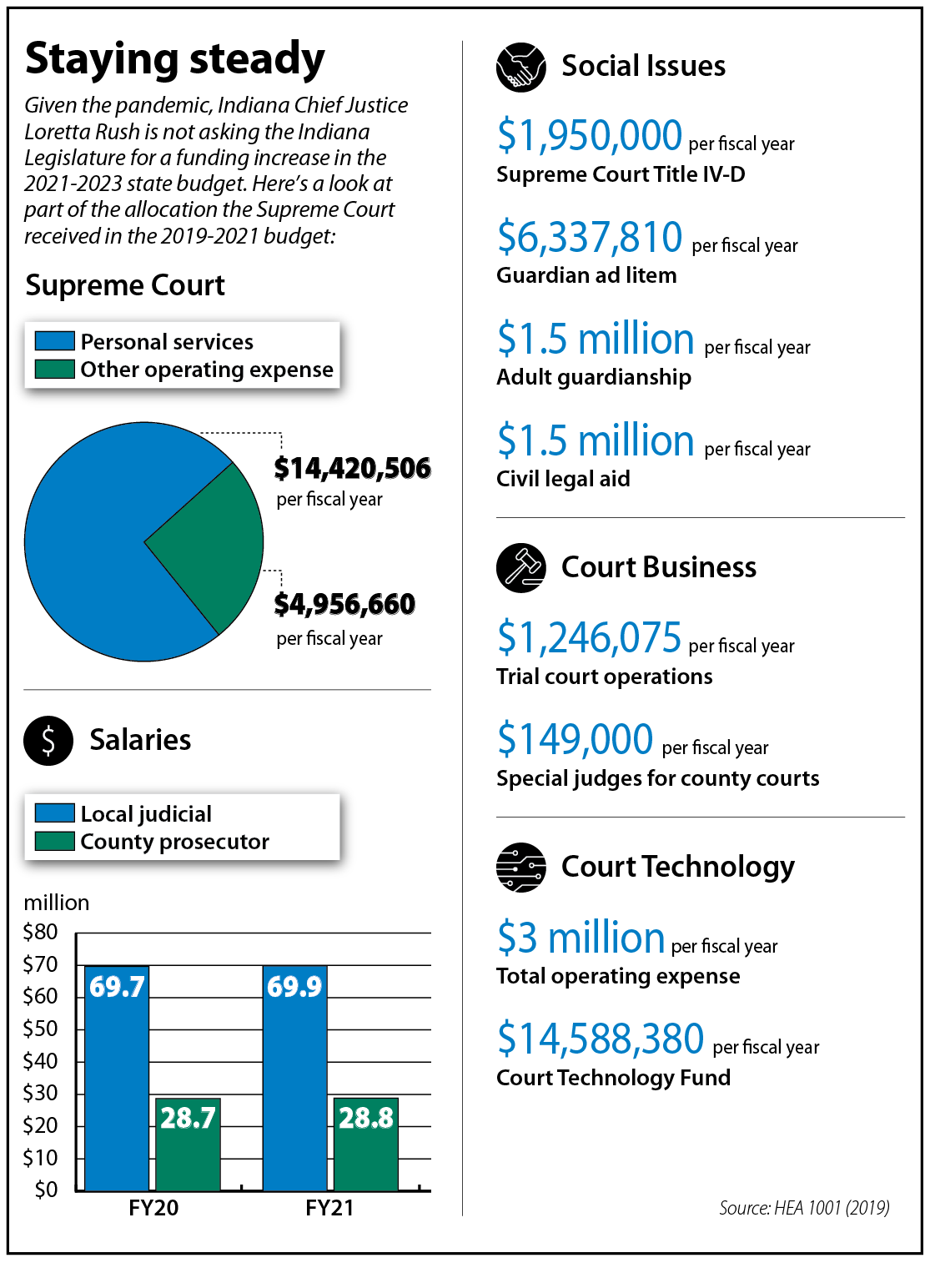 "We therefore supplement that funding with grants and additional Supreme Court funds," the chief wrote. "A drop in any of those funding streams would handcuff our ability to continue providing the statewide essential — and ultimately cost-saving — technology initiatives listed in this letter."
Rush's presentation to the Budget Committee also highlighted the expansion of Indiana's commercial courts and problem-solving courts, as well as the judiciary's work in civil legal aid. Rush unsuccessfully sought $1 million in additional legal aid funding during the last budget cycle, leaving the annual allocation at $1.5 million.
Though she is not renewing that request this year, Rush's letter noted that the court committed $250,000 to the Indiana Bar Foundation to support high-impact civil legal aid programs. For every $1 dollar invested in those programs, she wrote, there will be a $13.42 return.
"The Supreme Court's operational funding is less than 1% of the State's general funding, but its impact on Indiana is immense and essential," Rush wrote in her letter to the budget agency. "… We have stood beside you in this time of strife and will likewise stand beside you as move into the future."
Rush's letter to the SBA, the Supreme Court's budget presentation and Rush's remarks to the Budget Committee are available online at in.gov/sba.
A budget presentation from Indiana Court of Appeals Chief Judge Cale Bradford had not been scheduled at IL deadline, according to a court spokeswoman.
The COA's 2021-2023 request will match its request for the last biennial budget, the spokeswoman said. The court's 2019-2021 allocation included $11,061,324 per fiscal year for personal services and $1,593,452 per fiscal year for other operating expenses.
Similarly, Indiana Tax Court Judge Martha Blood Wentworth told IL that she is requesting $910,453 per fiscal year, the same as the Tax Court's FY 2021 appropriation. Like the Supreme Court, Wentworth said "annual increases in rent and other recurring costs will be absorbed and offset by cost-cutting in other areas such as travel expenses." She had not been scheduled at IL deadline to give a presentation to the Budget Committee.•
Please enable JavaScript to view this content.