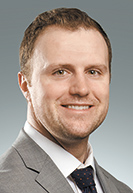 By Jordan Crabtree
The last thing Indiana Lawyer readers need is a new attorney giving them tips, best practices and pitfalls to avoid. So as a new attorney, I will instead tell a story about humility — something that any person can (and should) experience at any time in their life. I received a large dose of it after I was sworn in as an attorney.
You see, I graduated from Indiana University Robert H. McKinney School of Law in May 2019. I now had this big, fancy law diploma. I took the Indiana Bar in July 2019. (Side note: I thought for sure I had failed it; after the last day of the exam, I called my wife and said, "Love, I sure am glad that's over, but I might have to take this thing again.") Miraculously, I found out in September 2019 that I passed the Indiana Bar. Words do not do justice to the horror of seeing the notification that the bar results are in and the euphoria of seeing that you passed. Finally, on Oct. 2, 2019 — also my dad's birthday — I was sworn in as an Indiana attorney.
What a momentous occasion. I was high on life, on top of the world. Soon, I would surely be swimming in pleadings, depositions, trials, client parties, office gatherings, the whole nine yards. Not quite. Next thing you know, I was working at Amazon Fulfillment Center IND1 in Whitestown, pushing a cart with two yellow totes on it, "picking" orders for the good people of the Indianapolis area. If you ordered something off of Amazon from October to December of 2019, I very well may have "picked" that order for you (don't worry, we didn't know who we were picking orders for). Let me tell you, you really can buy anything on Amazon.
This is not to demean working in such a capacity (FYI, this is a great job if you are looking for work: good pay, flexible hours and it was exactly what my family needed at this time). But when you successfully go through the rigors of law school, taking and passing the bar, and being sworn in as an attorney (quite a powerful moment in your life), you do not think your next job will be picking orders at an Amazon facility. By the way, I started law school seven years after graduating from undergrad. I had a successful insurance career before law school. I was married prior to law school and had two children during law school (and a third on the way now). So I was a husband and dad, and professionally I went from insurance professional to Indiana attorney to … "picker." I was down and pretty worried I would not find an attorney job any time soon.
But such is life — "you gotta do what you gotta do." So instead of sulking (well, there might have been a little sulking) I began networking to find an attorney position while working at Amazon. I looked to whomever I could. I eventually took a part-time legal internship at Kiwanis International, where my mom works (she may have put in a good word for me). Thanks to my father-in-law, I got a second part-time job as a contract attorney at a small firm with the understanding that it was temporary while I was searching for a full-time attorney position. It was there that my boss (Sheila Sullivan, if you are reading this, I am forever grateful to you) put me in contact with John Trimble at Lewis Wagner LLP. John saw my resume and was interested in meeting, as it just happened his practice group was looking for an insurance coverage and defense associate, and my insurance background fit the bill. The rest is history — I am currently a first-year associate at Lewis Wagner LLP.
Here is the point: I could have chosen to not take the job at Amazon. I could have been proud and said, "I'm an attorney … there's no way I'm going to tote around a cart and pick orders for people." Thankfully I did not think that way (it should be said here that I may have had some "gentle" prodding by my wife) because I would have missed the opportunity to be humbled. Truth be told, I needed a good humbling. The fact is, I had a family, and regardless of my status as an attorney, my family needed me to be an income-earner, regardless of where that income came from.
I learned while at Amazon that there were others like me: people who had college and post-graduate educations and professional credentials but who, at that moment, did not have the professional job to go with those credentials. I also learned there were others there who did not have a college education and for whom that Amazon job was the chance of a lifetime. In other words, people from every background and education level gathered at that warehouse and came together as a team to get the job done.
I hope this column is not coming off the wrong way. I am not saying I am some saint. I have made many mistakes and will continue to do so. What I am saying is that I was in a particular situation that was far from my "ideal," but regardless, I am very glad I made the choice I did — this was one of the times I did not make a mistake.
I will end with a quote from someone I admire, C.S. Lewis, who sums up in one sentence what I could not in a whole column: "As long as you are proud you cannot know God. A proud man is always looking down on things and people: and, of course, as long as you are looking down you cannot see something that is above you."•
• Jordan Crabtree is an associate at Lewis Wagner LLP. Opinions expressed are those of the author.
Please enable JavaScript to view this content.