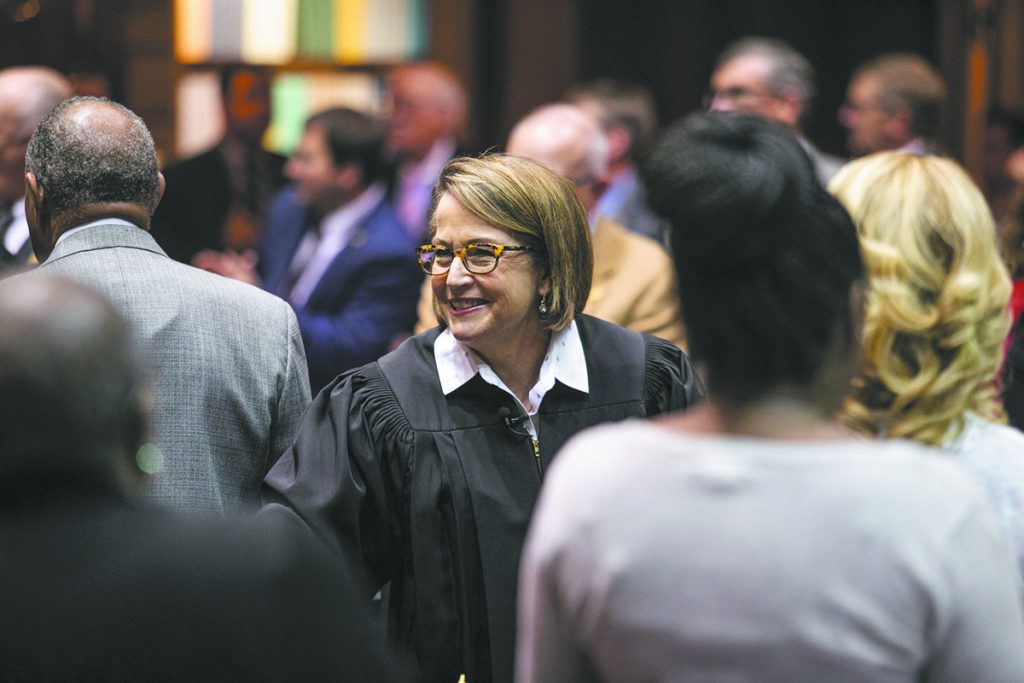 The importance of community collaboration in the criminal justice system was the key message of Indiana Chief Justice Loretta Rush's 2020 State of the Judiciary address.
The leader of the Indiana Supreme Court presented a review of the judiciary's previous year to a joint session of the Indiana General Assembly and Gov. Eric Holcomb during her annual address on Jan. 15 in the Indiana House of Representatives chamber. Also in attendance were more than 100 trial, appellate and federal court judges from across the state, who filled the main gallery and donned their traditional black robes.
As she stood before the assembly, Rush's address immediately offered praise for the Hoosier judiciary's milestone of certifying its 100th problem-solving court in 2019.
"We didn't stop after certifying problem solving court number 100. In fact, with the vital support of Gov. Holcomb in providing additional funding for family recovery courts, we already have 107 certified courts, and 2020 will see the advent of many more," Rush told the assembly.
"Problem-solving courts are only possible with strong judicial leadership," the chief justice continued. "And nowhere is this leadership more apparent than the role judges have in combating the addiction epidemic."
Pretrial, criminal justice reform
Rush noted the state's opioid epidemic has caused jail populations to increase, signaling a need to examine and reform the criminal justice system.
"Under pretrial and criminal justice reform, lower-risk offenders should be released without having to post bail," Rush said.
The chief justice noted the importance of using all available information — including evidence-based risk assessments — to "ensure that fairness prevails for all Hoosiers regardless of wealth, geography, race or gender."
"As we work together on reform, we must address the reality that state incarceration rates have skyrocketed," she said. "For many nonviolent offenders, we have failed to address their underlying issues of substance abuse and mental illness.
"Some people need to be incarcerated. More people just need help. A strong justice system must do both."
"Chief Justice Rush set the right tone today during her address, and we look forward to working with her to ensure we are doing everything we can to support a more fair and efficient court system for all Hoosiers," House Speaker-elect Todd Huston, R-Fishers, said in a statement after the address.
"Jail overcrowding is a serious problem in many of our communities, and we clearly have work to do, from addressing mental health and addiction to supporting the state's pre-trial diversion program, which gives second chances to low-level offenders," Huston said.
Civil legal aid funding
In a request mirroring one that was made during her 2019 address, the chief justice reiterated the need to secure increased access to justice through civil legal aid services.
"There is a glaring area where we can do better, and it is an area that will have a direct impact on children and families, but we need your help," Rush told lawmakers. "It has to do with legal representation. I humbly ask you again to consider our request for increased legal aid funding."
At the end of 2018, the Indiana Supreme Court requested an additional $500,000 in both fiscal years 2020 and 2021 from the Indiana General Assembly. Last year, Rush asked for $2 million annually for civil legal aid. However, the governor's recommended budget for the fiscal years 2020 and 2021 appropriated only the customary $1.5 million per year for civil legal aid.
In support of her plea, Rush recalled a recent encounter where she visited a small claims court that had 275 eviction cases on its docket. Of those cases, not one defendant had legal representation.
"They all faced the judge and opposing lawyer alone. That is not the model of a legal system where the poor, disadvantaged and vulnerable are protected," she said.
Court modernization, civic engagement
On a lighter note, the chief justice took the opportunity to praise the judiciary's continued efforts to modernize the courts by "strategically leveraging technology."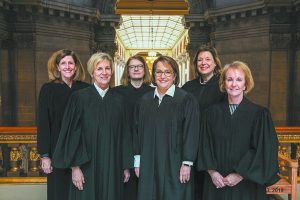 Judges in the room clapped and cheered when Rush chimed that the courts had transitioned to paperless, electronic filing. The statewide case management system is operating in almost 80 counties, she said. The judiciary expects the remaining counties to be on board by the end of next year.
Additionally, the Indiana Court of Appeals' traveling oral argument program was recognized for accomplishing its goal of visiting all 92 Indiana counties. The "Appeals on Wheels" program promotes civic engagement by hosting oral arguments at high schools, law schools, community centers and tourist sites.
"The value in making these community connections is incalculable," Rush said. "These visits put a face on our judiciary and illustrate how disputes are resolved civilly, based on the rule of law."
Community focused
With a final note and a smile, the chief justice announced that for the first time in history, five Indiana courts were all led by women judges in 2019.
Introducing them as her "sister chiefs," Rush recognized Jane Magnus-Stinson, chief judge of the U.S. District Court for the Southern District of Indiana; Theresa Lazar Springmann, chief judge of the U.S. District Court for the Northern District of Indiana; Robyn Moberly, chief judge of the U.S. Bankruptcy Court for the Southern District of Indiana; Martha Wentworth, judge of the Indiana Tax Court; and Nancy Vaidik, who in December completed her second term as chief judge of the Indiana Court of Appeals.
In a final reflection during her address, Rush pointed out that communities couldn't be served without connection and collaboration. She asked the assembly to imagine what the state and its courts could look like in pursuing justice for all Hoosiers.
"Our work is difficult, and even if we do it thoughtfully, with the openness and humanity it requires, there will inevitably be challenges and setbacks," Rush said. "But it is work that draws its sustenance from that divine spark in each of us.
"I commend all of you for joining us in this work."•
Please enable JavaScript to view this content.