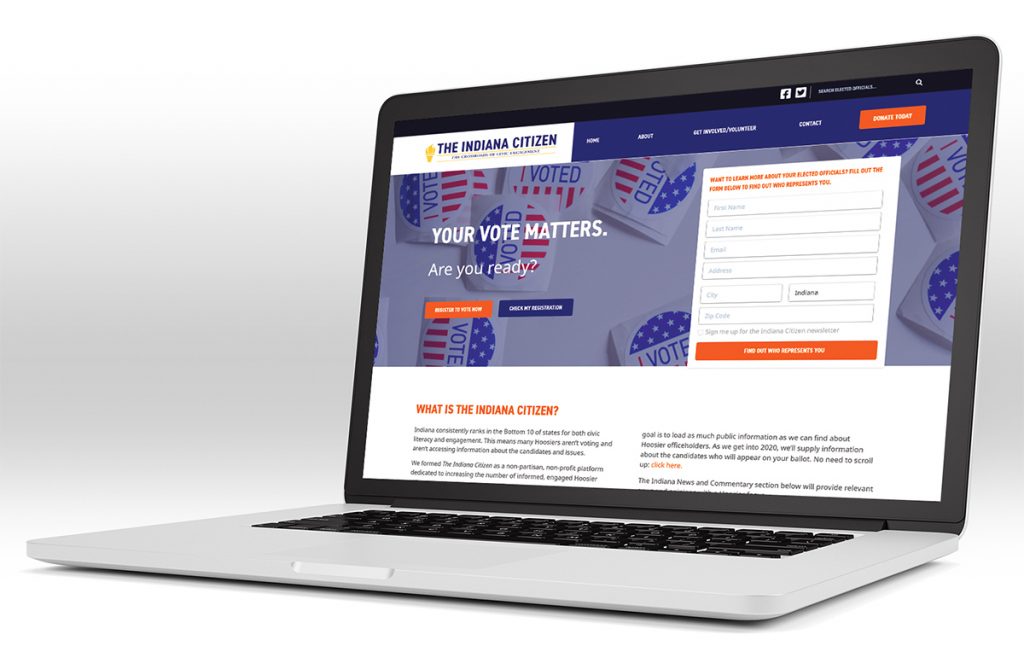 Bill Moreau describes himself as a "'born-again idealist."
The partner at Barnes & Thornburg LLP has long been active in public service, starting with volunteering and then becoming a staffer for the late Sen. Birch Bayh and continuing with 20 years of work to reduce homelessness in Indianapolis. Even while anger and anguish persist in society, Moreau has not lost his optimism.
"I have come to the conclusion that people of goodwill can do anything they set their minds to," he said.
That is the attitude he is bringing to his latest endeavor to improve civic engagement among Hoosiers. Namely, he wants to boost Indiana's voter registration and turnout, both of which have slumped below the national average for decades.
Moreau is joining with his wife Ann to launch an online portal that will try to provide all the information Hoosiers need before walking into the voting booth. The Indiana Citizen will operate on the internet as www.indianacitizen.org and is envisioned as enabling eligible voters to do just about everything related to casting a ballot — checking their registration, finding their polling place and learning about the candidates.
Increasing participation in the voting process is about more than improving the state's registration and turnout numbers, Moreau said.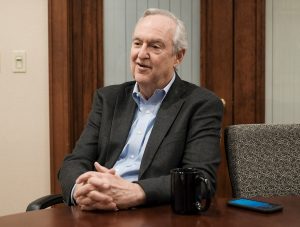 "We certainly don't want to force our fellows to vote," he said. "In this polarized political environment, there is some resentment toward people who don't share your views, (and you may question) 'why would I want more of them to vote?' The answer is because that's the only way a democracy sustains itself."
Hoosiers have not been ones to exercise their right to vote. The 2019 Indiana Civic Health Index found the state has lingered in the bottom 10 of all states in the number of residents who register and vote. For example, in the 2016 presidential election year, 68.8% of all eligible voters in Indiana were registered and just 58.3% of those registered voted, ranking the state 40th and 41st, respectively.
The apparent apathy could be partly the result of noncompetitive races. In the November 2019 election, several communities around the state had only one candidate running for mayor, according to tallies from the Indiana Secretary of State. Voters had just one choice in cities such as Mishawaka, Hammond, Crawfordsville, Columbus and Jasper, while of the four mayoral contests in Hamilton County, only Westfield had a two-person race.
Of the offices that had competitive elections, preliminary results from the Secretary of State show some candidates won on very thin margins. The closest may have been the Tell City mayor's race, where the victor was separated from his opponent by only two votes.
Into this current situation of voter disinterest, Moreau and his team are undertaking two efforts: launching the website and spearheading a statewide campaign to bring an additional 500,000 Hoosiers to the polls in 2020. The campaign is part of the 2019 civic health index's recommendation that Indiana aspire to rising from the bottom 10 to the top 10 in voter turnout.
Providing unbiased, nonpartisan information about how to vote and who's on the ballot is seen by Moreau as a central component to improving Indiana's voting record. His vision includes having content on the website about the candidates and their positions on the issues. Some of the material will be generated in-house and some will come from outside sources that The Indiana Citizen has verified for accuracy.
The Indiana Citizen will not have a political agenda other than being a source of information for Hoosier voters. It will not take editorial positions, endorse candidates, allow any dialogue where the participants are anonymous or offer any information created by the candidates themselves, Moreau said. Rather, the goal is to build a source of credible, reliable information that will continue to be visited and trusted in 2020 and the elections that come after.
"We're just going to take this step and get out there and see if we can put enough information in one place that people after the 2020 election is over will say, 'Yes, (The Indiana Citizen team) made a contribution to the quality of the debate, they made a contribution to an informed citizenry and they led an effort that brought half a million new voters to the polls,'" Moreau said.
The website and statewide campaign come as Moreau prepares to retire from the practice of law. Having been a lawyer for nearly 40 years, he is not ready to spend his days fishing, so he and his wife began looking for where they could make an impact and chose to concentrate on civic engagement.
Currently, Moreau has been knocking on doors soliciting donors. He estimates that to have as broad a reach as necessary, the campaign will need "a few million dollars" and The Indiana Citizen will need sustained support to keep the website open and free of charge.
Although Moreau did not disclose the total raised for The Indiana Citizen so far, he said the contributions have ranged from $5 to $5,000, with one being for $181.60, a nod to 1816, the year Indiana became a state. Also, the site is eschewing dark money and instead has posted a list of the individuals who have donated.
The work ahead is daunting, but Moreau has a reminder handy of why the effort is important.
Pulling out his phone, he shows a photo of a recent letter to the editor printed in The Indianapolis Star after the November elections. The writer was angry because, despite her relentless searching for information about the two candidates running in her district's city-county councilor race, she could find nothing about their records, backgrounds or agendas.
"If we're successful, that will never happen again," Moreau said. "If we fulfill our mission, we will be a place where Hoosiers can go and they can expect to get information about the candidates on their ballots."•
Please enable JavaScript to view this content.