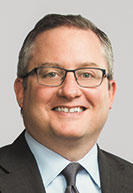 Argos Community Schools in the tiny burg of Argos, Indiana, population 1,691, saw what is believed to be its first alum become a federal judge when Damon Leichty, class of 1990, was confirmed to the Northern Indiana District Court on July 10.
The U.S. Senate approved Leichty on an 85-10 vote, sending the Argos graduate to fill the last vacancy in Indiana's federal judiciary and making him the fourth judge confirmed to Indiana's federal bench since last August.
Leichty's advancement to the U.S. District Court for the Northern District of Indiana brings his legal career full circle. After he graduated from Indiana University Maurer School of Law in 1999, he clerked for Judge Robert Miller Jr. from 2001 to 2003. Leichty is now filling the seat Miller vacated when he took senior status in 2016.
Jonathan Alcorn, dean of students at Argos Community Schools, was not surprised to learn his former math student is presiding over a courtroom. Alcorn not only had Leichty in class, but also knew his family since Leichty's father was the elementary school principal and Leichty's mother, a gardener, was a source of information and plant starts for Alcorn's wife.
"My impressions of Damon were of a young man with a quiet confidence," Alcorn wrote in an email. "Damon was involved in many activities. In class, he asked questions and pursued knowledge of the subject. But in all of these, he was very workman-like, addressing the task ahead with a positive approach and without the silliness of his peers. At the same time, he enjoyed what he did."
Leichty graduated summa cum laude from Wabash College in 1994, then returned to Argos, where he got a job as a quality control inspector at the Lobdell Emery Manufacturing Co. He remained there until 1995, when he left to study at the University of Aberdeen in Scotland, where he earned a master's degree in literature and law.
Returning to the U.S. in 1996, he enrolled in IU Maurer. There he won the school's Sherman Minton Moot Court competition and served as a law journal editor before graduating cum laude.
He then joined Barnes & Thornburg LLP in South Bend, briefly interrupting his private practice to serve as Miller's clerk. He represented clients in complex civil litigation across the country and regularly counseled manufacturers on issues such as product liability, contracts and warranties.
"He is a stellar lawyer and a caring individual, and this next chapter for him is a recognition of his many accomplishments in his legal career," said Philip Faccenda Jr., managing partner of the Barnes South Bend office. "We will miss him and his wise counsel here in the South Bend office."
Filling Indiana's bench
With Leichty's confirmation, Indiana has a full federal bench for the first time in more than five years.
The first seat opened at the end of June 2014, when Judge Sarah Evans Barker of the Southern Indiana District Court took senior status. James Sweeney, then a partner at Barnes & Thornburg in Indianapolis, was confirmed to her seat in August 2018. He was followed by James Patrick Hanlon, then a partner at Faegre Baker Daniels in Indianapolis, who was confirmed in October 2018 to the chair formerly held by now-retired Judge William Lawrence.
Holly Brady, formerly a partner at Haller & Colvin P.C. in Fort Wayne, was confirmed to Senior Judge Joseph Van Bokkelen's seat in April 2019.
President Barack Obama had tapped Winfield Ong, then an assistant U.S. attorney, in January 2016 to fill Barker's chair. Although Ong was unanimously approved on a voice vote by the U.S. Senate Committee on the Judiciary, Republicans blocked his nomination from receiving a floor vote as part of their effort to stop Obama's judicial picks.
Retired Judge John Tinder, who served in the Southern Indiana District Court before being confirmed to the 7th Circuit Court of Appeals, praised his former colleagues for taking senior status and continuing to handle the caseload. He described them as "tremendously hardworking people" who have made a "wonderful contribution."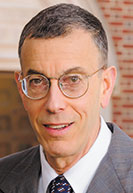 Tinder and Carl Tobias, University of Richmond School of Law professor who focuses his research on the federal judicial selection process, said having the four newest judges all come from private practice will benefit Indiana's federal bar. The quartet will come with an understanding of the litigation process and the demands of practice, as well as empathy for the parties and knowledge of how to be efficient and accountable for their time.
"I like all kinds of diversity," Tobias said of the different backgrounds that federal judges bring. "By and large, good people coming from private practice who want to be on the bench is good for the federal courts."
Opposition effort
Days before Leichty's nomination arrived on the floor for a vote, two national groups urged Senators to oppose the confirmation because of his stance on Brown v. Board of Education.
Both the Leadership Conference on Civil and Human Rights and the People For the American Way argued Leichty should be denied a lifetime appointment to the federal judiciary because he did not say the landmark 1954 U.S. Supreme Court case was correctly decided.
Multiple candidates for the federal bench have been opposed because they would not affirm the ruling, but Leichty appeared to be the only Indiana nominee ensnared in the controversy. Lena Zwarensteyn, fair courts campaign director for the Leadership Conference, said, "… if a nominee can't affirm (Brown), it sends a dangerous signal that separate-but-equal could be up for debate."
Leichty was asked about the decision in a series of written questions submitted by Sen. Cory Booker, D-New Jersey. "Racial discrimination is wrong, abhorrent, and antithetical to the rule of law and the core liberties protected by the United State Constitution," Leichty responded. "Brown v. Board of Education, 347 U.S. 483 (1954), is a landmark case of the United States Supreme Court, standing as precedent for more than six decades, which has helped protect against such racial discrimination. If confirmed, I will faithfully and impartially apply this law without hesitation as I would any current Supreme Court precedent."
Neither the Leadership Council nor PFWA was satisfied with Leichty's answer.
"There's a distinction between saying, 'racism is wrong and (Brown) is precedent, I will apply it,' and 'this is correctly decided,'" Zwarensteyn said of Leichty's response.
Tinder noted over time, questions have emerged in the confirmation process that have continued to be asked. One example is the inquiry that started in the 1980s about membership in clubs that discriminate, which is still being asked today under the American Bar Association commentary to its code of judicial conduct.
Whether Brown becomes a standard question remains to be seen. But Tinder noted district judges have to apply existing law and cannot disregard precedent.
"I doubt seriously whether Mr. Leichty as a judge will look for an opening to overturn Brown v. Board of Education," Tinder said.•
Please enable JavaScript to view this content.