Without the Veterans Court of Southern Indiana, Steven Braden has no doubt what his fate would've been.
"I'd be dead right now," the New Albany man said. "I would have already been in a grave somewhere for a few years, I'm sure."
Braden served in the U.S. Army from 2000 to 2005 and was deployed to Afghanistan as part of Operation Enduring Freedom.
Upon returning from combat, Braden struggled with drug and alcohol abuse for years and was arrested "many times."
Following an incident in 2016 in which he was charged with felony possession of methamphetamine, according to court records, Braden was evaluated for participation in the local veterans court.
Meeting the qualifications, Braden said he decided to go through with the voluntary program to climb out of the "hell" he was living in. He went on to graduate early from the veterans court in 2018 and served for almost two years as the program's mentor coordinator before moving on to work with nonveterans at local treatment centers while still volunteering with the program.
This September, Braden will celebrate six years of sobriety.
Braden is one of 81 to graduate from the state's first treatment program, which helps veterans with addictions and mental illnesses who've become involved in the courts, since it was certified by the Office of Court Services in January 2012.
A decade after the first veterans court opened in Floyd County, there are now 28 veterans courts statewide, according to the Indiana Supreme Court.
On May 10, at the Ogle Hall auditorium on Ivy Tech Community College's Sellersburg campus, the first veterans court celebrated its 10th anniversary along with a ceremony honoring its newest cohort of graduates.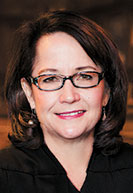 Among those in attendance was Indiana Chief Justice Loretta Rush.
"Most of us will never serve in uniform, feel the stress from accompanying sacrifices or face the horrors of war. But if a self-sacrificing military member falls on hard times, we have developed robust resources to provide them an avenue to get back on track," Rush told Indiana Lawyer in a statement. "I was honored to be present for Judge Maria Granger's 10-year anniversary celebration. It was inspirational to see the individuals putting their lives back together and a reminder of community strength."
Creating the court
Floyd Superior Court 3 Judge Maria Granger, presiding since 2009, is the architect of Indiana's veterans courts.
The idea for the problem-solving court came after Granger said she saw an increasing number of young service members coming before her who had committed crimes but who also had addiction or mental health issues.
Granger, who has strong family military ties, said many of the young men in her courtroom reminded her of her stepson, Steven Mennemeyer, a combat medic who was killed in Iraq in 2006.
When coming up with a plan to create Indiana's first veterans court, Granger went to Buffalo, New York, to meet with former Judge Robert Russell. Russell founded the nation's first veterans treatment court in 2008, and allowed Granger and the then-community corrections director in Floyd County to see the operation and ask questions.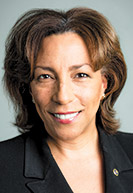 In the beginning, there were just a handful of veterans in the program, which was handled by a small staff, Granger said. However, as success stories stacked up, the court grew.
In 2015, Floyd County's veterans court established a regional parentship with Clark and Scott counties. Clark County then became veterans court certified in 2018, and the two counties now work under a district model called the Veterans Court of Southern Indiana.
Granger said the Veterans Court of Southern Indiana now has a staff of 12.
Success stories
The Veterans Court of Southern Indiana is a community effort of the trial courts, prosecutors, defense attorneys, Department of Veterans Affairs, community corrections, local law enforcement and community treatment professionals in southern Indiana.
Veterans are required to attend regular court appearances before Granger, supervising judge of the Floyd County Veterans Court, or Clark Circuit Court 4 Judge Vicki Carmichael of the Clark County Veterans Court. Court sessions are held every other week.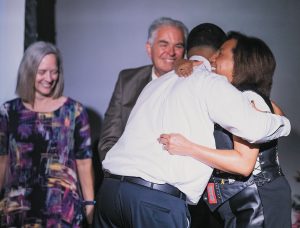 The program, which typically lasts 18 to 24 months for participants, requires veterans to commit to clean, sober and healthy living while leading a law-abiding life. Participants are required to follow and successfully complete a treatment plan and are linked with fellow veterans who graduated from the program who serve as mentors — a key component to the program's success.
Through the program, veterans are connected to a wide range of services including addiction and mental health services, housing, employment and education opportunities.
Not all veterans who go through the program have addictions.
Traci Walker, of Jeffersonville, was in the Navy for 14 years. Six months after leaving the military, in 2017, she said she had a mental breakdown that led to a psychosis. Walker was then involved in an incident in which she said she was charged with sending terroristic threatening text messages.
After moving in with family in southern Indiana, Walker was connected by the veterans court to the VA program and to mental health services. She said since graduating from the program in 2019, her case has been expunged and she has obtained her bachelor's and master's degrees.
"I think it's the best thing I've ever done," Walker said. "It was 100% support and encouragement and it made me the person that I am. And even after I graduated, I still like participating in their events that they have. It's really nice to let the new participants know that they're not alone in this."
Both Braden and Walker said they struggled with adapting to civilian life when they returned from service, and the military's work on transitioning them back to "normal" life was short and unsuccessful — a story they say many other veterans can attest to.
Granger's efforts to help veterans has been recognized at both the state and national levels.
Notably, in 2016, then-Indiana U.S. Sen. Joe Donnelly recognized Granger's leadership and commitment to veterans by inviting her to be his guest at former President Barack Obama's final State of the Union speech.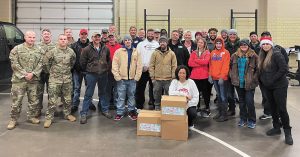 Moving forward, Granger said she would like to see more assessments done for veterans court services — especially because the courts' case management system now identifies if a defendant has a military history.
"I think the next step would be once we know, once a judge knows, in a criminal court that they have a veteran, that even though it's a voluntary program, that that assessment can be referred immediately," Granger said.
Granger also said she hopes to see the program expand to include other family members of veterans who have been affected by military experience.
Continued support
Justices on the Indiana Supreme Court have routinely commended the work of the state's 118 problem-solving courts — especially the veterans courts.
Rush highlighted the veterans courts in her 2020 State of the Judiciary Address, with photos from graduations around the state shown on large monitors in the Indiana House chamber.
Justice Steven David, who served on the U.S. Army Judge Advocate General's Corps on active duty until 1986 and then on reserve duty until 2010, also recognized the programs when he was invited to the podium during the 2022 State of the Judiciary address.
"… (A)s a veteran, the son, grandson and father of a veteran, and the husband of a Navy officer who has been recalled to active duty — I am truly grateful for your support of these profoundly impactful and life-changing, indeed life-saving, programs," David said. "… (A)ttend a veterans treatment court graduation where a service member — scarred by the experiences and trauma of service, sacrifice and conflict — who was once willing to give their life for all of us, now has a new life, thanks to all of you. It just doesn't get any better than that."•
Please enable JavaScript to view this content.