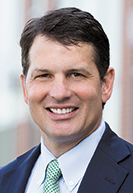 Democrat Jonathan Weinzapfel continues to lead fundraising in the Indiana attorney general race, finishing the second quarter of 2020 with more than $720,000 available to his campaign. His Republican counterpart, former Indiana Congressman Todd Rokita, posted a total of a little more than $18,200 at the end of the second quarter, about two months after he entered the race.
As of July 15, Weinzapfel's available funds totaled $722,364.91, while Rokita's totaled $18,277.16. Weinzapfel has been campaigning since December, while Rokita joined the race in mid-May.
The Democratic candidate brought in $181,374 in contributions in Q2, adding to $662,724.13 in cash. Last year, he transferred about $487,000 from the Weinzapfel for Indiana PAC to his AG campaign.
Weinzapfel reported four large donations in the second quarter: $50,000 from the Indiana Kentucky Ohio Regional Counsel of Carpenters COPE, $15,000 from the International Brotherhood of Electrical Workers PAC Voluntary Fund, $10,000 from the political action committee of the United Association of Journey, Plumbers, Steamfitters & HVAC Service Technicians, Local 440, and $10,000 from Hogsett for Indianapolis, the campaign committee for Democratic Indianapolis Mayor Joe Hogsett.

Additionally, the former state representative and Evansville mayor reported $121,733.56 in expenditures.
For his part, Rokita brought in $83,155 in Q2, added to $2,150.72 in cash. He also received four large contributions, each received after June 30: $125,000 from the Republican Attorneys General Association Action Fund, $2,500 from David Hartley of Westfield, and $1,000 each from individuals, Timothy Edson of Washington, D.C., and Judson Salmon of Crown Point. Additionally, Rokita — who has also served as Indiana's Secretary of State — paid out $67,028.56 in Q2 expenditures.
Incumbent Republican Attorney General Curtis Hill ended his unsuccessful reelection campaign with $70,025.01. He received significant monetary support from the RAGA Action Fund, including donations of $11,060 and $10,250. Additionally, he received $10,000 from Cameron Gilbert of Knox.
Other supporters of Hill's reelection bid included the Wine and Spirits Wholesalers of Indiana PAC, which gave $5,000, and the Committee to Elect Jim Tomes, which gave $200. Tomes is an Indiana Republican senator from Wadesville.
Hill's Q2 expenditures totaled $151,077.60.
Also included in the race for the GOP attorney general nomination was Nate Harter, the elected Decatur County prosecutor who finished third among the four candidates. He ended the second quarter with $796.29.
The fourth candidate, attorney John Westercamp of Bose McKinney & Evans in Indianapolis, ended the quarter with $9,244.75.
In the Democratic race, State Sen. Karen Tallian unsuccessfully sought her party's nomination against Weinzapfel. Her AG campaign committee reported $48,320.77 at the end of June.•
Please enable JavaScript to view this content.