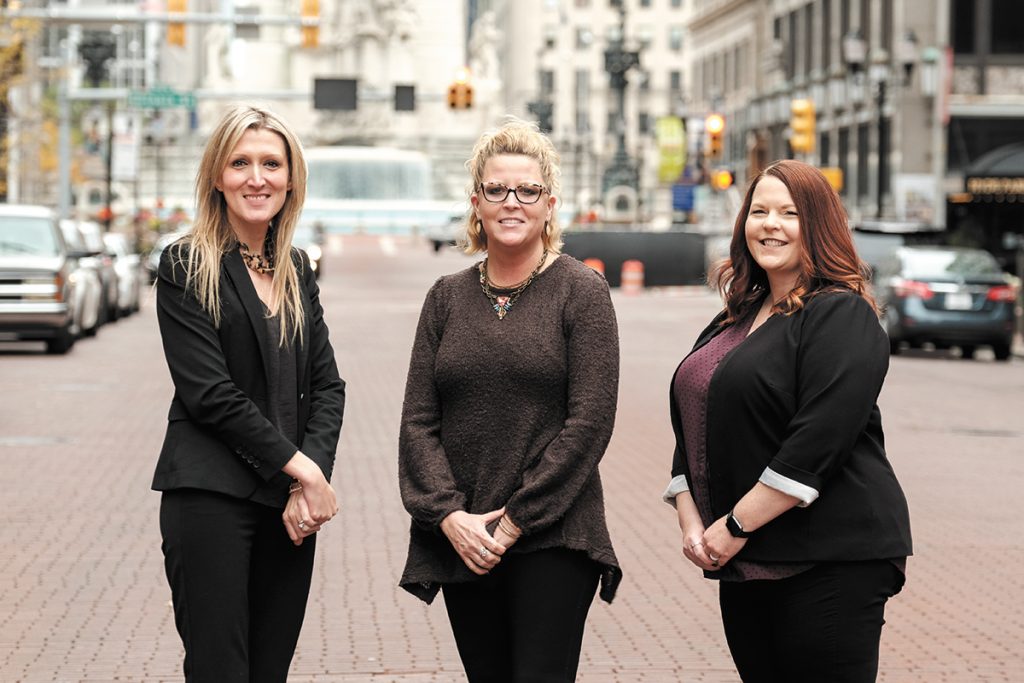 Dana Hoover's story is one of chance.
By chance she saw the tax warrants and learned the company she thought she jointly owned with her then-husband was not just in her name only but also was in dire financial shape. By chance when she and her friends went to the business on a Saturday to retrieve her car, she ventured inside the office and grabbed about seven boxes of business records.
And by chance, she tapped out an email to the Indiana Coalition Against Domestic Violence. She had been losing confidence in the prosecutor's ability to hold her now-ex-husband accountable for what she describes as the "final assault," and she was worried the tax issues at the business would financially damage the rest of her life. Of the 23 emails she sent to organizations and elected officials asking for help, she said the ICADV was the only one to respond.
Hoover ended up with a team of lawyers provided by the coalition who helped her divorce Chad Hoover and get untangled from the business, HCH Enterprises. Kyli Willis, associate attorney at Wanzer Edward, P.C. represented Hoover. Assisting were Taryn Stone, partner at Ice Miller, who dove into the business issues along with former Barnes & Thornburg attorneys Serj Mooradian and Ziaaddin Mollabashy.
"It's still hard to find the words to say how appreciative I am," Hoover said, reflecting on her three-plus-year odyssey. "It is hard for me to understand the extent of everything that happened."
Willis determined the best solution was perhaps the most difficult — getting a court to declare Hoover was not liable for any the business' debt or obligations. Piecemeal approaches like the legal team's success in getting the Internal Revenue Service to grant innocent spouse relief for the tax year 2015 would not provide blanket protection against all creditors.
At her first meeting with Willis, Hoover could not stop crying. She and her teenage son were homeless, having fled from her husband in the middle of the night. She was staying with friends and struggling to make her paycheck cover her expenses. Then her meager bank account of $397.19 was garnished to satisfy the business taxes owed to the state of Indiana.
"What was at stake for Dana wasn't just a matter of justice, it was her entire financial stability for the rest of her life," Willis said. "She never could have dug out of the debts (Chad Hoover) wanted to leave her with. When I was preparing for her trial, what I thought was not just getting her justice but the gravity of how it would impact her life forever if we failed. …(She would) never be able to live anything like a normal life."
Telling the same story
The Sept. 16 ruling from the Hamilton Superior Court in In Re: The Marriage of Chad A. Hoover and Dana L. Hoover, 29D04-1705-DN-004385, provided the relief Willis wanted for her client. Within the 70-page document, the court offered a clear picture of how Hoover was almost ruined by debt and lawsuits connected to a business about which she knew little.
Her ex-husband had suggested they start a home contracting business together, and Hoover interpreted the idea as a romantic gesture of investing in their future. According to the court ruling, she recalled signing only one form, which was to get a tax identification number for the new company. But without her consent, she was listed as the registered agent and her electronic signature appeared on the business formation documents.
The court found Hoover did not participate in hiring employees, preparing the payroll or reviewing the business bank account. She did not sign bids or purchase orders, nor did she bring in new clients, assist on job sites or get involved with the company record-keeping.
Conversely, the court noted Chad Hoover testified he wanted to start the new company as a woman-owned venture in order to be able to bid on exempt projects. The office manager told the court the ex-husband was involved in the financial aspects of the business, telling her when to pay the bills and who to invoice.
By the time Hoover ran across the tax warrants, she was liable for what Willis has estimated was $500,000 in taxes that had been withheld from employees' paychecks but never paid to the Internal Revenue Service. In addition, judgments had been entered against HCH Enterprises LLC from a handful of lawsuits.
"To be honest, as an attorney it's hard enough when dealing with somebody who doesn't play by the rules but this case had additional complexity," Stone said, explaining the processes and procedures available to help could not address Hoover's situation. "… I have never seen anything like it."
Hoover could have prevented the accruing of liability by dissolving the company or filing a BC-100 form. However, Stone backed off because taking such action would have suggested that Hoover, contrary to her denials, did have authority over the business.
Willis did not doubt her client.
"Dana's story never changed," Willis said. "At every hearing, every meeting, it was always the same while (Chad Hoover's) story changed every single time."
Hamilton Superior Court held that Chad Hoover formed the business without his wife's knowledge or consent and that he was a "true owner" of HCH Enterprises. Moreover, the court awarded ICADV $17,000 in attorney fees because Chad Hoover did not give "adequate response during the discovery process," which increased the small stipend the coalition had to pay to the attorneys.
Boxes of records
Chad Hoover's current counsel, Cody Cogswell of Cogswell and Associates LLC, declined to comment on the specifics of the case, but he was surprised the business matters were part of a ruling about marital property. Even though a petition for appellate review was not filed, Cogswell said the inclusion of the business might have merited a review by the Indiana Court of Appeals.
Along with the divorce, Chad Hoover did enter into a plea agreement resulting from the "final assault" incident. He pleaded guilty to one count of felony battery.
What was happening at the business became a bit clearer when Hoover remembered she still had the boxes of records she took from the office. When Willis peered inside and saw the contents, she called Stone, who has a deeper knowledge of business from her work as a transactional attorney serving health care providers.
Stone marshaled some of the staff at her law firm to scan and catalogue the receipts and other papers each box held. The records did not solve any mysteries, she said, but they did help prove the negative that Hoover did not have any involvement with the business.
"I think it was important to show what wasn't there," Stone said of searching through the records. "More of an exercise to show she wasn't involved."
When Hoover sent the email to the coalition, she thought maybe she could get a little guidance on navigating what she was realizing was going to be a very difficult divorce. She was so disgusted with herself during that time for having put her son in harm's way that some days she did not want to get out of bed.
Today, she is living in a place of her own and her son is close to graduating from basic training in the U.S. Navy. Looking back, she credits the support from her co-workers who took up a collection to help her get an apartment and her friends who came when she had just four hours to collect her clothes and furniture she had left in the marital home. She is also so thankful for the help from ICADV that she has offered to tell her story and help other survivors of domestic violence.
"I didn't give up but I had help," Hoover said. "I don't know what would have happened to me (without my attorneys). I would have paid that debt for the rest of my life."•
Please enable JavaScript to view this content.