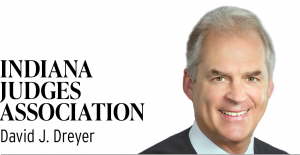 "… (L)aw-reform work is the floor … (R)ules governing judges not only allow them to work to improve the legal system, but also impose an obligation to do so."
—Chief Justice Bridget Mary McCormack, Michigan Supreme Court
There was a time, not so long ago, when judges were "potted plants." The judicial role was widely reserved, somewhat withdrawn, apart from public statement or positions, and any work to change the legal system was considered improper. Changing standards and challenging times seem to have changed all that.
One leading example of changing judicial roles is the treatment of unrepresented litigants in civil court. The old common law rule, as we all know, was that an unrepresented person is held to the same standard as an attorney. Now, Rule 2.2 of the Indiana Code of Judicial Conduct shows that judges have a "responsibility" to promote access to justice in pro se cases and suggests several ways to use judicial discretion, including modifying how evidence is admitted and construing pleadings to facilitate trying the case in a fair way.
This flexibility is intended to accommodate unrepresented persons. Why? State and national statistics show overwhelming numbers of unrepresented people appear in our courts. The American Bar Association and Legal Services Corporation report that over half of all civil cases in the United States have at least one pro se party. According to the Self Represented Litigation Network, case numbers for around the country show 60% to almost 100% of cases involving family law, housing or consumer complaints involve at least one pro se party. This writer's 25 years in the Marion Superior Court confirm a consistent prevalence of pro se parties. Federal data also show a multitude of pro se filings in bankruptcy, civil forfeiture and prisoner Section 1983 cases, among others. So the world has changed — and so has the role of judges.
Michigan Chief Justice Bridget Mary McCormack proficiently argues in the Yale Law Journal that judges working for legal system reform are the new norm — not just because the system needs it, but because we judges are required to do it. Her logic is grounded in the practical experience of trial courts. Judges are experienced, firsthand "critical witnesses," she says, and are the only people with firsthand knowledge. "Nobody sees what we see," she pointedly asserts, and judges' "vantage points" lead them to develop real solutions. In addition, she shows judicial conduct rules, especially regarding impartiality, are not prohibitive. She maintains judges can get involved in legislative and other legal system reform. Examples include:
• Access to legal counsel for eviction cases
• Changing cash bail-bond systems
• Altering contempt sanctions for nonpayment of fines
• Task forces
• Problem-solving courts
Overall, she comments that legal system reform is not "extrajudicial" and that "improving administration of justice is part and parcel of what we have to do."
Chief Justice McCormack's most vehement argument is the obligation of judicial reform work. She writes, "Our justice system bestows upon us the awesome responsibility of sitting in judgment over matters that affect every dimension of people's lives. Our capacity to do justice in that role is determined by the quality of the system in which we operate. We do not have the luxury of sitting back, passively observing, recognizing problems, and doing nothing. That approach does not make us impartial; it makes us complicit."
The good news for Indiana is that judicial law reform work has been status quo for many years. In 2008, former Chief Justice Randall Shepard delivered the annual State of the Judiciary to the Indiana General Assembly. He asserted that Indiana has a court system "with reform in its heart." New technology, a single case management system and problem-solving courts were just a few of the initiatives he outlined.
Indiana Chief Justice Loretta Rush is a national leader in reform. In Indiana alone, she started the Indiana Innovation Initiative, which is a large formal reform project, consistent with the chief justice's modernization of state court administration. She has initiated new and much-needed efforts in criminal jail populations, civil access to justice, commercial courts and 21st century technology for the courts and public. In addition, she has begun judge-led discussions and programs on racial equity, and the Judicial Detention Alternatives Initiative. Most recently, she is leading the development of a Jail Overcrowding Task Force, an Eviction Task Force to address Indiana's high number of cases and others. Judges and advocates around the country are familiar with Chief Justice Rush's work as the country's leader regarding opioids and the courts. She is the leader of the National Judicial Opioid Task Force and has produced the definitive study of the crisis in the U.S.
So, judges as reformers is not a new idea, is not prohibited and is in fact what many of us have done for a long time. We are stewards of the system and must do what is necessary to keep it strong, stable and serving our citizens.•
__________
Senior Judge David J. Dreyer presided as a judge of the Marion Superior Court from 1997-2020. He is a graduate of the University of Notre Dame and Notre Dame Law School and a former board member of the Indiana Judges Association. Opinions expressed are those of the author.
Please enable JavaScript to view this content.