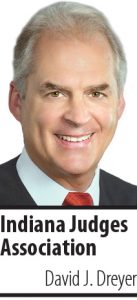 Recently, the Judicial Nominating Commission reappointed Indiana Chief Justice Loretta Rush for another term. It was hardly a surprise. She practiced in Tippecanoe County for 15 years and was elected as a superior court judge three times. In 2012 she was appointed to the Indiana Supreme Court, and in 2014 became Indiana's first female chief justice, succeeding former Chief Justice Brent Dickson. Among her many accolades, she serves as co-chair of the National Judicial Opioid Task Force and was named the 2018 Government Leader of the Year by the Indiana Chamber of Commerce. So the commission recognized what we lawyers and judges have known along — Chief Justice Rush is a special kind of judge. Recently, she took time to reflect on her work and remarkable career.
Q: What is the best thing about being an appellate judge — and being chief justice?
A: Being an appellate judge allows you to serve on a bench with others. For 15 years I was an associate, and then a partner, at my law firm. I always enjoyed stopping in my colleagues' offices to discuss cases and troubleshoot together. When I became a trial judge, however, I quickly realized that the job requires that you work alone. Now, I get to enjoy the collaborative approach again — weekly discussions around the conference table about the law; receiving and offering edits on circulated opinions; and many discussions about potential approaches to decisions.
As far as being the chief justice, it's more of the same. I genuinely appreciate working with a team of smart, talented and hard-working colleagues who want the best for our profession and for the people of Indiana.
Q: Most lawyers or judges do not make case decisions as a group of 5. What is it like to work within that dynamic?
A: Sitting around the conference table most Thursdays on the third floor of the Statehouse is one of my favorite times of the week. We have robust debates, and it really adds to the jurisprudence of our state.
Q: What are the pros and cons of being the only woman on the Indiana Supreme Court (and knowing it's not likely to change in the foreseeable future)?
A: As the only woman on the court, I am often sought out by women and girls of all backgrounds for professional and personal advice, and I try to be a resource to them. That being said, I would like for more women to consider applying for future openings on the Indiana Supreme Court and on the other benches. Furthermore, I would like to see more diversity in all levels of government. Despite being the only woman, the five of us have a strong and collegial relationship, which is essential given the amount of time we spend together and the job at hand.
Q: What is your personal advice to a lawyer who is preparing to argue before the Indiana Supreme Court?
A: By the time a case comes before us at oral argument, we've spent a significant amount of time reviewing the issues and poring over the pleadings, briefs and the record, if necessary. Lawyers preparing to argue before us should likewise be intimately familiar with the issues and arguments. They must listen carefully to our questions and tailor their responses to them.
Q: What are your hopes for the work of the Study Commission on the Future of the Indiana Bar Examination?
A: My hopes are that the commission submits recommendations on issues including: whether Indiana should modify what is deemed to be a passing score on the Indiana bar examination; whether Indiana should continue the practice of scaling the written portion of the Indiana bar examination to the multiple-choice portion of the bar examination; whether Indiana should continue to use the same grading scale to grade the written portion of the Indiana bar examination; whether any changes should be made to the number of subjects tested on the Indiana Essay Examination; whether any changes should be made to the appeals process for applicants who are unsuccessful on the Indiana bar examination; whether the present content and format of the Indiana bar examination has a disparate impact on any groups; and whether Indiana should adopt the Uniform Bar Examination ("UBE"). This commission has been working diligently all year.
Q: If you had to indicate your favorite accomplishment as chief justice, what would it be?
A: I feel incredibly blessed at this time in history to lead a judicial branch that is strong, steady and sound. I could not be prouder of the judges and lawyers in this state. For example, I recently reviewed the number of hours that attorneys are volunteering to represent underserved litigants in Indiana, and those numbers were simply impressive.
Q: What is the non-law activity you most enjoy?
A: It's a three-way tie between cooking, learning new subjects and sitting around the kitchen table with family.
Q: There are now three former trial judges, including yourself, on the Indiana Supreme Court — the most in a long time. Do you think this is a benefit?
A: I think it is important that the Indiana Supreme Court justices come from a wide variety of backgrounds, and experience as a trial judge brings an important perspective, as do other legal experiences. While there are three former trial judges on the bench, each has spent time in other important legal roles. For example, I had spent more time as a civil ligation attorney than I had on the bench.
Q: Who has most influenced you as a lawyer and a judge?
A: God and my family.
Q: Please explain the judicial clerkships in rural counties.
A: The goal of the program is fairly simple — exposing law students to rural practice across Indiana while assisting areas that may have fewer resources than bigger city settings. The students assist trial court judges with writing and research; in return, those students gain credits and, more importantly, valuable knowledge about courtroom practice and procedure in many of our wonderful rural communities.•
__________
• Judge David J. Dreyer has been a judge for the Marion Superior Court since 1997. He is a graduate of the University of Notre Dame and Notre Dame Law School. He is a former board member of the Indiana Judges Association. Opinions expressed are those of the author.
Please enable JavaScript to view this content.