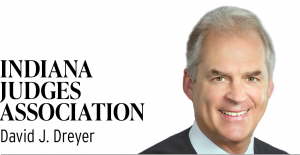 The following is an interview with Justice Solomon Sabia, the only reportedly totally independent judge in the Western Hemisphere.
Mr. Justice, what makes you totally independent?
I have no accountability. I am a judge in a place where I am not elected by anybody I have to answer to or appointed by anybody to whom I am indebted. I have no reliance on any higher power to keep my job and I am invisible to the public.
So what do you make of the growing concern in the legal profession about threats to judicial independence?
Well, it's hard to figure. On one hand, there are problems with the media. Used to be, no one knew the name or record of any judge except during Supreme Court confirmation hearings. Now, there are websites with the address and phone number of the judge who ruled against you in your divorce, and reporters who will write about it. So the media gets blamed for a lot, but they don't seem to care as much about getting stories accurate or protecting privacy as much as trying to get a lot of hits on their websites.
On the other hand, there are real pressures from special interests who will publicly complain and vilify any judge who does not rule according to their dictates. It's always "either/or," no appreciation for any gray areas or middle ground, and no beneficial discussion for the public.
Have you ever had a story written about you?
Oh, no. There is no public information about me, and I have never made a public statement in my life. In fact, I never leave my house. It's all remote.
Isn't it better to just appoint all judges for life and keep them from any pressure?
Well, that's not truly independent. It may keep a judge from worrying about losing the job, but it does not keep them from suffering media and special interest obsession about their rulings. Remember that federal judge who changed his ruling after the president criticized him for suppressing evidence? (Judge Harold Baer, 1996.)
So if judges are elected, wouldn't that ensure they get the benefit of public feedback and rule as the law requires?
Well, I saw a TV ad recently for a candidate for an elected state supreme court seat (not Indiana). She was firing an assault rifle at a shooting range and touting her loyalty to certain people and political positions. It's impossible to reason how that candidate, if elected, could ever be seen as impartial or independent from those people or interests. But electing judges can provide some confidence in the legal system.
So should all judges become like you?
I have to admit that solitude does create a lot of independence, but perhaps at a greater cost. Public confidence is part and parcel of a functioning judiciary. These days, judges have to get out, be seen, look more human, say things — and engage the forces that threaten their independence.
You mean debate or argue with these political commentators?
No, judges are properly above that — and it wouldn't help anyway. But transparency goes a long way. It would be refreshing to see judges speak publicly and sincerely at times — not a "they said, judge said" tabloid kind of thing — but to genuinely educate and explain what happened in a case and how it was decided.
Sounds like you are suggesting judges have their own podcasts, or at least their own public relations staff.
Hey, anything that shows the public that judges are real people just like them — and shows how they work on the everyday problems of everyday people — will support our democracy. We have to explain ourselves — or somebody else will.
Sounds like you are ready to come out of your shell.
Real judicial independence means we judges have to face up to what the law requires, no matter what the cost — and we do. Real judicial independence means media standards have to improve and balance the short-term website hit with the value of what really merits reporting. Real judicial independence means public perception has to change and understand the undisputed, indispensable, central foundation of the legal system: Majority opinion does not equal rule of law. We need legal literacy. Law is not a blog.•
__________
Senior Judge David J. Dreyer presided as a judge of the Marion Superior Court from 1997-2020. He is a graduate of the University of Notre Dame and Notre Dame Law School and a former board member of the Indiana Judges Association. Opinions expressed are those of the author.
Please enable JavaScript to view this content.