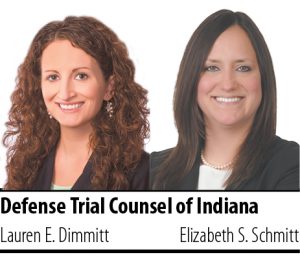 In 2009, the Indiana Supreme Court held in Stanley v. Walker that discounted payments made by private health insurance providers are admissible to determine the reasonable value of the medical services rendered. The Indiana Supreme Court reaffirmed and expanded Stanley in its 2016 decision in Patchett v. Lee, holding that the rationale of Stanley applies equally to government benefits such as Medicare and Medicaid.
In the wake of Stanley and Patchett and the admissibility of discounted payments for medical treatment, a new trial tactic has grown increasingly popular among plaintiffs. In cases where medical expenses are minimal — often as the result of discounted payments — some plaintiffs have sought only general damages, such as pain and suffering, in an attempt to increase the value of their claims. Because they are not requesting medical expenses at trial, plaintiffs file motions in limine to exclude medical bills. Rulings on such motions have been inconsistent. Some trial courts have admitted the medical bills over plaintiffs' objections while other courts have excluded the medical bills. This inconsistency has made it difficult for parties to evaluate cases and prepare for trial given the admissibility of medical expenses greatly affects trial strategy.
However, the Indiana Court of Appeals recently addressed this issue in Gladstone v. West Bend Mutual Insurance Co., 20A-CT-1499. In that case, Daniel S. Gladstone was injured in a car accident, breaking his right wrist. His treatment consisted of going to the ER, wearing a cast, treating with an orthopedist and attending physical therapy. His medical bills totaled $14,000 but, after reductions, were just under $2,000. Gladstone settled with the tortfeasor for her policy limits of $50,000 and brought a UIM claim against his insurer, West Bend. Following the popular tactic, Gladstone decided to drop his claim for damages and sought recovery for pain and suffering only. At trial, West Bend sought to introduce Gladstone's medical bills into evidence. The trial court admitted the evidence over Gladstone's objection, and the jury returned a verdict of $0.
On appeal, Gladstone argued for a bright-line rule that medical bills should never be considered relevant evidence as to the question of pain and suffering. However, he argued that if the bills were ever considered relevant, it was an abuse of the trial court's discretion to admit them in this matter because the probative value was substantially outweighed by the danger of unfair prejudice or misleading the jury. West Bend argued that Gladstone's proposed bright-line rule regarding admissibility was at odds with rules of evidence because medical bills are generally relevant to the question of pain and suffering.
In ruling on this issue of first impression, the Indiana Court of Appeals rejected Gladstone's argument that medical bills are never relevant to pain and suffering, noting that common sense suggests that a more serious injury results in higher medical expenses, and vice versa. Because of that, West Bend was able to clear the "low bar" for relevance of the evidence. However, the Indiana Court of Appeals pointed out that there are cases where the amount of medical bills do not reflect the suffering the plaintiff endured, so a bright-line test was inappropriate. Ultimately, while medical bills may be excluded in cases where their probative value is substantially outweighed by prejudice or the possibility of confusing the issues or misleading the jury, this was not one of those cases. If Gladstone felt that the bills did not reflect his suffering, he could counter the bills with other evidence. But because Rule 403 is biased in favor of admissibility, the bills were properly admitted.
The Indiana Court of Appeals did not go so far as to create a bright-line test, so regardless of whether transfer to the Indiana Supreme Court is sought, the Indiana Court of Appeals' recent decision likely does not end this fight. Plaintiffs will continue using this trial tactic and defendants will continue challenging it. However, the defense bar will certainly consider Gladstone a victory, and much credit goes to Keith Mundrick and Paul Mackowski of SmithAmundsen LLC and Lucy Dollens of Quarles & Brady LLP for their amicus brief filed on behalf of Defense Trial Counsel of Indiana.•
• Lauren E. Dimmitt serves on the DTCI Board of Directors and is a partner in the Bloomington office of Dinsmore & Shohl LLP. Elizabeth S. Schmitt is an associate in its Indianapolis office. Opinions expressed are those of the authors.
Please enable JavaScript to view this content.