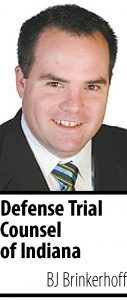 It goes without saying that the COVID-19 pandemic has had an impact on all of us in our personal and professional lives. I'm sure that, like me, you have learned a lot more about yourselves and those closest to you over the past 18 months. Of course, we all have had to adjust the way we practice law, as well — working remotely, adjusting our hours to deal with kids and virtual learning, Zoom attendance at hearings and mediations, Teams calls, you name it. It has reminded me of the resilience, resourcefulness and innovation of some of our brightest legal minds.
While no one has been immune from these changes to our usual habits, it struck me that younger attorneys, in particular first-year associates, did not really have the ability to learn and experience much of the practice of law that they were likely expecting. I have certainly noticed that in our firm (which started only a few months before the pandemic hit), all of our associates have gaps in their experiences that we want to fill (fingers crossed we do not face another slowdown as the delta variant spreads). With the help of others, we gathered some thoughts and opinions from young lawyers — in various practice types, from public and private employers, and with diverse backgrounds — around Indianapolis so they could share their experiences and what they hope to encounter going forward. Hopefully we can keep their feedback in mind as we continue to adjust to whatever "normal" will be for attorneys in the near future.
In-person experiences
The overwhelming top response from young lawyers was the lack of in-person experiences. I know many of us can relate to the sentiment that there is no good substitute for being in a courtroom, at a mediation, in a client's conference room or in a mentor's office, observing and learning from repetition or honing our listening and speaking skills. Teleconferencing has offered some experience, but by and large there are several graduating classes of attorneys who have yet to stand in front of a judge and present an argument, or have the chance to sit down with a supervising attorney to review a case or go through an edited contract.
Mentoring and shadowing
Piggybacking off the lack of in-person experiences, many newer attorneys specifically mentioned they missed and/or were greatly looking forward to the opportunity to shadow other attorneys at their practices. Similarly, those that are already back to work in person mentioned that the ability to learn through close observation was an invaluable experience for them. Further, these younger associates often commented that the feedback they received on their work product or performances came via email or text message. Putting myself in their shoes, I cannot imagine not being able to talk through issues with supervising partners or fellow associates, asking questions about their feedback or issues that came up during an argument.
Hours and workload
Responses on associates' workload were all over the map. Some felt they were far too busy; others were concerned they did not have enough work in general or to achieve their firms' requirements (what else is new?). Many were concerned about their efficiency — questioning whether their work product was taking too long or that they were not spending enough time diving into projects. Others were concerned that, as firms return to work and require associates to come back to the office, the expectations will change, whether it be face time and availability, billing requirements or other unspoken expectations employers may have. Finally, these associates, like all of us, have been able to adjust their work schedules to handle other personal matters during the day. Many responses to our informal survey mentioned this as a huge perk of starting their careers, and they are hopeful that some form of flexibility will continue. The slower pace of starting their careers — in lieu of being thrown directly into the fire — helped many newer attorneys have a more successful adjustment period.
These responses provide a peek inside the heads of some of the younger associates in our legal community, and I suspect they are representative of a large percentage of our workforce. While sensitive to the "associates work for us" mentality that predominates historical law firm culture, I think law firm leaders and/or supervising attorneys would be smart to keep these responses in mind while assessing and adapting to the changes to our practices going forward. Otherwise, many firms could find themselves in the same boat as other employers around the country, desperately trying to find good talent to build around.•
• BJ Brinkerhoff is a partner of Jeselskis Brinkerhoff and Joseph in Indianapolis and is a member of the board of directors of DTCI. Opinions expressed are those of the author.
Please enable JavaScript to view this content.