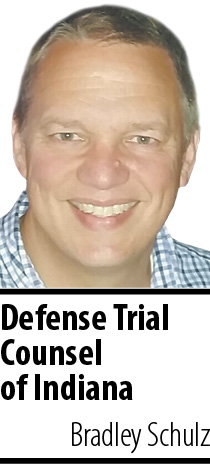 By Bradley Schulz
Believe it or not, only a couple of months ago many of us did not know what COVID-19 was. The first I heard of the virus was a news story in late February reporting that the most googled phrase for the previous few weeks was "Corona beer virus." COVID-19 has since dominated the landscape, forcing us to adopt social distancing measures to meet the threat. This somewhat solitary experience has revealed several lessons that directly affect the practice of law, the ripple effects of which we may feel for a long time.
It is important to have a good grasp on technology. Not too long ago, the practice of law involved a lot of paper. Most offices kept entire rooms full of paper files. All pleadings and motions were filed in-person or by certified mail, and meetings were conducted in person. Few lawyers typed their own letters, and Dictaphones were on every desk.
Technology has had a significant impact on the practice of law for several years now. Paper files have become things of the past in many offices, and electronic filing is now a statewide practice. The effects of social distancing will probably accelerate these shifts in the practice of law and the business world. More clients will be forced to use innovative technology to manage business, which forces lawyers to meet those needs. The lessons of the recent past show that technology tends to become more important over time, not less.
Moreover, lawyers have an ethical duty to have a good grasp on technology. Rule 1.1 of the Indiana Rules of Professional Conduct states that a lawyer must have competent "legal knowledge, skill, thoroughness and preparation reasonably necessary for the representation." Comment 6 of Rule 1.1 clarifies this, stating that a lawyer must "keep abreast of … the benefits and risks associated with the technology relevant to the lawyer's practice(.)" While some of us may still prefer paper and pen, we have a duty to be at least competent with technology.
The practice of law is a collaborative effort. Judges, jurors and clients rarely see anyone from another office except the lawyer. In light of this, it is easy to see how a lawyer can slip into a mindset of inflated self-importance. This misses the reality that lawyers are only as good as their staff and administration.
Collaboration is essential to almost any group effort. Hall of Fame Coach Vince Lombardi once noted that "the achievements of an organization are the results of the combined effort of each individual." I have been away from the office for almost six weeks. During that time, I have been reminded of all the things I cannot do on my own. Only through the combined efforts of my co-workers can our office function even remotely closely to how it operated before social distancing entered the lexicon. Isolation has fostered in me an appreciation for the collaborative nature that is a law practice. A healthy recognition of this reality makes lawyers better bosses, better co-workers and more effective counselors.
"The way it was before" may never return. COVID-19 has been a tragedy both in lives lost and other costs such as isolation and financial hardship. Even while COVID-19 continues to unfold, there are signs the post-COVID-19 world will be different from our collective experience before social distancing.
Even a casual internet search reveals the potential impact of social distancing on business and commerce, which includes the practice of law. Clients will be more inclined to use technology now that the virtual world has been forced upon them by social distancing. Business models will possibly be forced to change, with employees becoming farther removed from a traditional office setting. A greater emphasis on work-life balance would seem to be a natural outgrowth of being faced with a pandemic. Studies pre-pandemic already suggested younger employees preferred mobility and flexibility over the corner office and a gold watch years down the road. It is not difficult to see these issues snowballing in a post-pandemic world. Thus, we need to prepare ourselves for the possibility that "the way it was before" may never fully return.
It is easy to become distressed at the potential loss of "the way it was." Yet we are no strangers to change. Perhaps Percy Shelley put it best when he wrote, "(c)hange is certain … Such recurrences should not constitute occasions for sadness but realities for awareness, so that one may be happy in the interim."•
• Bradley Schulz is an attorney with State Farm Litigation Counsel in Indianapolis and is a member of the DTCI Board of Directors. Opinions expressed are those of the author.
Please enable JavaScript to view this content.