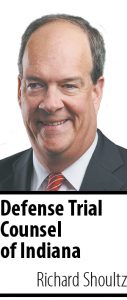 "My name is Rick and I am a pack rat." Those are the words I will use at my first Pack Rats Anonymous meeting, which I will be attending after having recently prepared for our law firm office move. Lewis Wagner recently relocated to a new, completely rehabilitated office building. We have new furniture, improved conference rooms and upgrades in technology. However, after spending almost 30 years at the previous location, the move forced me to look at what I have accumulated as a practicing lawyer.
This move was the second in my law firm career. In 1991, our firm moved from the south side of Indianapolis to a new downtown building. At that time, I had been practicing for only a year and had few items to move. I had a file-marked copy of my first appearance in a legal proceeding. This was an actual paper copy with a rubber file stamp placed by some court staff member — not an electronic file stamp. This appearance represented my reaching the big time of being a lawyer.
As time passed, my accumulation continued. Before we could keep digital file copies, I had the bright idea to keep paper copies of pleadings, briefs and memos that I prepared to save time in future research or drafting projects when the same issue arose. Thus, I kept those documents in file cabinets for future use. However, the usefulness of the items was minimal because I may have looked at them only once or twice. Nevertheless, they were there if needed.
I also kept a copy of every appellate brief I filed. The covers of these briefs presented a colorful collage of my legal career — red (for appellee where I won at the trial court level), light blue (for appellant where I lost at the trial court level), yellow or gray (reply brief) and green (amicus curiae counsel). Unfortunately, now that appellate briefs are electronically filed, these colorful briefs no longer exist. However, I still had all of mine, bound and preserved.
I also found my calendars. Today I use a computer calendar, but I also keep an old-fashioned paper calendar and have done so throughout my career. Thus, I unearthed 30 years of paper calendars recording the dates of all trials, depositions, hearings and meetings. In reviewing the early years of the calendars, it appeared that because I was an associate, I spent more time working on briefs and memos than attending out-of-office events. As years of experience were gained, the calendars revealed less unscheduled time; I was out of the office (a pre-pandemic, pre-Zoom reality) covering those events that an active trial attorney would experience.
As a trial attorney, I also started accumulating more odds and ends from the different cases I handled. I was involved in a case where a vocational student cut off a finger while working with a saw during a class. What was unusual about the case is that the student, as part of the class curriculum, had been required to make a steel mold of his hand and had actually made the mold with his finger cut off — before the event. This strange occurrence raised a question as to whether the student intentionally had his finger removed. I was asked to keep this hand mold as evidence and still retained it many years later. It made for an interesting paper weight.
Other odds and ends included an inflatable seat cushion used by wheelchair-bound patients to prevent bedsores. While I hope I never have the need for such a cushion, I had a brand new sample and felt it was wasteful to simply throw it away when the case was concluded. Older trial attorneys are familiar with the 3-foot-by-3-foot foam boards of pictures that were used as demonstrative exhibits in trials. I kept these oversized pictures as a reminder of the trial and for a conversation starter if anyone asked. (That is assuming someone would look at a general picture of scaffolding at a construction site and ask what happened!)
It was also interesting to find old marketing materials used by our firm. These included brochures and pamphlets of all shapes and sizes. Some of the materials contained pictures of me and my firm family that were fun to view and see how we changed. They certainly brought back memories of members no longer with the firm. In looking at those pictures, my biggest wish was that I still had all the hair that I had when I started practicing law.
I kept a lot of material over the years, and while making this move, ultimately decided to discard much of it. I confessed to myself that I am a pack rat and many of these items served no useful purpose. However, as I write this article, I am wondering whether I am a pack rat or a historian. I kept these items thinking they would help my practice of law. But the accumulation provided an opportunity to look back and view my legal career in a time capsule. To justify keeping these items, I started to convince myself that I was a lawyer-historian. At least, that is what I can tell myself until the next time I need to clean out my office, likely in retirement. At that time, I am sure I will confess again: "My name is Rick and I am a pack rat."•
• Richard K. Shoultz is a partner in the Indianapolis firm of Lewis Wagner and is a member of the board of directors of DTCI. Opinions expressed are those of the author.
Please enable JavaScript to view this content.