Looking up at the inky sky growing darker by the minute, Lisa Hiday spotted the stars she had become so familiar with during her solo backpacking trip through the Sierra Nevada mountain range in California last fall.
"There was lot of comfort and solace in that," said Hiday, a partner at Woodard, Emhardt, Henry, Reeves & Wagner LLP.
The Hoosier attorney started backpacking when she was a teenager. She's traveled the country on a variety of treks ranging from shorter backpacking trips in Utah's Zion and Arches national parks to longer hauls in California's Yosemite and Sequoia national parks. She's also ventured across the globe, summiting Tanzania's Mt. Kilimanjaro in the middle of a blizzard and scaling high passes in northern Peru.
Hiday's more recent adventures in the wilderness, however, began when her own teenage son planned a backpacking trip in the California High Sierra when he was just 15.
"He planned this trip, so I'm like, 'Okay, he really wants to go out and go backpacking,'" Hiday recalled. "We went to the High Sierra in 2016 and he really enjoyed it, and we have been back every year since then."
Family ties
The mother-son duo have returned to the West Coast in the past several years, taking longer and more adventurous trips. In 2018, they backpacked for 13 days across the entire length of the 211-mile John Muir Trail in the Sierra Nevada, passing through Yosemite, Kings Canyon and Sequoia national parks.
"It was really fun. That's my favorite hiking experience," said Yiorgos Bereveskos, Hiday's son. "I really enjoy hiking with my mom. She is just a really fun person to hike with and a really good time."
Last year, the pair boarded a plane to South America and set off on the traditional four-day trek to Machu Picchu through the rainforest.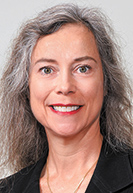 "That was beautiful," Hiday said. "But what I really enjoyed was the trek after that where we went to the northern part of Peru called the Cordillera Blanca. We hiked to a lake called Laguna 69. It's just a gorgeous lake with milky blue water."
After filling up on the snowy peaks and sparkling lake, Hiday and her son continued on to a four-day Santa Cruz Trek through various indigenous villages, with the highest pass reaching peaks of roughly 16,000 feet.
"That's a lot of what I do, just in my spare time, having fun," Hiday laughed.
Traveling light
The duo also took a three-day, 70-mile long backpacking trip in Northern Yosemite last summer with one primary goal – testing their gear and fitness levels.
"It was more of an internal challenge," Hiday explained. "Do we have the right equipment? How can we make do with what we have? Is that enough or do we need to make further tweaks?"
When they hike, the pair does something called ultralight backpacking. That means the base weight of an individual's fully loaded backpack is no heavier than 10 pounds. The base weight is everything you may be carrying, excluding any consumables such as food or water.
"When I backpacked in the early 1980s, our packs were twice as heavy as what I carry now," Hiday said. "The equipment was just so heavy and there wasn't specialized equipment for backpacking. Now it's possible to get a fairly light pack without breaking the bank."
Hiday said she and her son start off with light base weights and bring a tarp instead of a tent. When pitching camp for the night, they use two trekking poles to hold up the tarp and put down a ground sheet and a closed cell foam sleeping pad.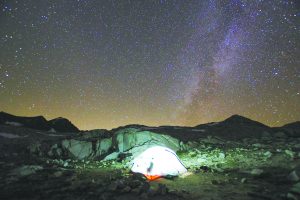 "It's nice because a lot of nights, we don't even put up the tarp and we just sleep out under the stars," Hiday said.
Their insulated and layered clothes are lightweight, and their stove weighs in at just 2 ounces. During their most recent backpacking trip, Hiday said their individual packs weighed about 5 1/2 pounds each.
"We were able to move pretty quickly out of the gate because our gear was so light," she said. "Everyone has to find their own balance between comfort and the lightness of their pack. How many comforts are they willing to give up so that their pack is light, so that they enjoy the trail more?
"Everything you need to survive you're carrying on your back, so it frees your mind to think about stuff that maybe you don't have the time or energy to think about when you're bogged down with social norms and everything," Bereveskos added.
Going solo
In addition to hiking with her son, Hiday took time for herself last fall to adventure on an off-trail solo backpacking trip through a portion of what's called the Sierra High Route. There, she crisscrossed the Ritter Range, a mountain range just south of the Yosemite border.
The trek was very difficult, Hiday said, and she was responsible for all of the mountaineering and the path reckoning. The off-trail trek was focused on enhancing her navigation skills, committing to a route and making myriad decisions every minute.
"I came off of the trail thinking, 'My God, in the last 10 hours that I've been hiking, I must have made easily 100,000 decisions. Any one of which could have brought me to my peril,'" Hiday recalled.
But the trip had moments of incredible beauty, too. She was able to venture to places few humans have ever trekked before.
"It challenged me, and I knew it would," she said. "That was the point of it – how can I grow and gain more skills, test my boundaries? What do you do when you are thrown up against what at the moment seems impossible? You have to problem-solve your way out of it. I enjoyed that, as stressful as it was.
"Even when it's raining or snowing, I don't mind. I like feeling the elements," Hiday explained. "I feel alive then, like I am a part of the world instead of just watching it."
Embracing the challenge
Embarking on a backpacking trip isn't always enjoyable, Bereveskos noted.
"There are times when it's not all fun and glory, when you're out there and have to hike through the rain with soaked shirts and it's just miserable," he said. "You have to ask yourself the question, 'Why am I out here?'"
That's a question he's asked himself often, yet he still doesn't have a concrete answer.
"But there is just something really liberating about being out there with someone you can trust – like my mother," Bereveskos said. "Being self-reliant and proving that we can do this and survive, and enjoy doing this."
Hiday agreed, saying that once you're in the thick of a hike, you are consumed with rising to meet the challenge in front of you.
"I like learning and I'm curious. I like seeing new things and challenging myself," the attorney said. "That's what backpacking and seeing new places in the world gives me. I enjoy that a lot."•
Please enable JavaScript to view this content.