A South Bend retailer was forced to surrender several boxes of fruit-flavored vaping products following the execution of a search warrant Thursday that revealed the products to be counterfeit.
Indiana State Excise Police officers raided a St. Joseph County gas station and convenience store located at 26395 State Road 2 on Thursday following a three-month investigation that revealed the retailer had been selling counterfeit mang and cucumber-flavored Juul vaping pods.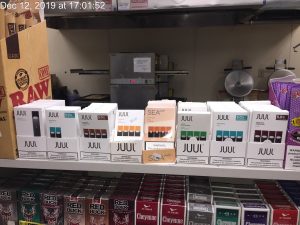 An investigation into the retailer sparked after a customer reported that the "packaging for the Juul Pods looked real but the contents were counterfeit." The citizen informed ISEP that they "had been purchasing Juul Pods for approximately one and a half years" and could "recognize the difference." Additionally, the citizen noted "that the business accepted the return of the pods, stating they were unaware the pods were fake."
"We are seeing an alarming increase in vaping-related illnesses and deaths across the country. It is clear the hazards associated with counterfeit vaping products are a serious public health and safety matter," Indiana State Excise Police Superintendent Matt Strittmatter said in a statement. "By law, the mission of the Indiana Alcohol and Tobacco Commission is to protect the health of Hoosiers by regulating alcohol and tobacco products, including those used for vaping, and I commend our officers for their diligent work in getting these counterfeit products off the shelves."
The business has been cited administratively for a public nuisance charge, failure to maintain e-liquid invoices and obtaining e-liquids from an unauthorized source. Investigations concerning the matter will be reviewed by the St. Joseph County Prosecutor's Office.
ISEP has received additional complaints and is currently investigating other locations allegedly selling counterfeit vaping juice, the ATC stated.
Please enable JavaScript to view this content.