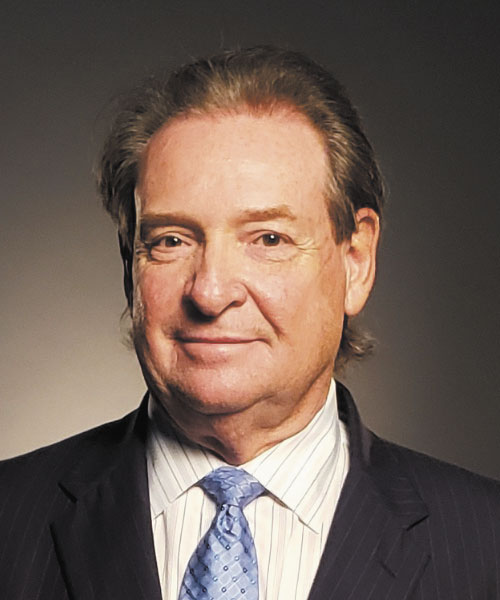 When 2022 Indiana Trial Lawyers Association President Dan Pfeifer chatted with Indiana Lawyer on a recent Tuesday morning, he was doing what he'll be doing a lot of over the next 12 months — driving.
On that particular day, Pfeifer was headed to downtown Indianapolis for the admission ceremony for Indiana's newest lawyers, attending as a representative of ITLA. Pfeifer, a partner at Pfeifer Morgan & Stesiak, is based in South Bend while the ITLA offices, as well as many other Indiana legal organizations, are based in Indianapolis.
Zoom has certainly made the world feel smaller, but Pfeifer said he's committed to showing up in person during his year as president. He became president of ITLA last month, taking the helm of the organization that has grown to roughly 900 members.
A graduate of Taylor University and Notre Dame Law School, Pfeifer spent about five years working in private practice, including a stint as a solo practitioner and as a part-time deputy prosecutor for the late Court of Appeals of Indiana Judge Michael Barnes, who was then the St. Joseph County prosecutor. In 1984, he was part of the team that opened what is today known as Pfeifer Morgan & Stesiak.
Pfeifer has been a member of ITLA for roughly 30 years. He participated in the organization's activities as best as he could as a young lawyer, but the roughly three-hour drive from South Bend to Indianapolis made it difficult to always be engaged in ITLA activities.
"And back then we didn't have Zoom," Pfeifer noted.
Now as president, Pfeifer said one of his goals is to make ITLA more of a statewide organization and eliminate the assumption that it's an Indianapolis group. He also wants to find ways to better engage younger lawyers in leadership.
Pfeifer discussed his plans for his year as ITLA president with Indiana Lawyer. The following is a portion of that conversation, which has been condensed for space.
Indiana Lawyer: Were you an active member of ITLA right away?
Pfeifer: It took a few years to start getting involved. I was active in the sense that I participated in seminars. I was not active in terms of leadership. One of the things that made it difficult for a younger attorney to be actively involved in leadership was the proximity. I'm in South Bend, and ITLA is based in Indianapolis, so if there were activities for young lawyers, then it was difficult to become involved in that.
Probably in the early '90s, after maybe about five or six years of being in the organization, I started becoming more actively involved, became a board member. And then probably 12 or 13 years ago, I was asked if I would be one of the trustees of the political action committee for ITLA called LAW-PAC. Then after a couple of years I actually became the chairman of LAW-PAC and have remained active with LAW-PAC. Through activity or through leadership in that particular arm of the Indiana Trial Lawyers, I was asked about 10 years ago if I would be interested in serving on the executive committee.
During your years as president, do you have any specific initiatives or goals that you want to work on?
A couple of things come to my mind that I've been reflecting on leading up to becoming the president. And that is, trying to engage younger attorneys earlier in the leadership process. There are a lot of younger attorneys who are actively involved in ITLA in the leadership roles. Looking at them, a lot of them are younger attorneys who are affiliated with firms that have always been active in ITLA, or they are the son or daughter of a longtime member of ITLA. What I'd like to try and do is, there are a lot of younger attorneys out there who may not have that connection but are a member of the organization. I would like to try and get them involved earlier in the process.
Kind of part and parcel of that is expanding the geographic diversity of ITLA. There are other qualified members of ITLA, there are other individuals who are a part of the organization outside of the geographic Indianapolis area, such as myself. What I want to try and do is expand that notion that ITLA is an Indianapolis-based organization and I want to help other attorneys outside the geographic area to recognize and understand that you can be committed to the organization, you can be involved in leadership of the organization, it's not that difficult, even though there might be some distance between where you practice law and where the offices for ITLA are.

Are there any challenges or pressing needs facing your year as president?
The pressing need from my perspective of the organization is just in terms of making sure that the needs of our members and the needs of the people that we serve, and that is the citizens of the state of Indiana, are afforded opportunities to have justice served in whatever their situation may be, that they are afforded access to the courts.
There's constantly a challenge that we face legislatively — there always seems to be attempts to create immunities. We have a very good relationship with the Legislature, and I think when you sit down and talk with them about a particular bill that they want to pass, and you help explain to them the unintended consequences of what a bill may do, I think most of them are very open and receptive to hearing that, and when they realize the unintended consequences, then many times there is a second thought about passing a particular piece of legislation.
For example, when COVID came about, there was legislation that was passed granting immunity to anybody if there was any connection to COVID. I understand that concept, but when the effort was undertaken to try and pass a COVID immunity bill, they wanted COVID immunity to go on forever and they wanted to incorporate other aspects of remedies that existed, they wanted to include immunity in those already existing remedies. That was a challenge to make sure that if we're going to give an immunity to health care providers or nursing homes because of COVID, that we limit the legislation to what was intended and don't expand it so much that you're going to create these unintended consequences.
What has been the benefit of ITLA to your career?
I think the camaraderie and the connectivity and the interchange of information among your colleagues. We have a very active Listserv that allows our members to share experiences, to share work that they have done with others so that if one member has worked on a particular case and another member has a similar type of case for the first time, that other member doesn't have to reinvent the wheel. We're trying to develop a mentorship program for the younger attorneys so that an attorney who has been practicing such as myself for as many years as I've been practicing can work with a younger attorney and help that younger attorney to avoid pitfalls and mistakes. We mentor younger attorneys because it's our way of giving back to the profession, giving back to the organization.
What else should lawyers know about ITLA?
ITLA is a very good organization that is committed to maintaining open access to the courts for the citizens of Indiana, is committed to the notion that justice is deserved for all citizens of the state of Indiana. It's committed to doing right and to not doing wrong and to making sure that if a wrong has occurred that there is a remedy to right the wrong that occurred. I think that part of the organization and the mission of the organization is very important to the citizens of the state of Indiana.•
Please enable JavaScript to view this content.