Tenley Drescher-Rhoades has returned to Faegre Drinker Biddle & Reath LLP, stepping down as general counsel of the Indianapolis Airport Authority to rejoin the firm as counsel in the corporate practice group.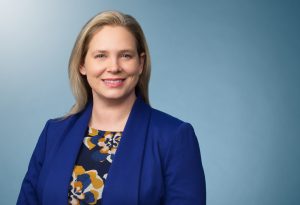 Drescher-Rhoades will serve as an advisor on public finance matters to both the public and private sectors. She will counsel government entities on government operations, regulatory and legislative issues, and bond financings. She has served extensively in the public sector. In addition, she will advise private entities on public-private partnerships.
"Tenley brings more than a decade of exceptional experience to our team in Indiana," said Jim Fischer and Keith Radtke, co-leaders of Faegre Drinker's corporate practice. "With her background in both local government and private practice, she knows what it takes to keep economic development projects moving forward, helping clients deliver on project goals. We are thrilled to welcome her back."
Drescher-Rhoades has worked with the Marion County Election Board where she first served as director of elections and then as outside general counsel. She also served as deputy corporation counsel for the city of Indianapolis under Mayor Bar Peterson where she managed the city's legal department, counseled the Office of the Mayor, participated in several major policy initiative and developed expertise in election and redevelopment law.
A cum laude graduate of Butler University, Drescher-Rhoades earned her J.D. degree cum laude from Indiana University Maurer School of Law. As a student, she was the managing edition of the "Indiana Law Journal" from 1999 to 2000.
Please enable JavaScript to view this content.