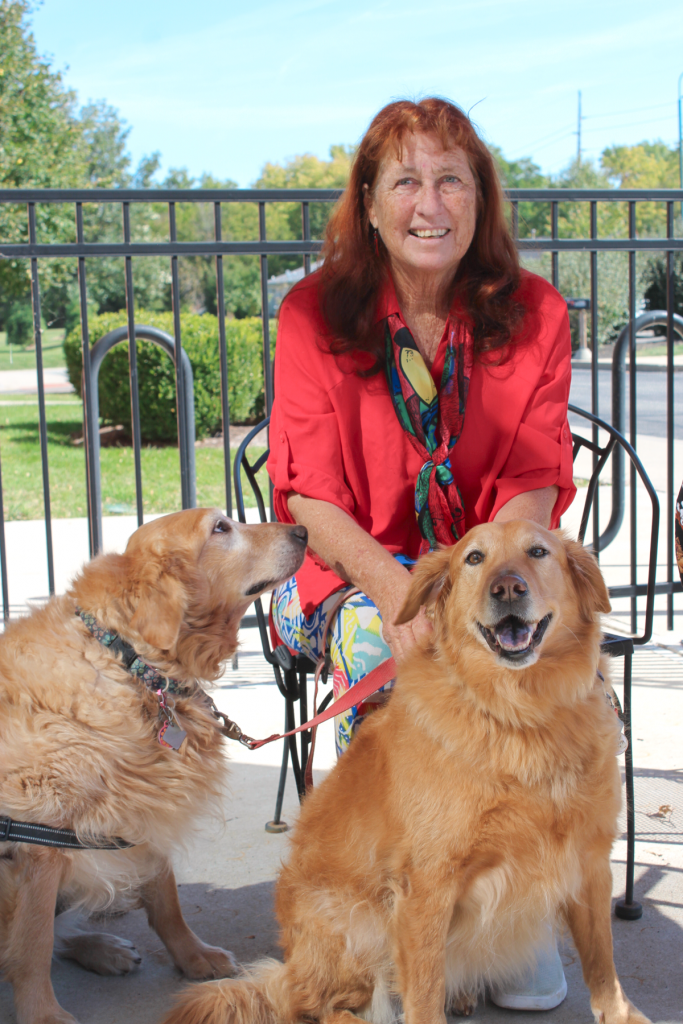 Each day after work, attorney Jan Michelsen and her two golden retrievers, Mable and Lacey, split a strawberry bagel from their favorite bakery.
"When I get home we sit on my front porch and we split the bagel three ways," Michelsen said, smiling down at the dog sitting at her feet, who was waiting expectantly for the daily snack.
The Ogletree Deakins attorney loves her 8-year-old furry companions. So much so that when she got around to writing her last will and testament a few years back, Michelsen said she knew she wanted to create a trust for her pets, too.
"I just thought that that would kind of put my mind at ease," she said.
Although pets in American households are commonly considered part of the family, owners don't often think about their four-legged companions when making an estate plan. Questions about who will care for a pet upon the owner's death or in the event of an emergency aren't always asked until it's too late.
That's where a pet trust could come into play.
What is a pet trust?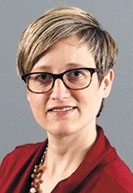 Lisa Adler, a partner at Harrison Moberly LLP who practices estate planning and estate and trust administration, said pet trusts intrigue her. Although they're not administered often, Adler said more people seem to be considering them.
Pet trusts are legally sanctioned arrangements providing for the care and maintenance of one or more companion animals in the event of a grantor's disability or death. The "grantor" creates the pet trust, which may take effect during a person's lifetime or
at death.
Previously, under common law, pets were not considered property because they were thought to have no economic value, only personal enjoyment, Adler explained. However, societal changes have resulted in companion animals now being treated as property under the law.
The foundational concept of a pet trust dates back to the 1700s, when English common law recognized testamentary provisions in favor of specific animals, according to Adler. Then in 1889, an English court upheld a trust for horses and dogs, in part because the trust was not "obnoxious to the law" and would not last too long.
On American soil, Adler said the first case of bequeathing for a pet in a trust came in a 1923 Kentucky Court of Appeals decision. Codification of pet trusts or wide validation under the law, however, still remained a ways off.
The 1990 Uniform Probate Code recognized honorary trusts for pets as an exception to the law of trusts with no definite ascertainable beneficiary and no charitable purpose, Adler said. The trust had to end either 21 years after creation or when no living animal was covered by the trust. Enforceability, however, was still an unresolved issue until 1993.
By 2000, the Uniform Trust Code eliminated the "optional" element of the UPC by legalizing the pet trusts and making them enforceable. As of 2020, all 50 states had codified provisions making pet trusts valid and enforceable.
Indiana's pet trust laws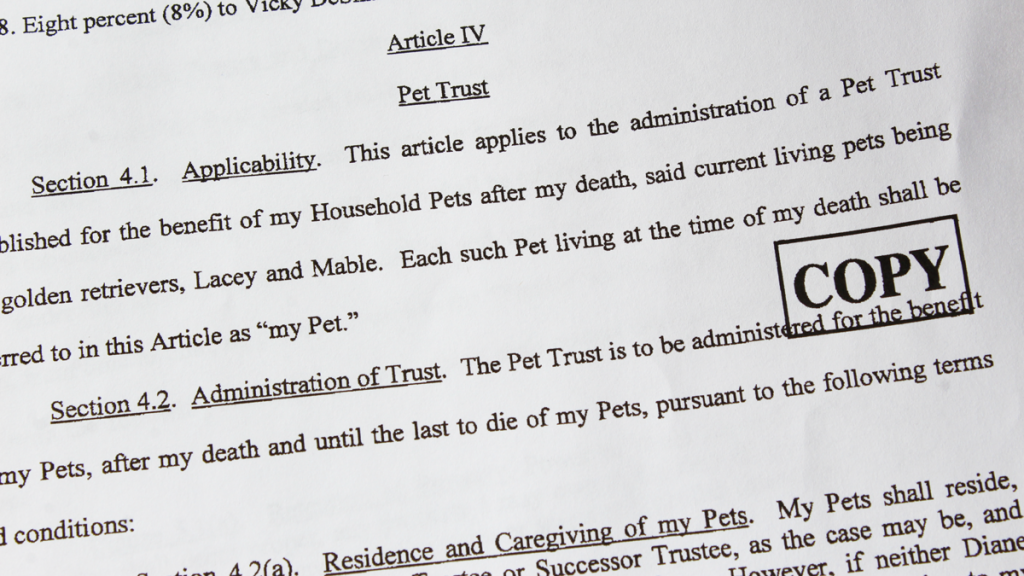 Indiana codified its pet trust law in 2005.
Under Indiana Code § 30-4-2-18 (a), "A trust may be created to provide for the care of an animal alive during the settlor's lifetime." A pet trust can end in one of two ways: If the trust terminates on the death of the sole animal it was created for, or at the death of the last surviving animal in a pet trust intended for multiple animals.
Pet trusts in Indiana are enforced by either the person appointed in the trust, such as a relative or close friend, or by a person appointed by the court if the terms of the trust do not appoint a person. Additionally, a person established by a pet trust to maintain interest in the welfare of an animal can appoint a person to enforce the trust or remove a person appointed to enforce the trust.
Finally, the money intended for a pet trust can only be used for the purposes spelled out in that trust — except to the extent the court determines that the value of the trust property exceeds the amount required for the trust's intended use.
The money
"I think sometimes people get a little squeamish about the idea of leaving money for an animal, when maybe it's just really prudent planning," Adler said.
When it comes to finances, Adler said pet owners can typically leave the amount of funds needed to help pay for the animal's medical bills, food and general caretaking. But making sure the funds are not abused can be a major problem.
For adults, a beneficiary of a trust can monitor the activities of a trustee, Adler said. But she likened the voice of a pet to that of a minor child.
"It's harder for an animal because obviously, they are never going to be able to say, 'I'm being mistreated,' or, 'This money set aside for me doesn't exist and is not being applied appropriately,'" she said.
Leaving a pet caretaker without the means to pay for an animal's associated costs could be a burden that the family member or friend may not want to pay when grieving a lost loved one, Michelsen noted.
"Say the animal needs a $14,000 life-saving surgery. Is that person going to do that?" she said. "You know, you're dead. They know you're not going to know what they did. This would assure that the trustee could say, 'Yes there's money in here.'"
Michelsen dedicated $30,000 to care for Mable and Lacey in her pet trust, making her sister and niece the trustees and caretakers. The money would help cover the living expenses for both dogs, including their pet insurance and Mable's hefty medical bills.
Whatever money isn't used after both dogs die, she said, must be donated to a local animal shelter.
Pet planning
Having a framework available for her estate planning clients to consider their pets is cool, said Lafayette attorney Cecelia Neihouser Harper.
"I think it's cool that it works like any other trust, but it's specifically set out for a pet. And that's interesting," Neihouser Harper said. "I think it's a quirk you don't think about every day."
But despite the special carveout in the law and an increasing devotion to furry friends over time, Neihouser Harper said pet trusts remain "really uncommon."
"I think partly, just because people generally give (the pet) to a family member and do something kind of more informally," she said.
Pets are often surrendered to shelters when their owners die or become incapacitated, according to Best Friends Network. That percentage totaled at 10.2% of surrendered animals in September 2020, according to the network.
"Our shelter received 114 pets in 2021 due to health/death of their owners. And thus far in 2022, we have received 44 pets," said Suzanne Yoder of the Humane Society for Hamilton County. "Many times, the animals are senior pets. And the Humane Society incurs the extra cost of paying for their care."
If a client wants to create a pet trust, Adler said, it's probably very important to them.
"I think the question would be, how do we get more people to see this as something to consider?" she said. "I think a lot of people feel like, 'Hey, I've got somebody who will just take care of my pet.'
"But we know a lot of animals get surrendered. I think a lot of people just assume someone in their family is going to do the right thing for their animal."•
Please enable JavaScript to view this content.